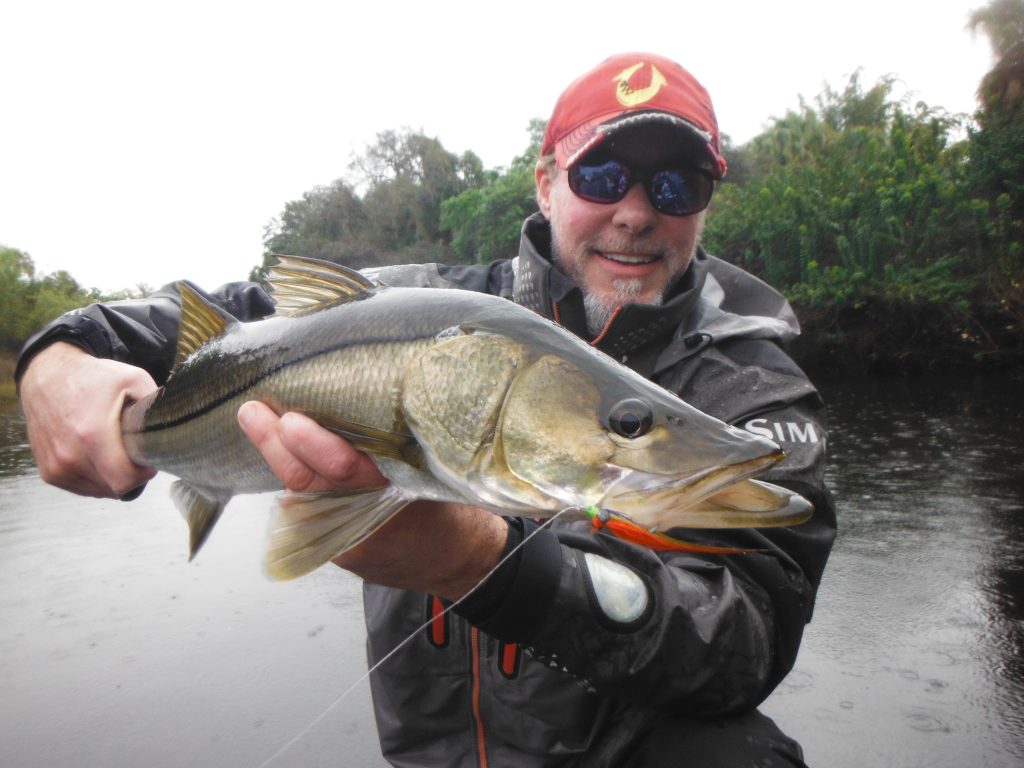 Sarasota Fly Fishing Report and Forecast

This page will host my Sarasota fly fishing report. It will be updated as often as practical and when patterns or the bite changes. Fishing settles into seasonal patterns and I do not want the Sarasota fly fishing reports to get redundant. Scroll down to see my seasonal forecast.
Contact Capt Jim at (941) 371-1390 captklopfer@comcast.net
My name is Capt Jim Klopfer and I run fly fishing charters in Sarasota. For the most part, I do not do the shallow water sight fishing thing. I work creeks and rivers for snook and jacks, the deep grass for speckled trout, Spanish mackerel, pompano, ladyfish, bluefish, and more. I do fish bars and edges, mostly blind casting. When the Spanish mackerel and false albacore show up on the beaches, we are out there chasing them.
Sarasota fly fishing report
Here is my current Sarasota fly fishing report. I will update as often as I feel that new information can be included or when I get some great photos. Also, I go to North Carolina for extended periods, so there will be gaps in my Sarasota fly fishing reports due to that as well.
Sept 26 fly fishing report
After several months off the water getting medical treatments, I am back at it!  A scouting trip today produced a variety of species on the deep grass flats. The water temperature is 80 and bait fish were plentiful. Clouser and DT Special patterns were productive. There are also some scattered false albacore and Spanish mackerel out on the beach.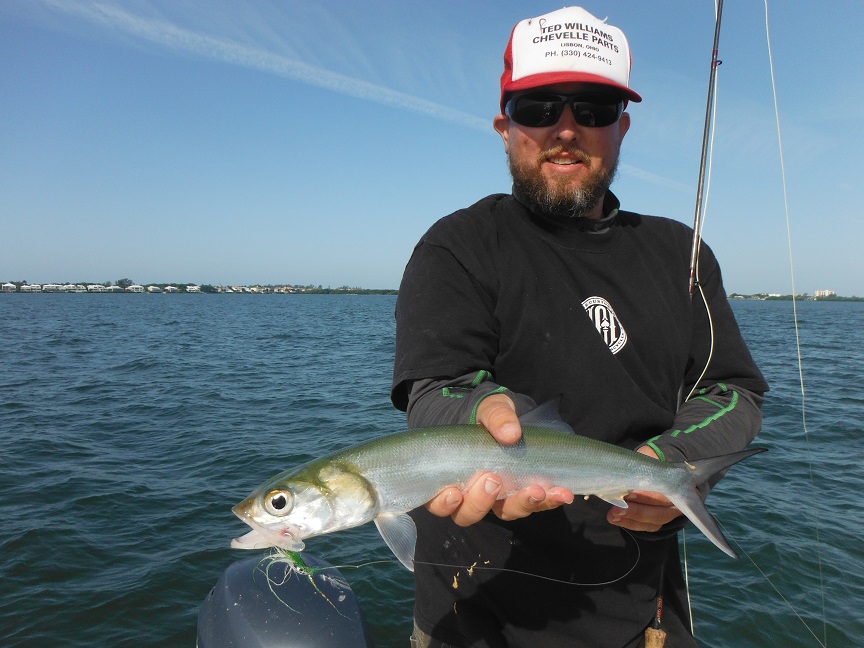 May 16 Sarasota fly fishing report
May is a transition month in Sarasota. Snook have migrated out from the inshore bays into the passes and out on the beaches. Sight casting from the beach is terrific sport! Small white patterns such as D.T Specials work well. Action on the deep grass flats has been decent of late, with a fair amount of bluefish showing up. A weighted Clouser Minnow fished on an intermediate line produced trout, bluefish, mackerel, and ladyfish of late. Tarpon are just starting to show up, but they have been difficult to entice.
April 8 fly fishing report for Sarasota
Red tide is gone and action has been steady throughout the area. The best bite has been on the deep grass flats as well as Big Sarasota Pass. Anglers casting Clouser Minnow flies caught speckled trout, Spanish mackerel, bluefish, pompano, and a lot of ladyfish. The flats at Marina Jack, Middlegrounds, and Stephen's Pt were the best spots. There were also plenty of fish in Big Pass and the nearby flats. The trick in the passes is getting the fly down deep enough.
March 1 Sarasota fly fishing report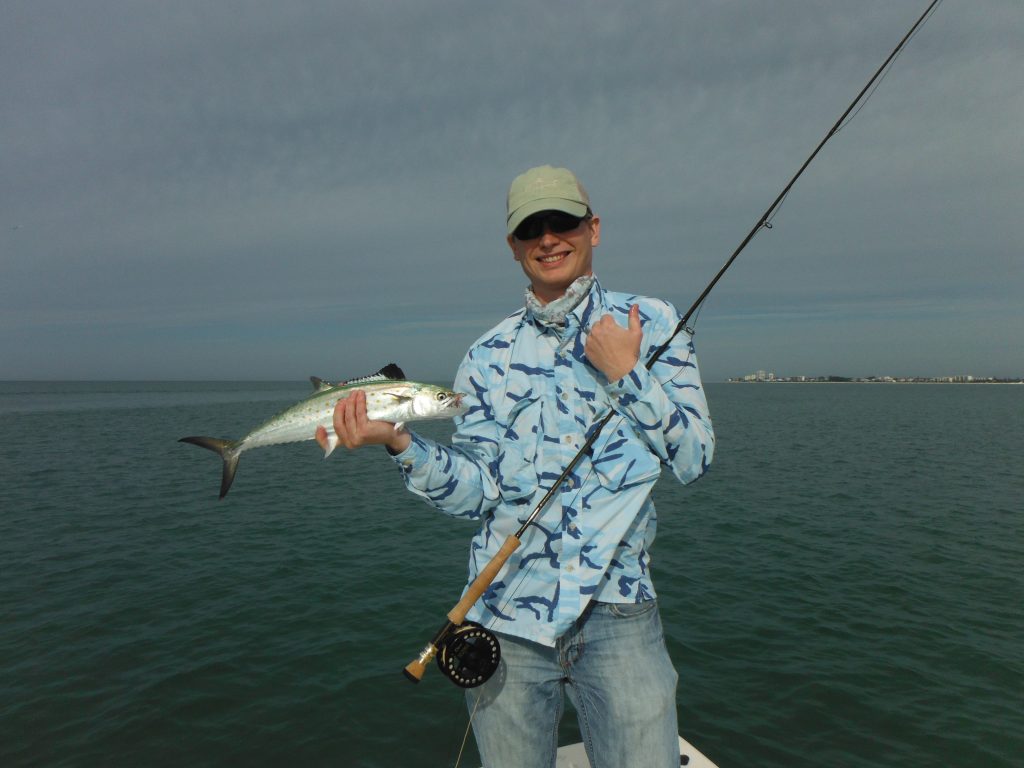 Even though it is only March 1, it appears that winter is over. Water temperatures in Sarasota Bay are around 75 degrees. The winter fishing in the creeks and rivers is done as that water is over 80 degrees. The best action has been on the deep grass flats for Spanish mackerel with speckled trout and ladyfish mixed in. Clouser patterns on sink tip lines works best. We are experiencing a little red tide, especially near the passes. Finding clean water and bait is definitely the key to success!
January 22 Sarasota fly fishing report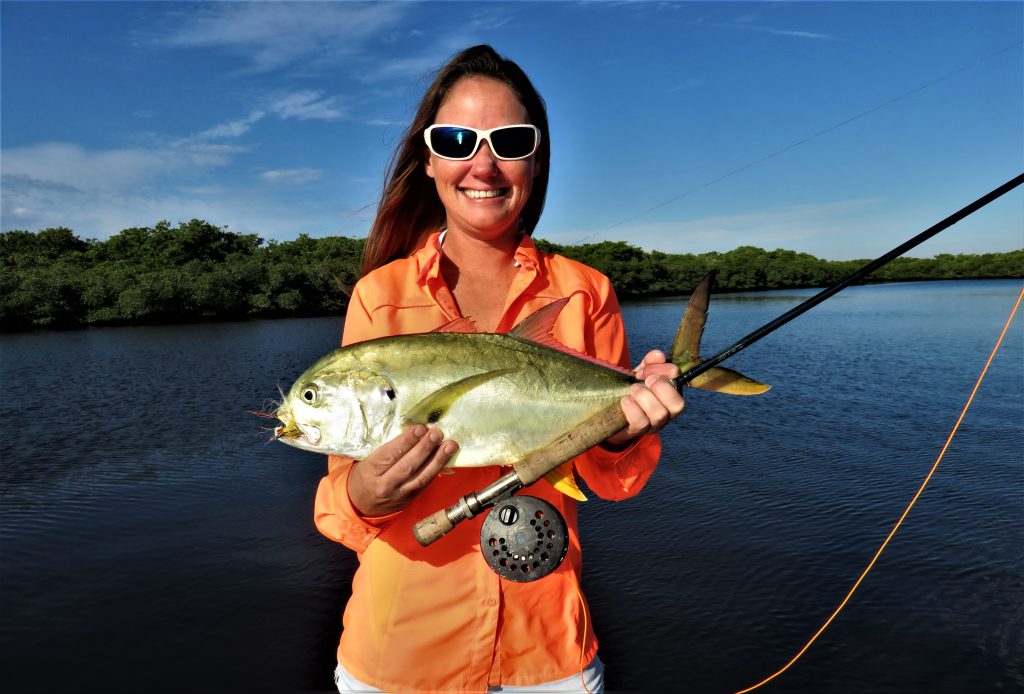 We have had some nice cold fronts move through which pushed snook and jacks up into area creeks a rivers. This is a reliable winter pattern. Rivers and creeks not only concentrate fish, they offer protection from the wind and cool scenery. Anglers do not need great casting skills, especially for jack crevalle as they will often school in the middle of the river. Jacks are aggressive and fight VERY hard! Snook are a bit more finicky, but definitely an option. I spend most of my time in Phillippi Creek and the Braden River.  After a nice warming trend, anglers caught some trout and ladyfish on the deep grass flats.
Dec 10 Sarasota fly fishing report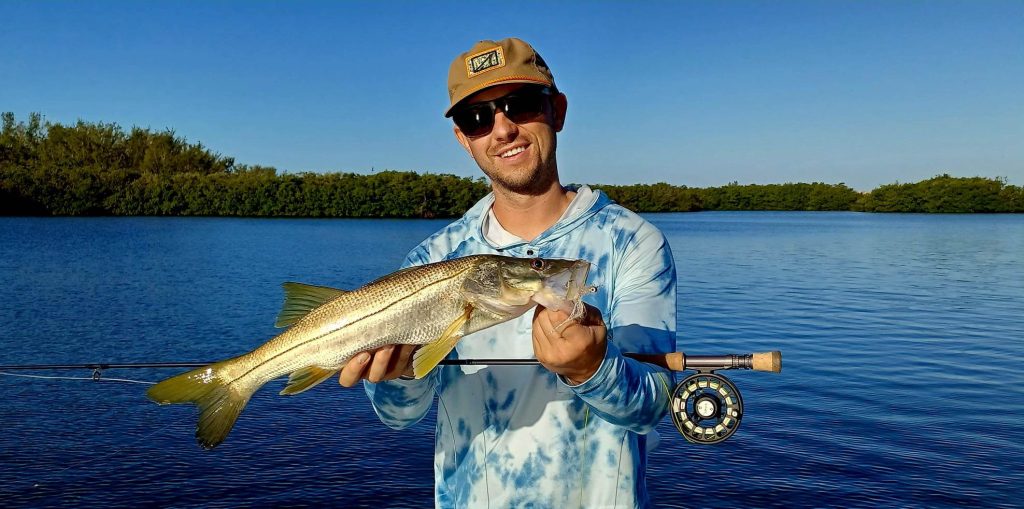 While the water temperature is still about ten degrees above normal, fish are moving into their winter haunts. Snook and jacks do not like the cold and will seek out warmer areas. The bars around Midnight Pass in Little Sarasota Bay have been productive. a 1/0 white crystal minnow worked well. There are also smaller snook and jacks in the Braden River. There are still plenty of speckled trout on the deep flats, along with ladyfish, mackerel, and bluefish.
Nov 20 fly fishing report
I am back from North Carolina until May, so reports will be more regularly posted. Action on the deep grass flats has been the best bite Anglers casting Clouser and Crystal Minnow patterns landed a bunch of speckled trout to 20″. Bluefish, Spanish mackerel, ladyfish, and jacks were also caught. Cooler weather has finally arrived and has snook moving into the creeks. White patterns work best. Unfortunately, some pesky red tide is present off the beaches which will severely hinder the fall beach fishing for mackerel and false albacore.
Oct 8 Sarasota fly fishing report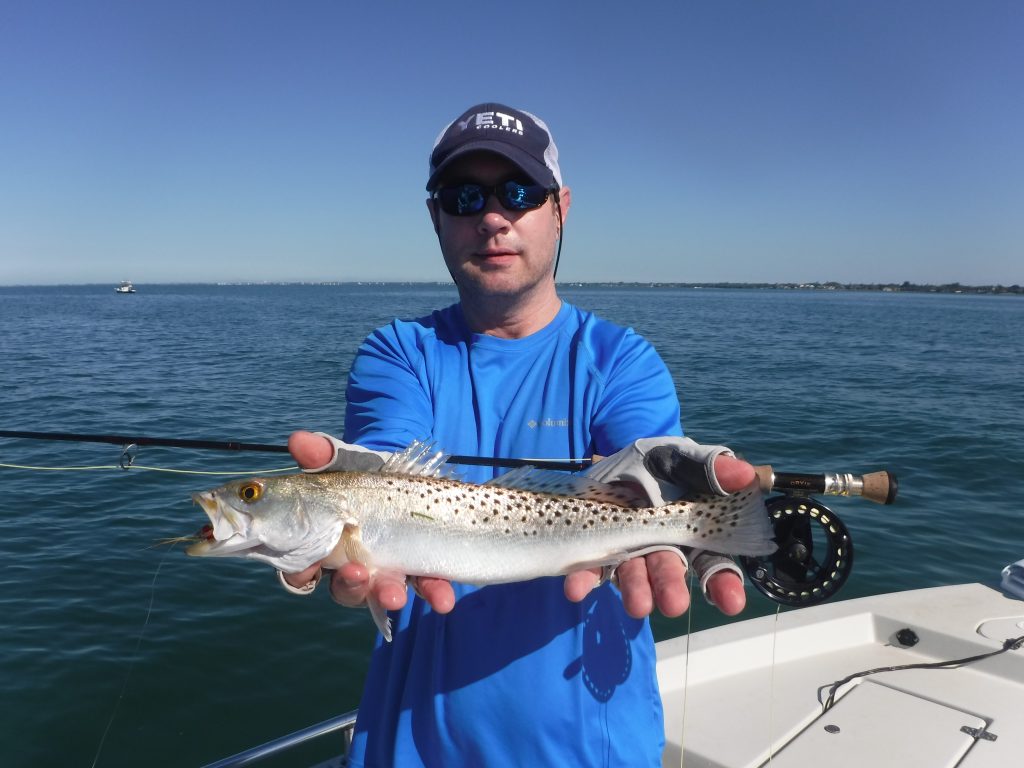 I am happy to report that we suffered minimal damage from Hurricane Ian. I got out Wednesday, Thursday, and Friday this week and was pleasantly surprised to fine decent conditions and fast action! Despite some "color" to the water, the bite was very steady. Anglers casting Clouser patterns in chartreuse/white and bright red caught a bunch of speckled trout and ladyfish, with a few nice bluefish and Spanish mackerel mixed in. All of the deep grass plats held some fish. Bait is plentiful along the shallow bars and flats and I'm sure this is part of the reason for the good fishing.  A little cool weather should get the beach fishing for Spanish mackerel and false albacore going.
May 1 Sarasota fly fishing report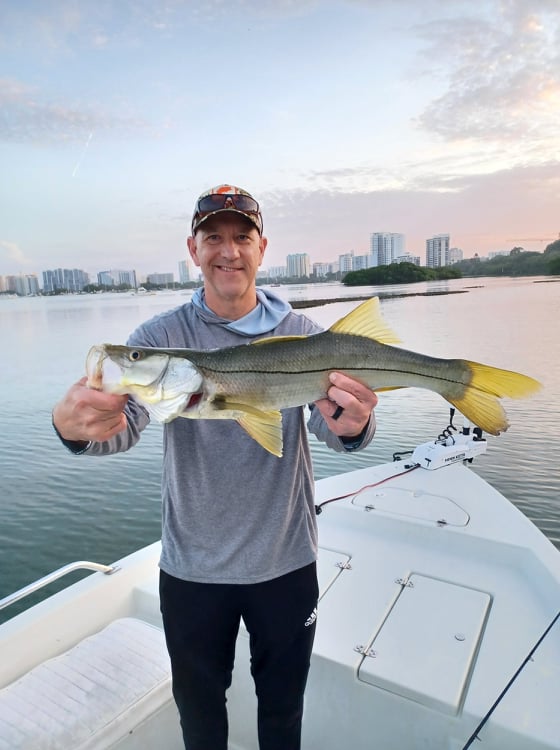 We are easing into our summer fishing patterns here in Sarasota. Unfortunately, Mother Nature was a bit uncooperative this spring. It was breezy much of the time and the Spanish mackerel and false albacore bite never materialized. The best action was on the deep grass flats for trout, mackerel, bluefish, ladyfish, and pompano. Snook are moving and excellent fly angler Paul Graverly from Minnesota landed this very nice fish on a chartreuse over white Clouser on a bar at first light. Snook will continue to move out to the passes and the beaches. The best bite for action will be the deep grass in the morning. Tarpon numbers will increase, peaking in June.
March 5 fly fishing report for Sarasota
Rising water temperatures finally has the fishing moving towards typical spring patterns. The jack and snook bite is pretty much over, but provided excellent fly fishing this winter. The action on the deep grass flats has dramatically improved, with plenty of spotted sea trout being caught. Ladyfish, bluefish, and Spanish mackerel were landed as well. Clouser patterns on sink tip lines worked best. Spanish mackerel were found schooling and feeding in the passes and inshore Gulf of Mexico as well. This is exciting as there is a visual component; fish are seen feeding ferociously on the surface. Persistent anglers will find snook and jacks in the backwater areas.
Jan 26 Sarasota fly fishing report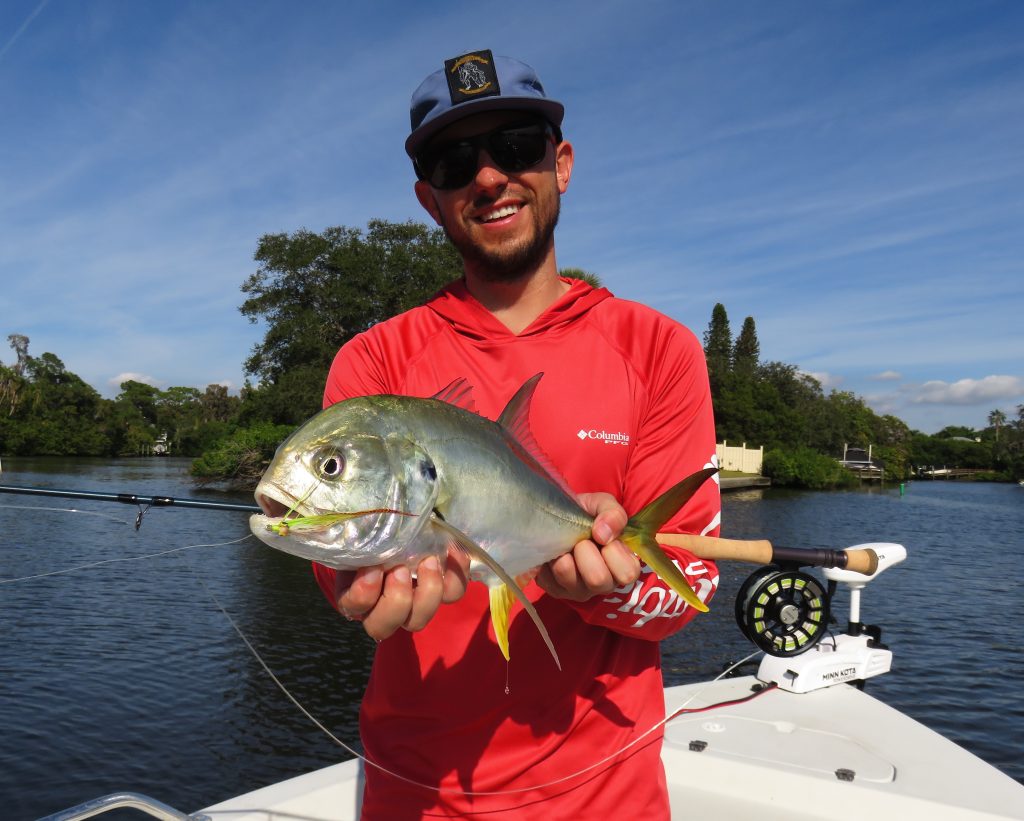 It looks like we are actually going to have a winter this year. Temperature right now as I write this is the mid 30's, right chilly for Florida! The result is that fish have moved into their traditional winter haunts. Speckled trout and ladyfish are in the deeper channels as opposed to the grass flats. It can be challenging getting a fly to them.
The best bite for clients on my Sarasota fly fishing charters has been jack crevalle in area creeks, rivers, and canals. A few smaller snook are being caught as well. The jacks are pretty aggressive and once located, they usually take the fly. A Clouser pattern is tough to beat as it gets down quickly and has an erratic action. Jacks can be seen "waking" on the surface, but most are caught blind casting. The deeper holes and stretches are usually best. Tide does not seem to matter, as long as it is moving.
Sarasota fly fishing forecast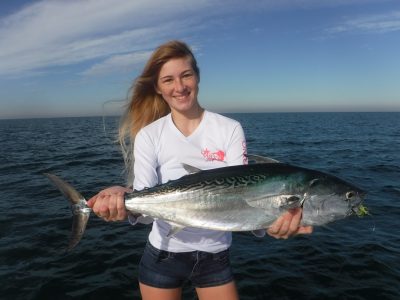 I will briefly cover the four seasons and the migratory patterns of our game fish. No two years are identical and seasons overlay, but this will give anglers a good idea of what to expect.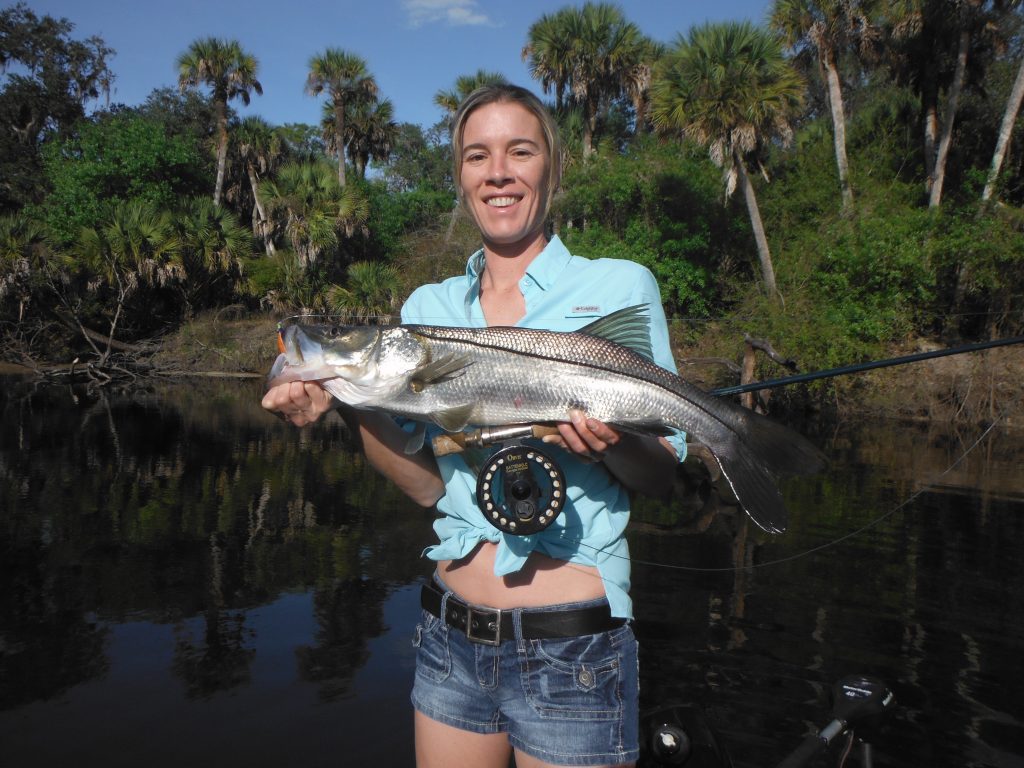 If we experience a normal winter, with weekly fronts pushing the water into the upper 50s, fish will move to their winter locations. Species that are normally found on the deep grass flats vacate that areas. They will move to deeper channel and holes, including residential canals and the Intracoastal Waterway. It can be difficult getting the fly deep enough at this time, but a sinking line will get it done.
My favorite pattern this time of year is fishing creeks, rivers, and canals. Jack crevalle and snook will move up into these areas. This concentrates them, making it easier to locate fish. Also, the creeks provide protection from the wind, making it easier to fly fish. Finally, the scenery is cool, especially on the rivers such as the Myakka and Manatee Rivers. This is a chance for anglers to catch a big fish on fly without making long, difficult casts.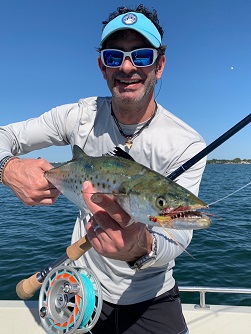 Spring is an excellent time to go fly fishing in Sarasota! Anglers have a bunch of different options, depending on conditions. One consistent pattern is to drift the grass flats while blind casting for speckled trout, Spanish mackerel, bluefish, jacks, ladyfish, and more. This is a fun and easy way to catch a variety of species.
Redfish, snook, and jacks will be moving from their winter spots to the inshore bars, mangrove shorelines, and other spots. Anglers working these spots with a Clouser will catch fewer fish, but they will generally be larger as well as the satisfaction of being more challenging.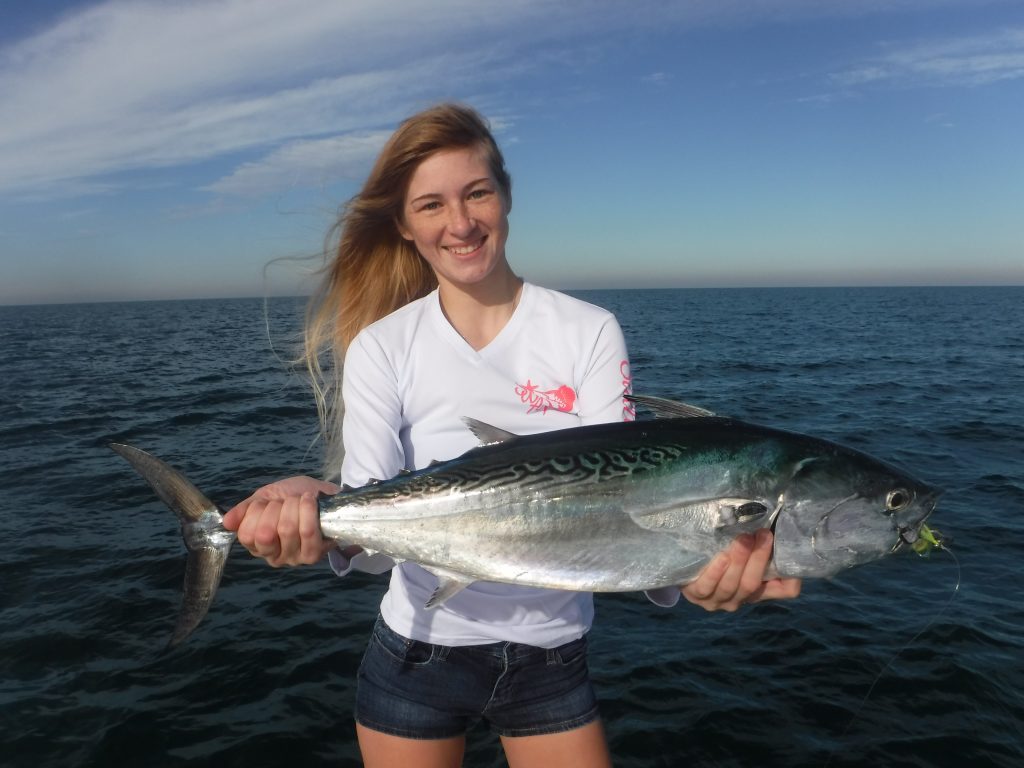 When conditions are right, the action out off of the Sarasota beaches can be fantastic! Schools of bait fish will attract Spanish mackerel and false albacore. For the most part, this is exciting, visual fishing as flies are cast into schools of breaking fish.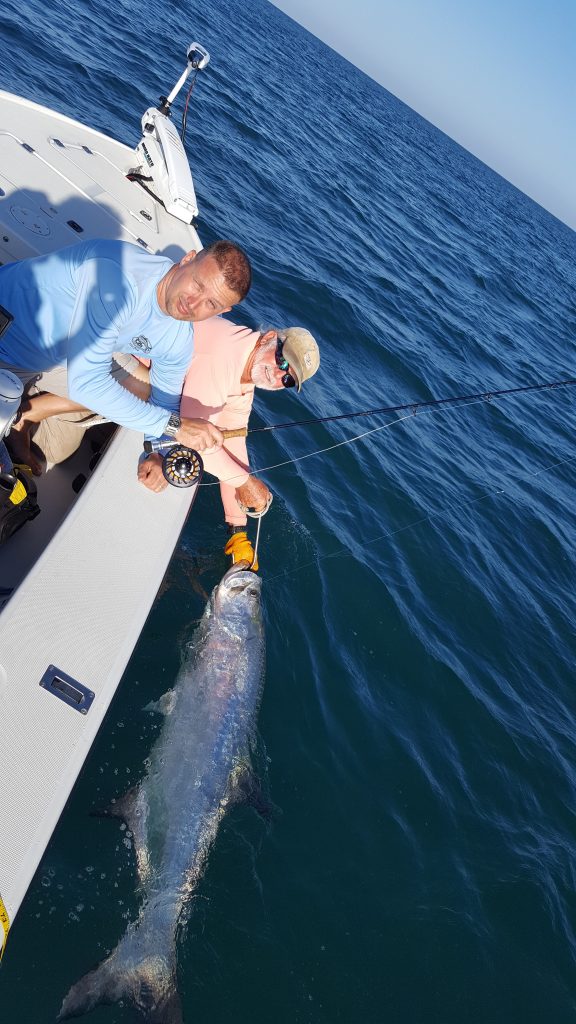 Tarpon arrive in Sarasota mid-May and stick around until September or so. They are in large schools early, then split up into singles and small bunches. Most of the time, anglers are sight casting to schools of fish or individual fish. This is not east, it is very challenging, but rewarding when it all comes together.
Snook will move out to the beaches. Anglers walk the beach and sight cast white bait fish patterns to the cruising snook. Most of them will be "schoolies" but larger snook are available. This is great fun and does not require a boat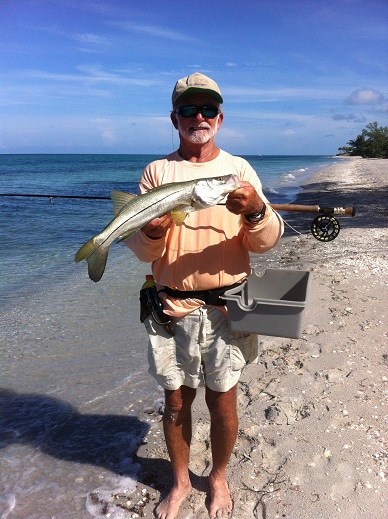 Action on the inshore grass flats should be good early in the morning. Bait fish will be plentiful and game fish will be on the feed. The window is small, bu 10:00 it is hot and the bite is usually over. However, the action can be very good.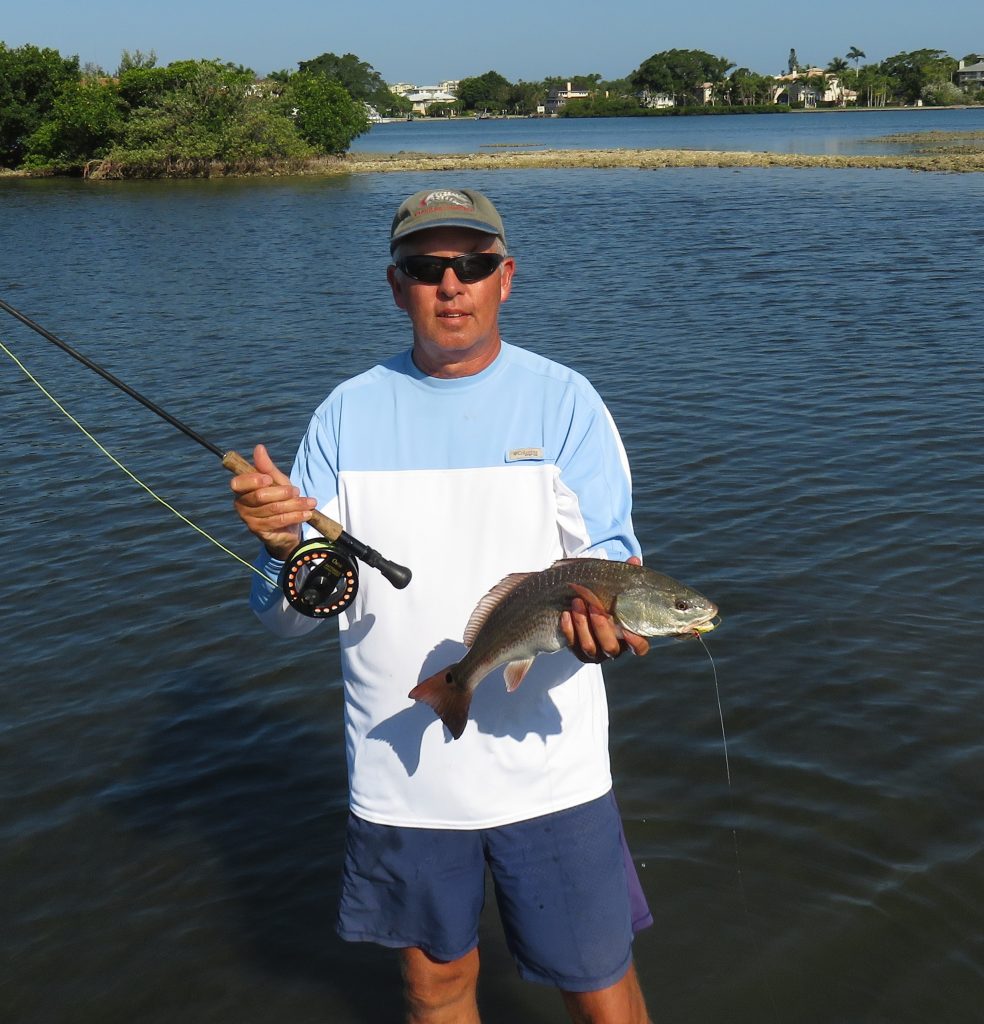 Redfish begin to school up in late summer and it continues into October. Schools of reds will be found near oyster bars and on the flats. They can be seen waking in the shallow water. Our redfish are very spooky and even in schools are not easy to catch on fly. Wading is a good option to get closer.
The beach fishing for mackerel and false albacore will repeat itself as the fish migrate back south, headed for the Florida Keys. Often times, it is more reliable in the fall as the weather patterns are generally more stable. We experience days of northeast winds, which result in flat waters in the inshore Gulf of Mexico.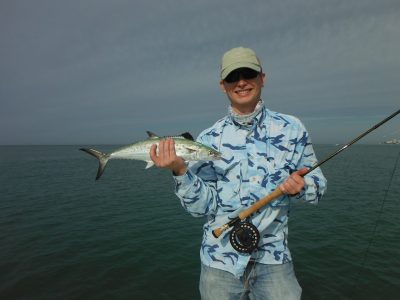 Action on the deep grass flats should be reliable and productive as well. Again, this is a great option for anglers seeking action and variety as well as for novice fly casters.
In conclusion, this page on my Sarasota fly fishing report will keep anglers up to date on the best fly fishing options in Sarasota!