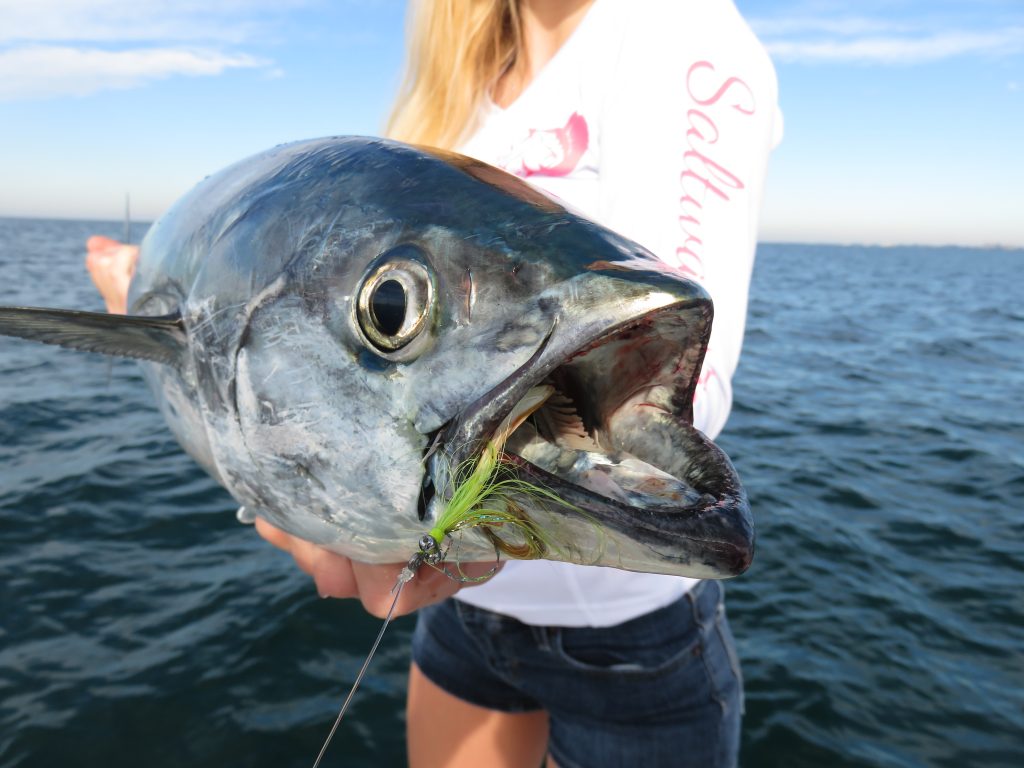 Fall Fly Fishing in Sarasota
This article will thoroughly cover fall fly fishing in Sarasota. Fall is an excellent time to fish the West Coast of Florida. Sarasota waters offer fly anglers a variety of fly fishing opportunities, both inshore and in the Gulf of Mexico.
My name is Capt. Jim Klopfer and am a fly fishing guide in Sarasota, Florida. Fall is one of my favorite times of year for several reasons. First off, the weather is usually very pleasant, being cool in the morning and then warming up nicely by lunchtime. It seldom rains this time of year. Tourist traffic is also lower, meaning less pressure on the fish. Finally, and most importantly, fish are often actively feeding ahead of the cooler months.
Fall fly fishing in Sarasota
Anglers fly fishing in Sarasota during the fall have several options to choose from. These include fishing the deep grass flats for trout and other species, shorelines and oyster bars for snook and jacks, working the passes for ladyfish and mackerel, and chasing surface action on false albacore and Spanish mackerel in the inshore Gulf of Mexico.
Fly fishing the inshore Gulf of Mexico
Chasing busting schools of surface feeding Spanish mackerel and false albacore is probably my favorite way to fly fish in Sarasota. While working shorelines for large snook and jacks is fun, it's hard to beat the excitement of seeing fish terrorizing helpless bait fish on the surface. Spanish mackerel will hit just about anything that moves while the false albacore can be fussier at times, especially when feeding on tiny glass minnows.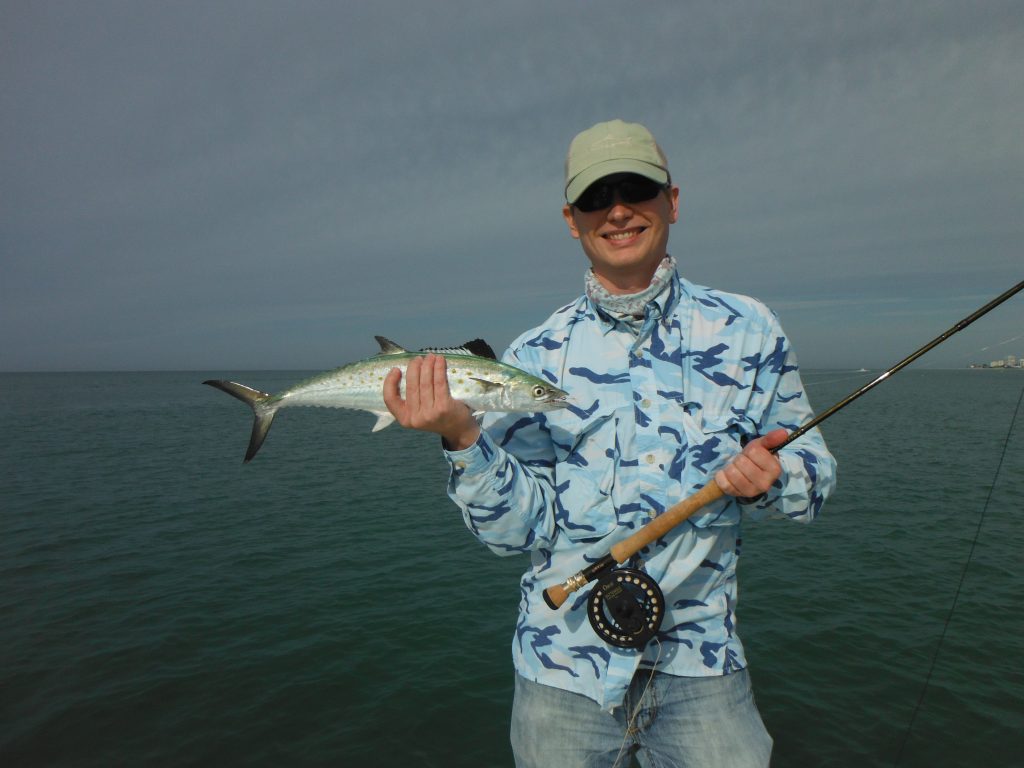 The approach is pretty straightforward, though as in any type of fishing there are nuances that increase the odds of success. The ideal set up is to be a cast away from the feeding fish up wind of them. This allows the angler to make a nice easy cast to the feeding fish. Spanish mackerel will often stay up on top for quite a while, however false albacore can pop up for a few seconds and then disappear quickly. This can get frustrating! However, persistent anglers will almost always get a few shots if they hang in there.
I like to have two outfits rigged and ready to go for this type of fishing. On a 7wt or 8wt outfit I will have an intermediate sink tip line and a leader with a 40 pound bite tippet. This is for the Spanish mackerel. If they are very aggressive, I may even use a short piece of wire leader to help reduce or prevent cutoffs. The second outfit is a 9wt with a floating line and 20 pound bite tippet. False albacore do not have teeth and are a bit more line shy.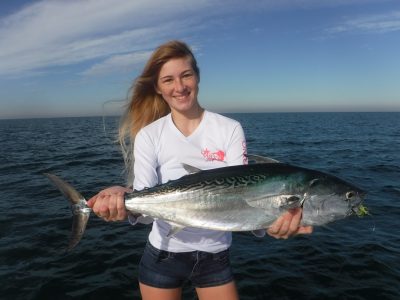 Spanish mackerel are not at all fussy about fly selection in this situation. There is no need to spend a bunch of time tying fancy flies. I like to use a quick and easy to tie D.T Special variation that I tie on a long shank hook which helps reduce cutoffs. False albacore can be a bit fussier. It is good to have a bit of selection including Clouser patterns, glass minnow patterns, and Crystal minnow patterns. White is an excellent all round color.
Fly fishing the deep grass flats in Sarasota Bay
Anglers seeking action and variety often choose to drift the deep grass flats in Sarasota Bay. This is a technique that I use quite often on my fly fishing charters as it does not require advanced casting skills in order to have a successful day. The technique involves drifting across submerged grass beds in water between 5 feet deep and 8 feet deep. This is where the majority of the forage that game fish feed on are found.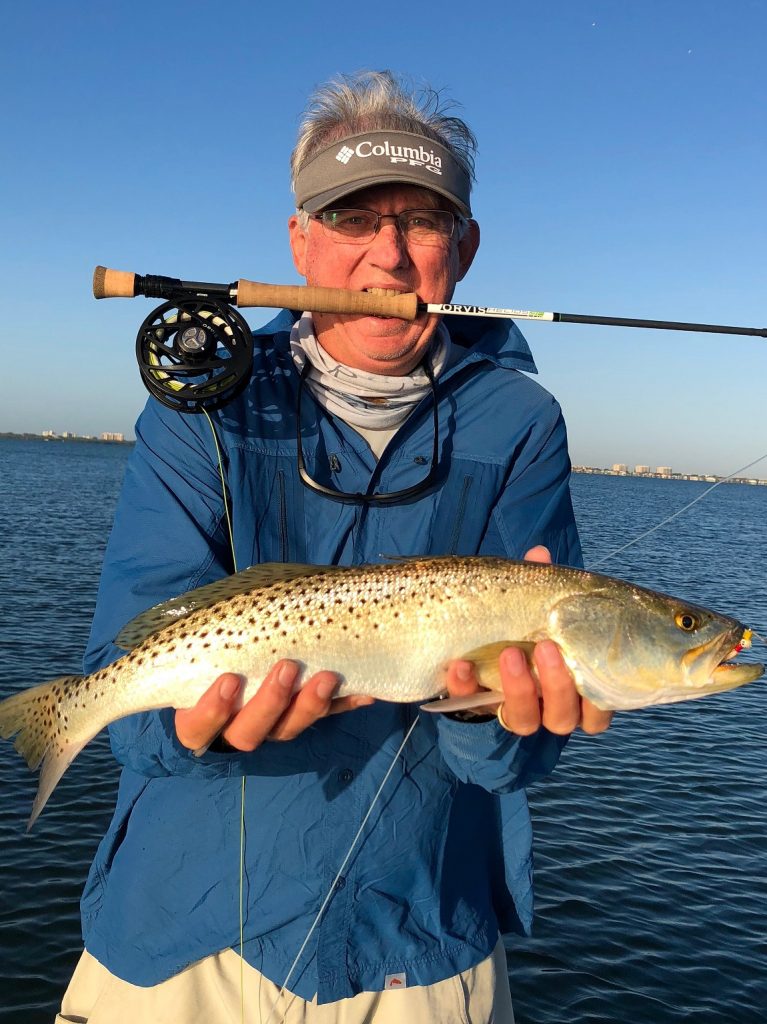 As the boat drifts along with the wind and tide, the angler cast the fly out ahead of the drifting boat. A sinking fly such as a Clouser Minnow is tough to beat. The fly is allowed to sink and then stripped back in using a fairly aggressive strip and pause retrieve. Anglers can catch speckled trout, Spanish mackerel, bluefish, ladyfish, jacks, pompano, and other species employing this technique. While long cast can be helpful, long as an angler can cast 30 or 40 feet, he or she should can catch some fish.
Fly fishing the passes
There are two passes that connect the Gulf of Mexico with Sarasota Bay. The term pass is synonymous with inlet, they are the same thing just termed differently on the Gulf Coast. These passes are deep and swift and are used by migratory species to swim in and out of Sarasota Bay. Both passes also have extensive sandbar systems were fish will get up and feed at times.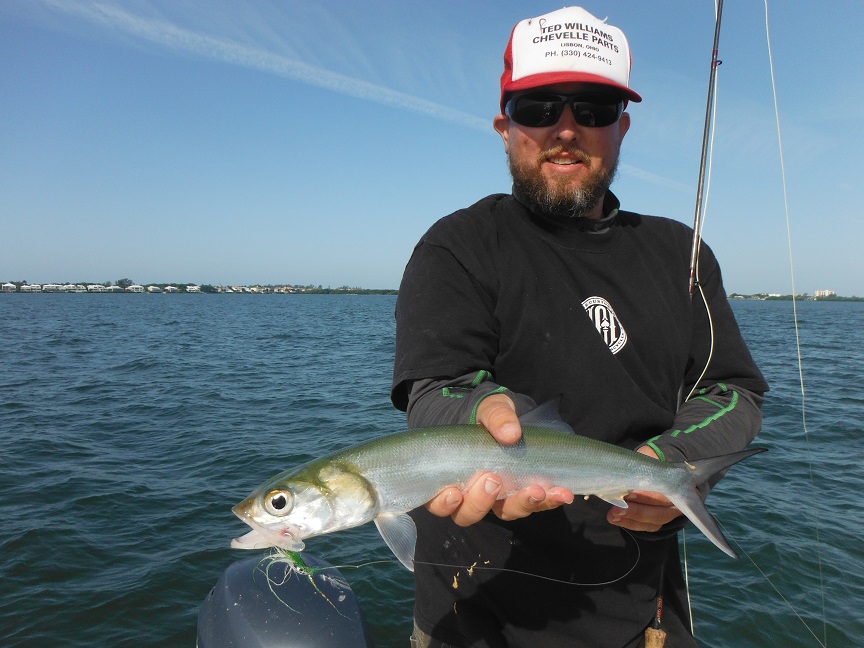 Ladyfish are virtually guaranteed for anglers fly fishing the passes in Sarasota. The biggest obstacle can be getting the fly down deep enough, especially if there is a swift current. An intermediate sink tip line with a fairly heavy fly will get the job done. Serious anglers will use a full sinking line to get the fly down quickly. These sinking lines are effective, however are a bit cumbersome and difficult, especially for novice anglers.
The good news is that the fish species that are found in the passes often feed at the surface or high up in the water column. These primarily include ladyfish, bluefish, Spanish mackerel, and jacks. Pompano will be found on the shallow bars as well as the occasional juvenile permit.
Fly fishing for snook, jacks, and redfish
Many anglers that visit Florida enjoy trying to catch snook, redfish, and jacks while fly fishing. This is definitely a more challenging type of fishing that is more about quality than it is about quantity. Anglers will definitely work harder for a take, but the result is almost always a decent fish.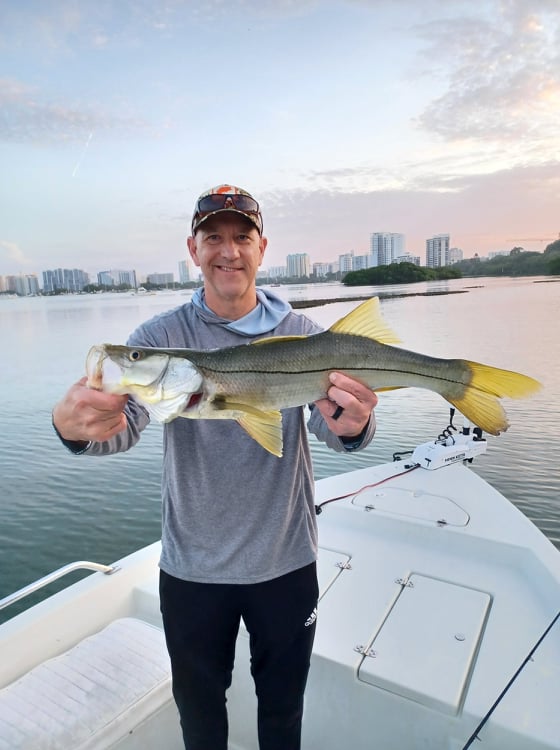 As the water starts to cool off and the days become shorter, the mangrove shorelines, oyster bars, docks, and shallow flats will hold these game fish as they migrate from the passes and beach towards their winter staging areas. Covering the water is very important as these fish are constantly moving. However, they are also often actively feeding as they try to put on some weight for the winter.
An 8wt outfit with an intermediate sink tip line is perfect for this type of fishing. Anglers can bump up to a 9wt when fishing for large snook and jacks around heavy cover such as docs and bridges. An intermediate sink tip line with a 9 foot leader ending with a 30 pound fluorocarbon bite tippet is the set up that I use the most.
Anglers can use a wide variety of fly patterns using this technique. More often than not, I will use a chartreuse over white or all white Clouser Minnow pattern. It's a great all round fly that has excellent action and the water. White is pretty much considered the go to color for snook. Other patterns include deceivers, Crystal minnows, and really any other baitfish or shrimp pattern. As in much fly fishing, location and presentation is more important than the actual fly pattern.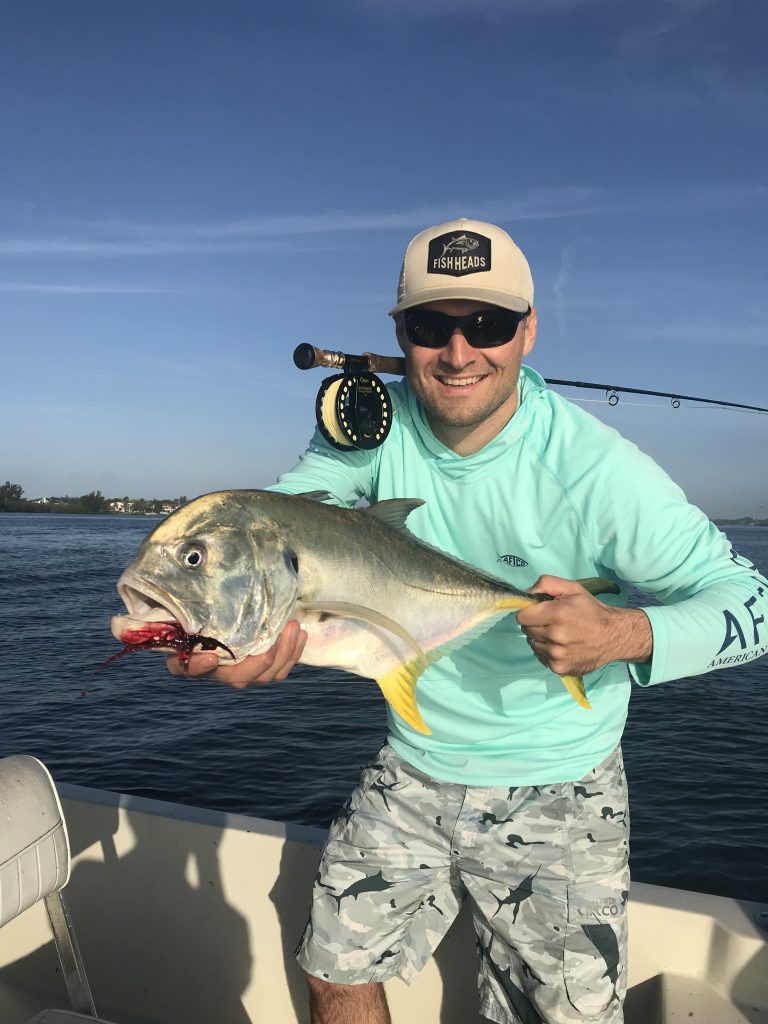 The last few years we have experienced some chili whether around Thanksgiving. The result of this was to push the jacks and snook up into area creeks, rivers, and residential canals. A really enjoy this type of fishing for couple of reasons. This does not require a long cast and the creek often provides some protection from the wind. These are also fairly small areas which tend to concentrate the fish.
Snook in these creeks and canals will usually hold tight to structure. Docks, mangrove shorelines, and oyster bars are top spots. Seawalls and riprap will hold fish as well. Jacks will be found in the spots as well is right out in the open. While they don't seem to school up and feed on the surface is much, they can often be seen in large bunches moving through the water just under the surface. Most of the very large jack crevalle that my anglers catch are done so fishing creeks and rivers in the cooler months.
In conclusion, this article on fall fly fishing in Sarasota will give visiting anglers an idea of the options and species that are available to them during this excellent time of year to fish!