Winter Fly Fishing in Sarasota!
This article will cover winter fly fishing in Sarasota, Florida. Conditions are constantly changing and certainly affect the fishing. It may be upper 70s and sunny one day and then a couple days later cold and breezy. However, there are a couple of patterns that hold through and are productive and reliable in the colder months.
My name is Capt. Jim Klopfer and I run fly fishing charters in Sarasota, Florida. Sarasota is on the West Coast just below Tampa. While we are middle of the state or so, we definitely feel the effects of the strong winter fronts that moved through with regularity from Thanksgiving to Easter.
Winter fly fishing in Sarasota
The key to success when winter fly fishing in Sarasota is adapting to the ever changing conditions. There are three patterns that hold up very well in the winter, depending on situation. These are fishing the deep grass flats, fishing Little Sarasota Bay, and fishing creeks and rivers. I will generally choose one of these three patterns when fly fishing in the winter.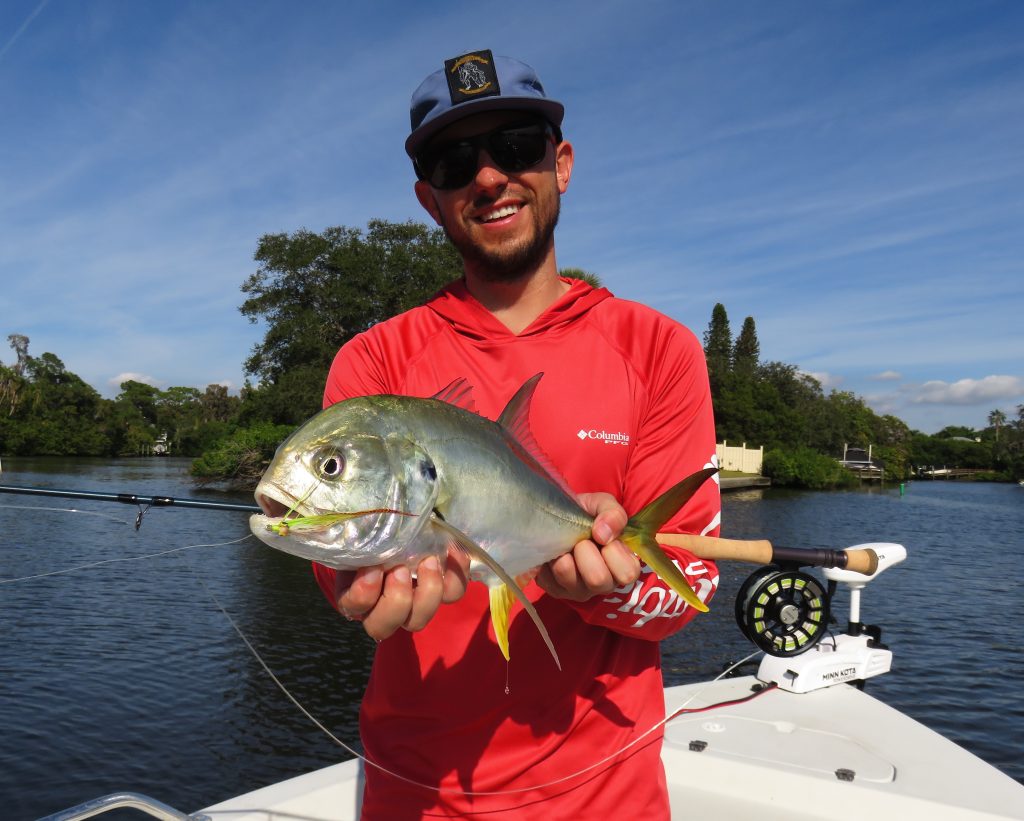 First, let me briefly go through the weather cycle. A front has just move through and anglers are greeted with Northeast winds and a bluebird sky. These winds will also result in very low tides. The next couple days will see it warm up and become very nice, often times with temperatures in the upper 70s. As the next front approaches, the wind will turn out of the South and in the Southwest. This will be active, but the wind can make for tough fly fishing. Finally, the front is through with strong northwest winds and fishing is usually shut down for a day or two before the process repeats itself.
Fly fishing on the deep grass flats in Sarasota
Fly fishing over the deep grass flats is a very productive and reliable technique for both action and variety. This is an excellent way for novice anglers to catch a few fish on fly as well. Is fairly straightforward as anglers cast a fly in front of the drifting boat as it eases over submerged grass beds in water between 6 feet deep and 10 feet deep.
Speckled trout are fairly plentiful on the grass flats in winter, as long as the water is not too cold. Spanish mackerel, pompano, bluefish, ladyfish, jacks, and other species may be encountered as well. Casting accuracy is not an issue and as long as the angler can get 40 feet of line out or so, he or she can catch fish. This is a technique that I use all year long and I also do it in the winter when fly fishing in Sarasota as long as certain conditions exist.
Conditions on the deep grass flats must be conducive, and this is where the winter aspect comes in. Strong fronts will churn the water in the golf of Mexico into mud. As the tide comes in, it will bring this dirty water with it. It is crucial to find clean water in order to achieve success. Also, water temperature is an issue. If the temperature drops much below the upper 50s, fish will leave an action will be severely curtailed.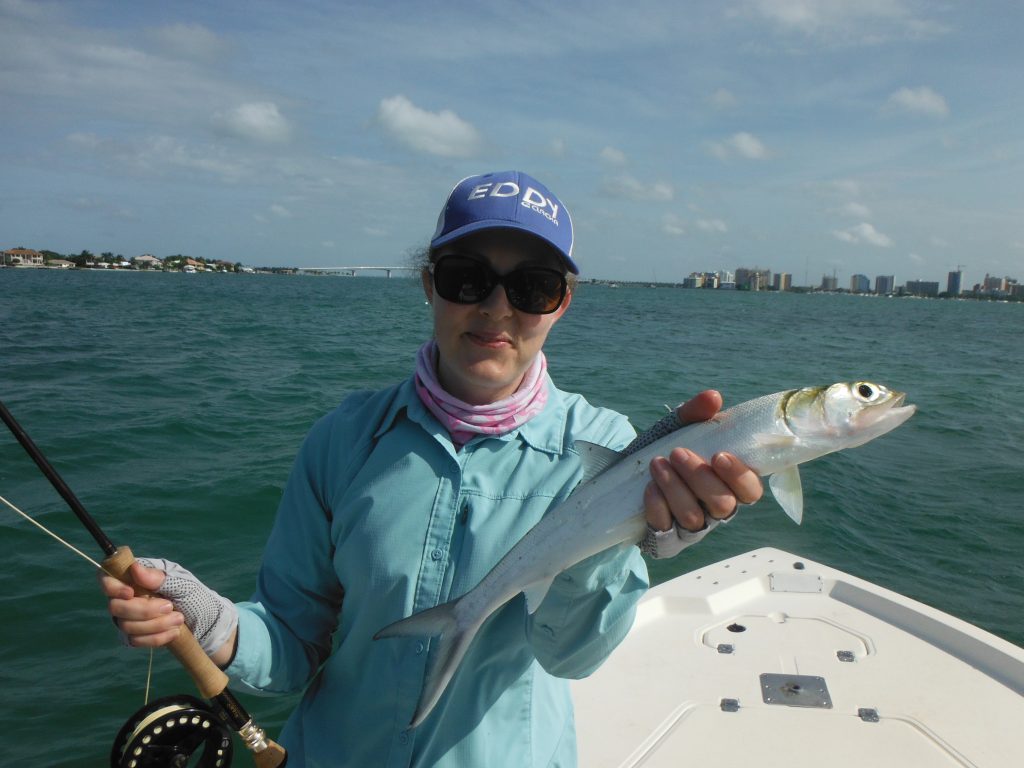 One of the great aspects of fly fishing these areas is that anglers never know what will take the fly. Speckled trout, ladyfish, bluefish, and mackerel are common catches. Pompano are encountered at times. Big jacks will sometimes move through. Even larger species such as cobia will work inshore and will cruise the deep grass flats looking for food.

Fly fishing Little Sarasota Bay
There is an area south of the Siesta Dr., Bridge really down to the Venice Inlet that we call "Little Sarasota Bay". The nature of these waters are a little bit different than the more open spots up north. There is not nearly as much submerge grass and oyster bars are a prevalent fish holding feature. The Bay in this area is also not as wide, which means it offers protection on windy days. Finally, it is farther from the passes which means there is very little chance of the dirty water moving that far in.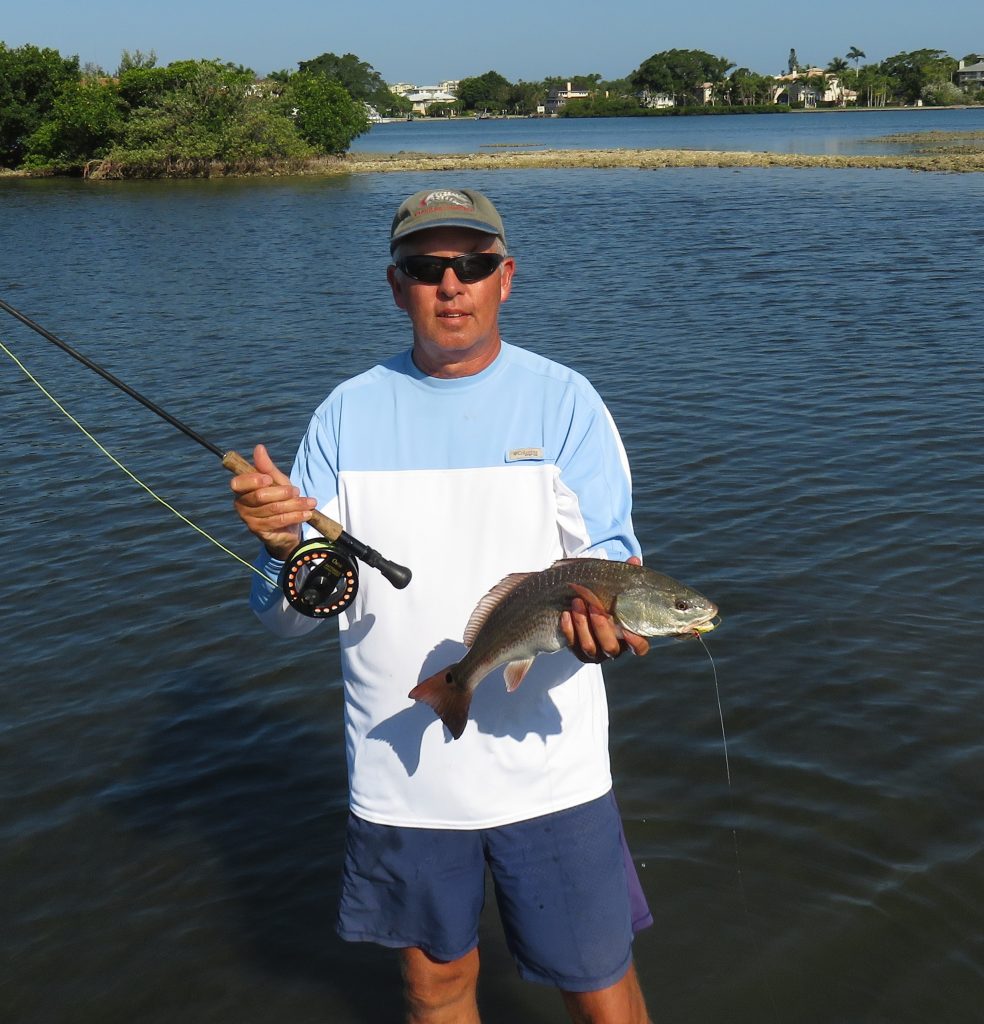 Winter fly fishing techniques are similar in this area, with a couple different variations. Instead of drifting grass flats, I tend to work the edges of oyster bars where it drops off from a foot or two into four or 5 feet of water. These are prime spots to find larger speckled trout, snook, jacks, and redfish. Clouser and crystal minnow patterns work very well.
Anglers can also ease off of the oyster bars and fine flats to drift. Ladyfish are often abundant in this area in the winter, providing good action especially for novice fly anglers. Speckled trout and pompano are also available. There are times when the water temperature drops that fish will stack up in the Intracoastal Waterway. It can be a little challenging to get the fly deep enough, but fish can be concentrated and easy to catch.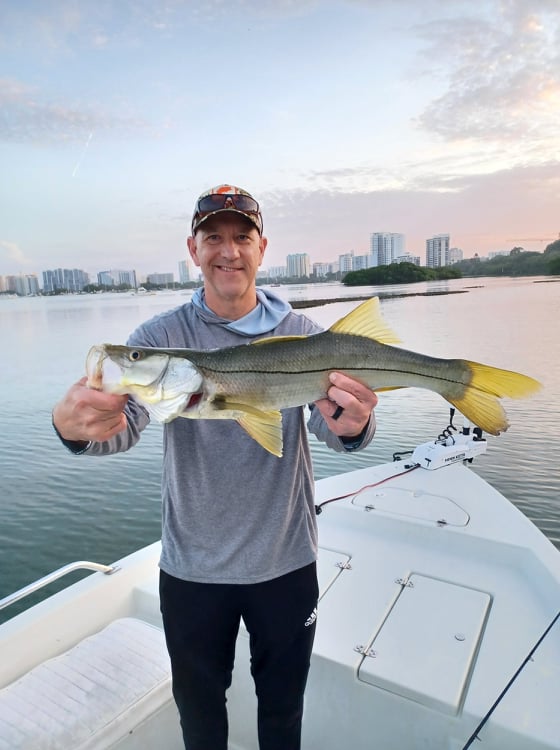 The biggest issue to fishing this area in the winter is the tides. I personally do not have great success on very low tides, which often occur in the morning in the winter in Sarasota. Ideally, it is best to go in the afternoon when the water warms up and the tide comes in. However, the issue with that becomes boat traffic, which can be very heavy this time of year. Therefore, the challenge is to balance getting out when the tide is fishable but still trying to avoid the heavier boat traffic.
Creeks and rivers are productive in winter
Probably my favorite winter fly fishing technique in Sarasota is fishing area creeks, rivers, and residential canals. The dropping water temperatures will push game fish up into these areas, particularly snook and jack crevalle. Jacks in particular will school up in big numbers and can be very easy to catch on fly, even for the novice angler. These areas are also protected which makes casting much easier. Finally, they offer some pretty cool scenery as well.
This is fairly easy fly fishing. Anglers cast bait fish imitations, mostly Clouser Minnow patterns, towards shoreline cover. This can include anything from docks to fallen trees. Snook will often be tight to or under the cover while jacks are often encounter right out in the middle. Many of the largest fish landed by my clients when fly fishing in Sarasota are done so fishing creeks in winter.
I also offer anglers visiting the Sarasota area a unique fly fishing experience. There are several rivers that are 30 to 45 minutes away from Sarasota and Siesta Key. These are the Myakka River, Manatee River, and Braden River. They are all a bit different in character but offer anglers the chance to catch a very large snook on fly along with big jacks, redfish, juvenile tarpon, and even in some cases largemouth bass.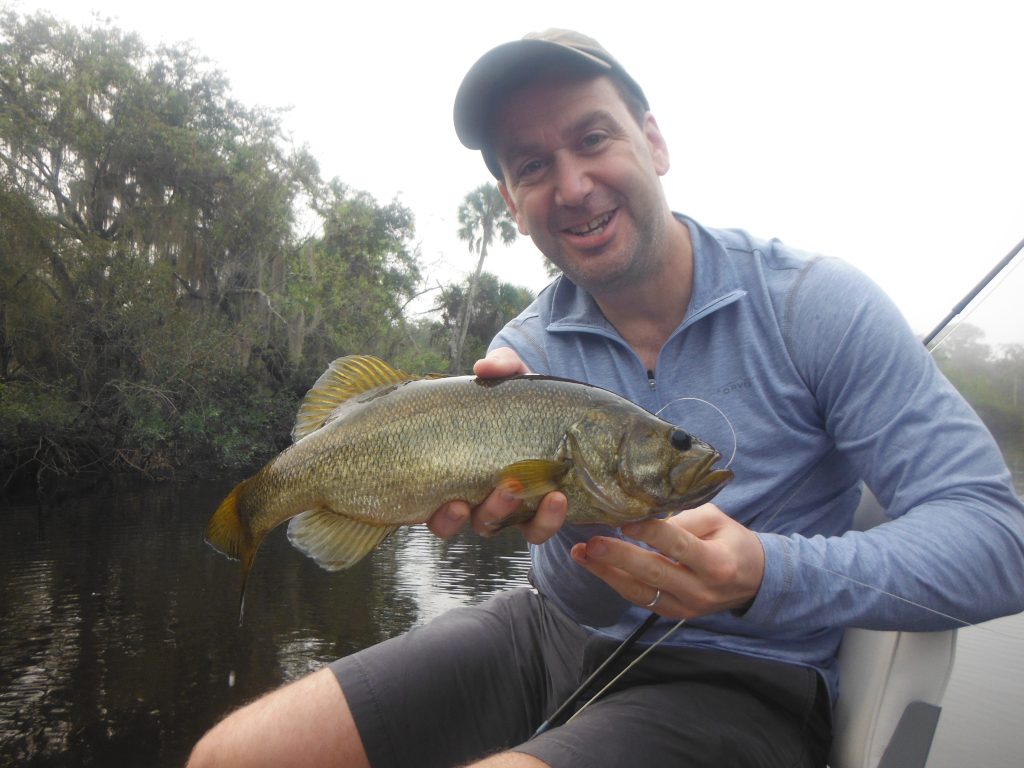 These river fly fishing trips generally do not produce numbers. It is more of a quality over quantity approach. Covering a lot of water is key as anglers cast towards cover as the boat drifts along. I use my 15 foot Siesta Skiff for these trips as my larger bay boat is too big to launch at most of the ramps. This trip is not for the novice fly angler but is an excellent option for the experienced angler who has perhaps done a lot of the typical inshore fishing and is looking for a different experience.
In conclusion, this article on winter fly fishing in Sarasota will help anglers understand the challenges and advantages that fishing this time of year can offer!