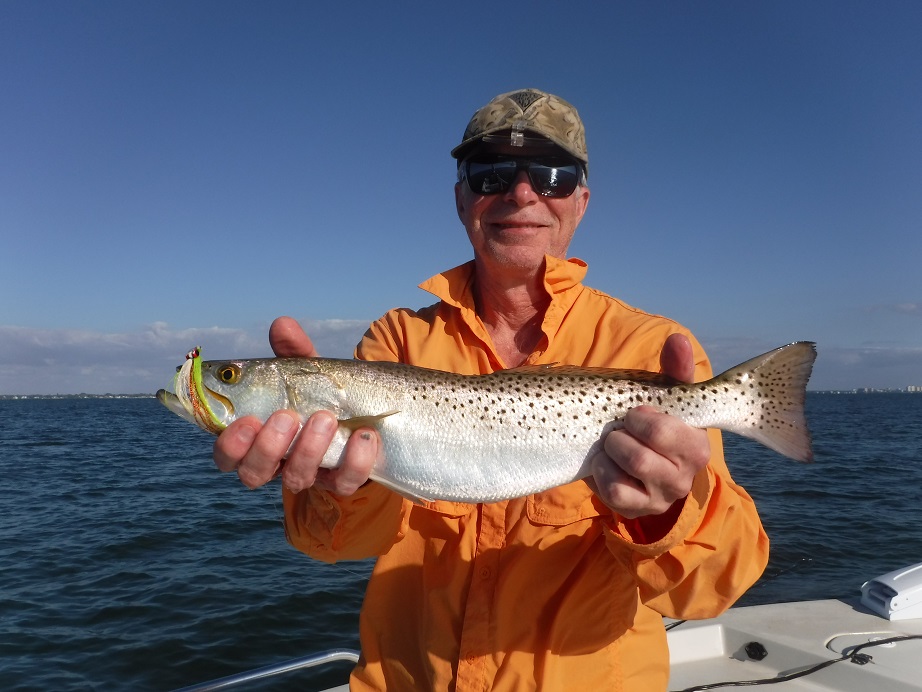 Sarasota flats fly fishing charter
Grass is the key to marine life in Sarasota Bay. The inshore waters of Florida's West Coast are shallow and many thousands of acres of lush grass flats cover the bottom. There is very little relief or other structure in the open bays, except for man-made objects such as bridges and docks. Bait fish and crustaceans breed and hide in the grass, and this in turn attracts many species of game fish.  Sarasota flats fishing is very productive. Vegetation grows from very shallow to up to ten feet deep, depending on water clarity and sunlight penetration.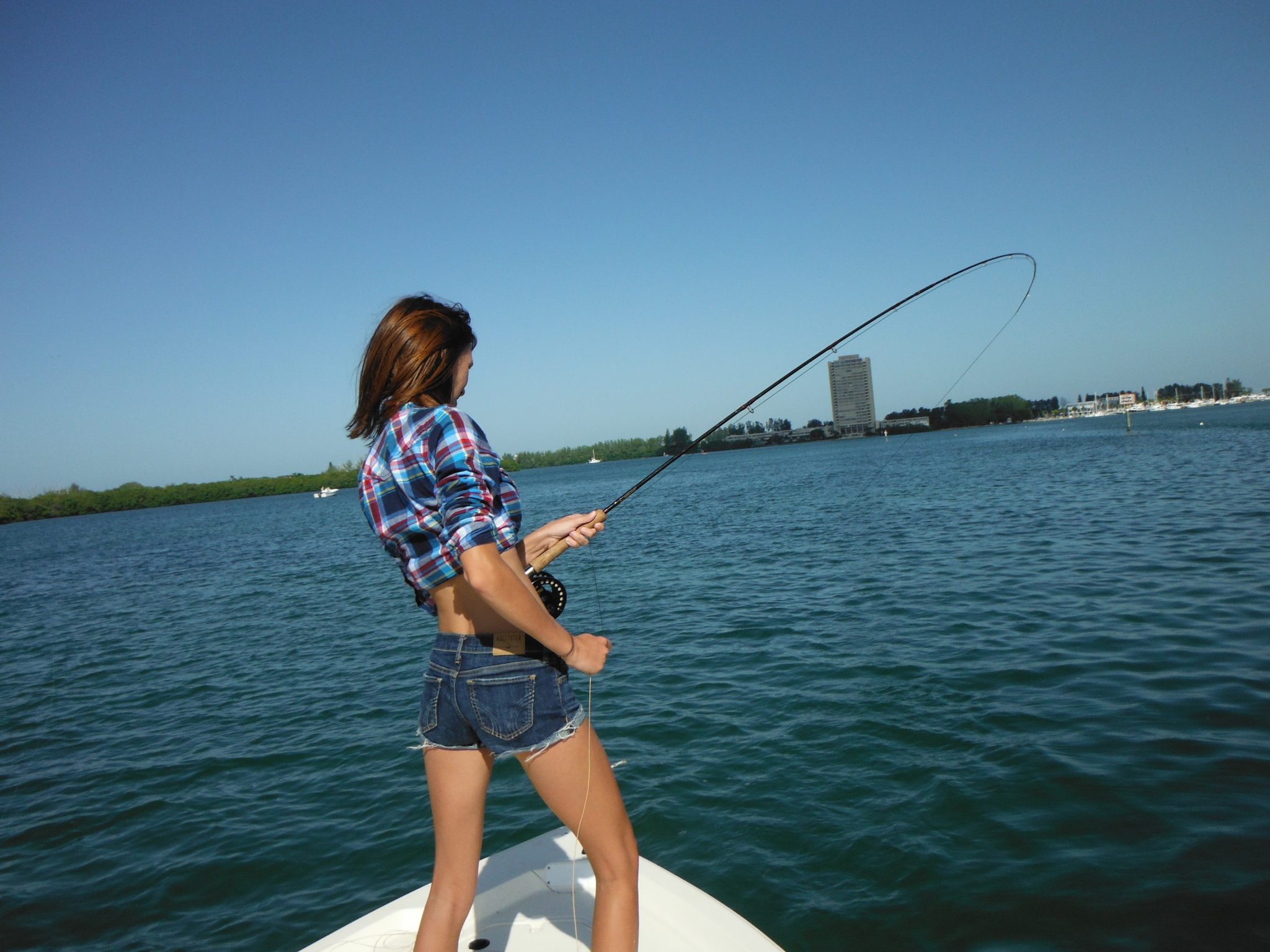 Contact Capt Jim at (941) 371-1390 captklopfer@comcast.net
The focus is on Sarasota flats fishing from 4′ to 10′, which is where the majority of fish will spend their time feeding. Action and variety are the themes when fishing the deep grass flats. Speckled trout are abundant and found year-round. Spanish mackerel, bluefish, pompano, jack crevalle, flounder, mangrove snapper, gag grouper, sharks, cobia, and other species will be encountered during certain times of year. Ladyfish are plentiful are provide great sport on fly.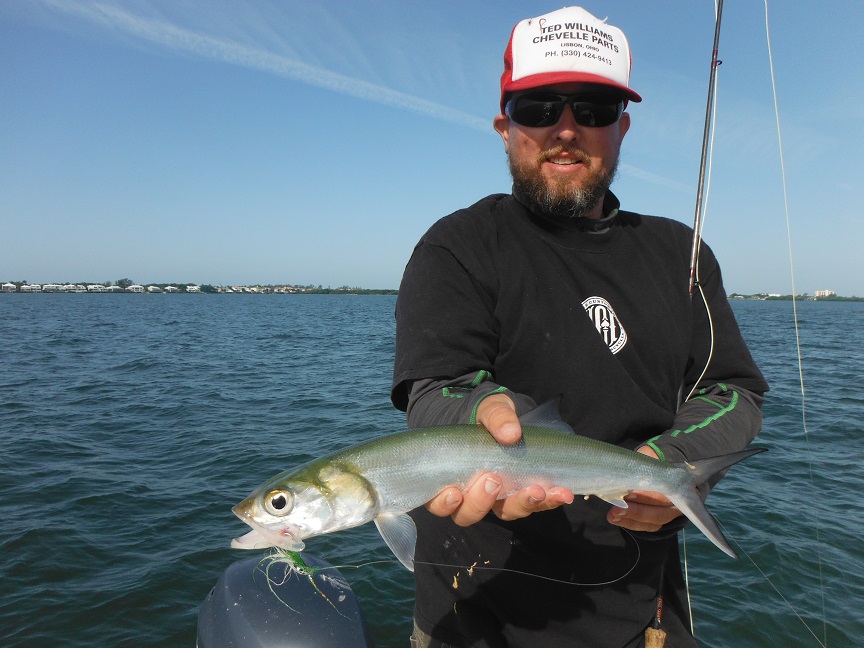 The best outfit for Sarasota flats fishing is a 7wt or 8wt with an intermediate sink tip line. Full sinking lines can be used successfully as well, though some anglers find them a bit difficult to manage. One mistake many freshwater fly anglers make is using a floating line. Even a heavy, weighted fly will not get down deep enough, especially on a breezy day. An 8′ tapered leader with a 20 lb to 30 lb bite tippet work well and cover most applications. Larger, toothy species such as big mackerel and bluefish may require bumping up the bite tippet to 50 lb test.
Top flies for Sarasota flats fishing
Fly choice can run the gamut when Sarasota flats fishing, but a #1 Clouser Deep Minnow is a tough fly to beat. Other weighted patterns such as a Crystal Minnow work very well, too. These are basically light jigs and rise and fall seductively as it is stripped in towards the boat. Non-weighted flies such as the lefty's Deceiver, D.T. Special, and Puglisi flies can be extremely effective, especially with a sinking line. White is a great all-round choice, but just about any color will produce. There old saying, "light color in clear water and dark colors in stained water" is a good rule of thumb.
Locating grass flats is easy under the right conditions. Polarized sunglasses are essential, with amber being an excellent choice for inshore fishing. If the water is clear and the sun is out, grass beds are very easy to see, even in water up to ten feet deep. Under low light conditions or when the water is stained, it is certainly more difficult. This is when experience and time spent out on the water pays off. A good depth finder will also assist in locating submerged vegetation when Sarasota flats fishing.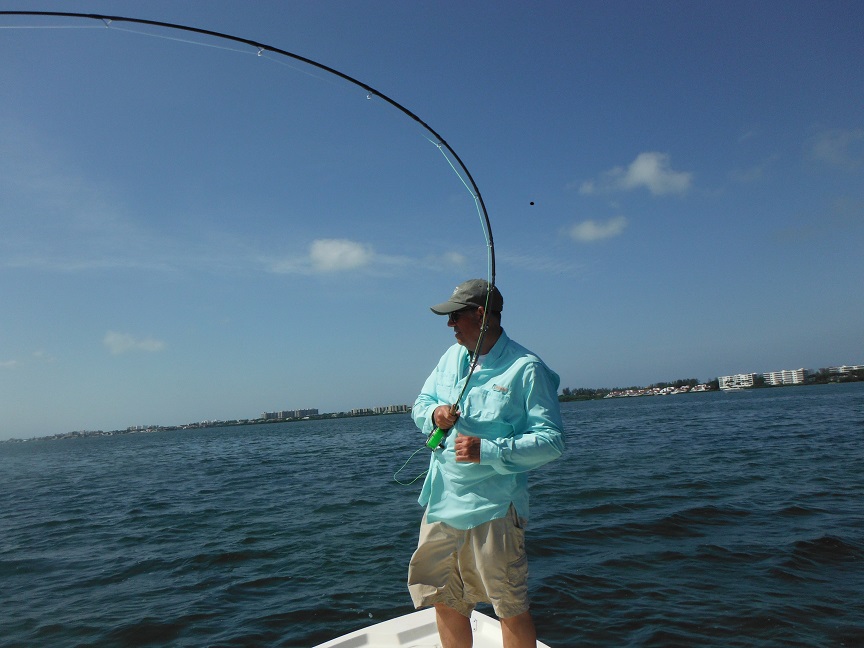 While tide is a critical component to shallow water Sarasota flats fishing, the tide height and stage is much less of a factor when working the deep grass. Many anglers prefer the top two hours of the incoming tide, and that is a fine time to fish, but the reality is that as long as the water is moving, fish will take a fly. Add a light breeze and the conditions will be perfect. As in most fishing, dead calm wind and slack tides are the toughest conditions under which to catch fish.
One situation when fishing a slack or slow tide can be productive is to work the deeper water in passes. During periods of slow moving water, the fly will get a chance to sink down deep enough. This is not the case when there is a strong current; it can be difficult to fish passes under these circumstances.
As these grass flats can be expansive, drifting is usually the preferred technique when trying to locate fish. Wind and tide are crucial elements when formulating a strategy. Ideally, setting up a drift where the current flow and wind will move the boat in the same direction is the best approach. This is not always possible, and can result in the boat "crabbing" sideways and also causing a drag on the fly line. Once a likely flat has been chosen, it is time to start fishing!
Sarasota flats fishing techniques
Begin the drift on the upwind edge of the flat and let the boat drift with the wind and tide, putting the wind over the casting shoulder of the angler. The fly is cast out, allowed to sink, and then retrieved back in. Anglers should vary the sink time and stripping technique until a productive pattern emerges. When a fish takes the fly, the "strip set" method is used to hook it. The rod should be low to the water as the fly is retrieved. When the fish takes, pull hard on the fly line with the stripping hand, removing all of the slack, then gently raise the rod tip.
Fish may like it very fast and aggressive while at times a more subtle and deliberate approach will work better. Don't get preoccupied with the fly pattern; presentation is the most important aspect. Also, different species will respond better to different retrieves. Trout and pompano like it a bit closer to the bottom while mackerel, bluefish, and ladyfish will take a fly stripped very quickly.
While a 6 knot wind is just about perfect, anglers fly fishing will quite often be dealing with winds in excess of that. There are strategies and techniques that will help fly casters deal with a bit of breeze. Casting at a 45 degree degree angle instead of straight out from the boat will help quite a bit. This allows the fly line to swing out and be retrieved parallel to the boat. This is a bit like freshwater trout anglers "swinging a nymph". As the slack comes out of the line the fly will speed up, often times triggering a strike. On a quickly moving boat it is difficult to retrieve the fly fast enough when cast straight out.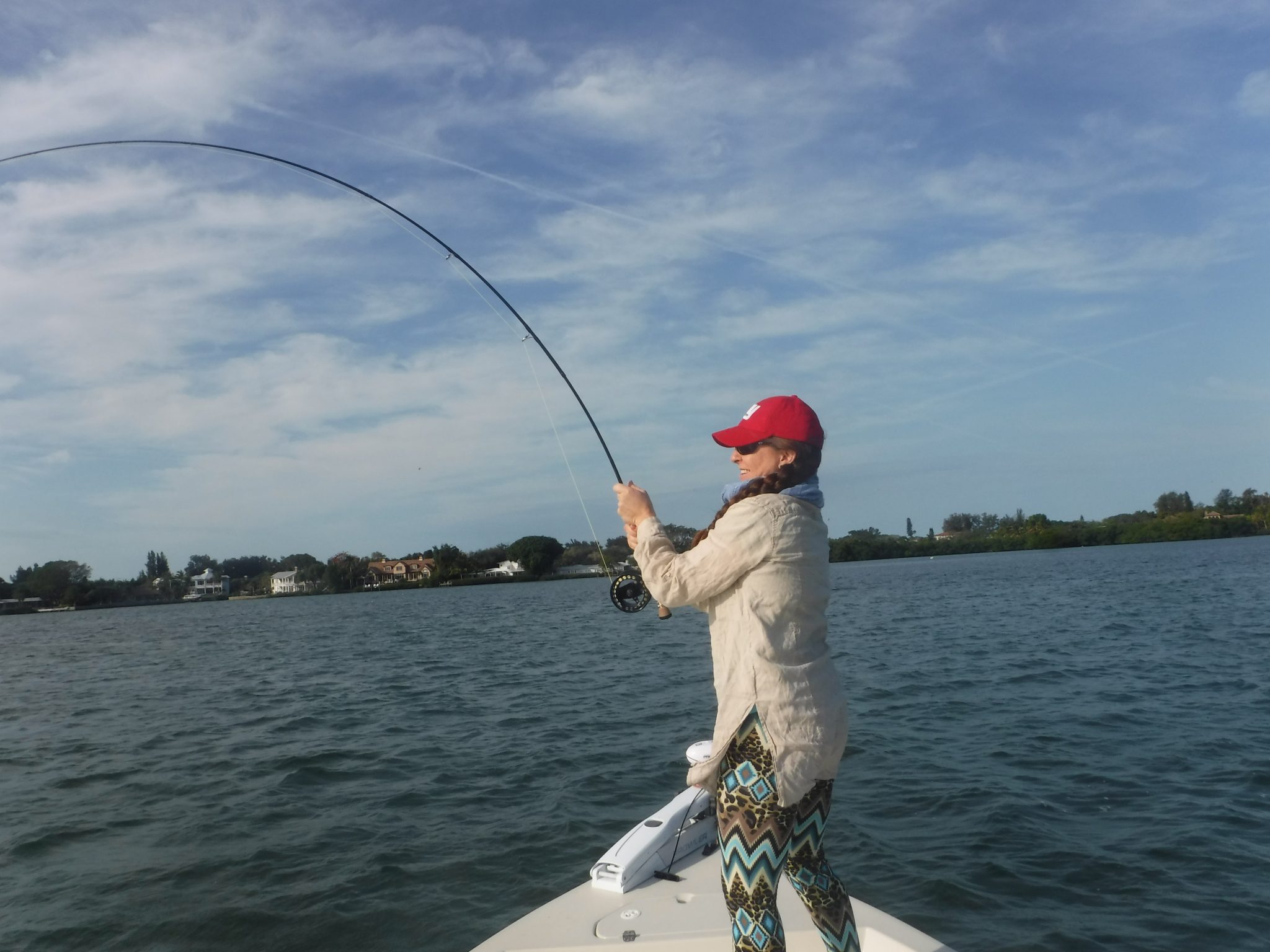 Anchors and drift socks can also be effective tools. A drift anchor will slow the drift of the boat and can also be used to keep the boat angle positioned correctly. An anchor can be deployed from the stern once fish are located, allowing anglers to thoroughly work the area, maximizing the opportunity. Once the action slows, simply lift the anchor and continue the drift.
Give the deep grass flats a try and don't ignore "fun" species including ladyfish, jacks, and bluefish, it is a great option for a Sarasota fly fishing charter. Many anglers focus on the "glamour" species such as snook, redfish, and even tarpon. But the reality is that fly fishers seeking a bent rod will enjoy the action and variety that working the deep flats provides. "Fun fish" provide great action and are perfect for the novice to gain confidence and the more experienced angler to practice on. They are also perfect for introducing kids to the sport. Lastly, even the experienced fly caster needs the occasional confidence booster after a few tough outings. There is nothing better than spending a few hours out on the water and catching a couple dozen fish and multiple species.
Sarasota flats fishing; snook, reds, and jacks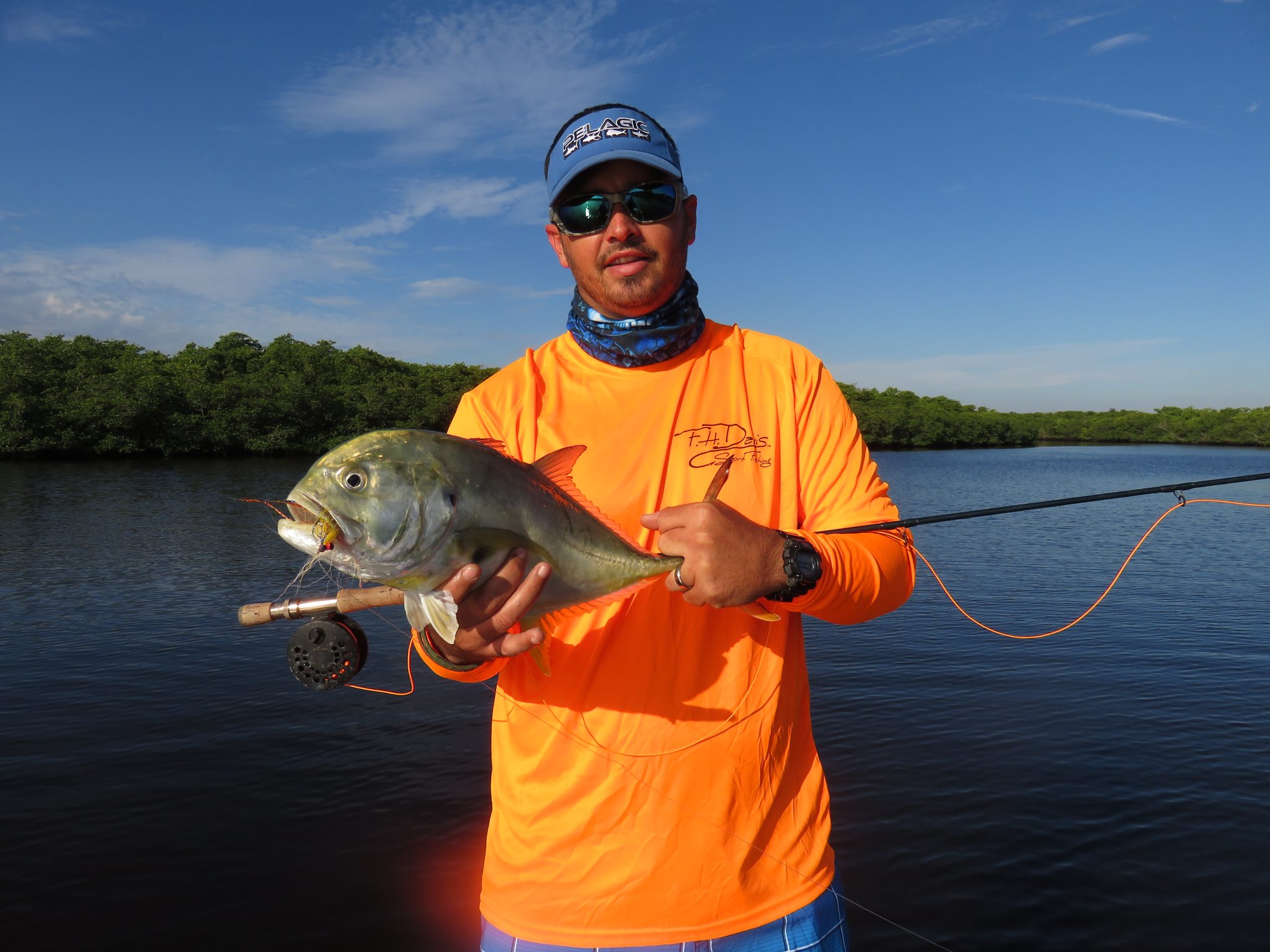 Anglers seeking a bit more of a challenge can opt to target snook, redfish, and jack crevelle. These species require more patience as it is not a numbers game. Mangrove shorelines, oyster bars, docks, holes, and other structure will hold fish. Phillippi Creek is a great spot to fly fish in the winter as game fish will concentrate there. The characteristics of Sarasota Bay changes south of the north Siesta Key bridge. Grass is less abundant and oyster bars and mangrove shorelines dominate the environment. That is where Capt JIm normally focuses on snook, reds, and jacks.
Capt Jim fishes for snook, redfish, and jack crevalle along the mangrove shorelines, oyster bars, and docks in Sarasota, Florida. His boat is flat and stable and does not draw a lot of water. However, it is not a poling skiff. Capt Jim can recommend a good guide for anglers seeking this experience.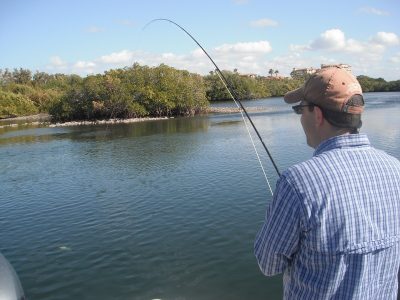 Capt Jim uses the trolling motor to position the boat. Anglers cast toward likely looking spots using an intermediate sink tip line. The fly of choice is usually a Clouser Minnow, but plenty of other patterns will produce. 7wt to 9wt outfits are best. Cooler months are usually best as snook and other game fish move from the beaches and passes to backwater areas.
In the winter, snook and jacks migrate up into area creeks and residential canals. Bowlees Creek, Hudson Bayou, and Phillippi Creek are excellent spots to try. Fish will be concentrated in these areas and are much easier to locate and catch. Often, afternoons are required as the tide will be high enough to get back in these areas.