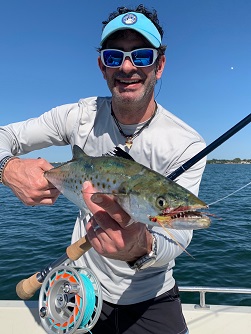 Fly Fishing in Sarasota in Spring
This article will thoroughly cover fly fishing in Sarasota in spring. Like most fishing situations, spring is an excellent time of year to toss a fly. The water temperatures are rising and fish are moving from their winter haunts to the flats and back water areas. Many species spawn in spring as well.
My name is Capt Jim Klopfer and I run fly fishing charters in Sarasota. Spring is one of my favorite times to fish. The weather is usually mild and there are quite a few options that fly anglers can choose from. Just about every species that inhabit Sarasota can be caught during the spring time!
Fly fishing in Sarasota in spring
Anglers can catch a variety of species using several different techniques when fly fishing in Sarasota in the spring. The deep grass flats will provide action and variety. Speckled trout, Spanish mackerel, bluefish, ladyfish, jacks, pompano, and other species will take a fly. The passes will hold fish as well. Action on the beach can be excellent when conditions are right. Snook, redfish, and jacks are caught along the mangrove shorelines.
For the most part, I use an 8wt Orvis outfit for the majority of my Sarasota fly fishing charters. An intermediate sink tip line is very versatile and works well in most situations. Fly selection is pretty basic, with a 1/0 chartreuse over white Clouser Minnow being my top fly. Crystal Minnow and D.T. Special patterns are also effective.
Top techniques for spring fly fishing in Sarasota
There are several different techniques that I use on my Sarasota fly fishing charters in the spring. These are drifting the deep grass flats, fishing the passes, working the inshore Gulf of Mexico, and trying for snook and reds in the backwater areas. All of these techniques can be productive this time of year.
Fly fishing the deep grass flats is a technique that I use quite often, especially with clients who are not as experienced. It is the easiest way to catch a fish on a fly. This technique also produces quite a bit of variety as many species roam these flats in search of food.
The technique is pretty straightforward. As the boat drifts along, anglers cast a fly (usually a Clouser) out in front of the boat. The fly is allowed to sink then stripped in fairly aggressively. As long as the angler can cast 30-40 feet, he or she can catch fish! This produces a lot of speckled trout, which are one of out primary resident species.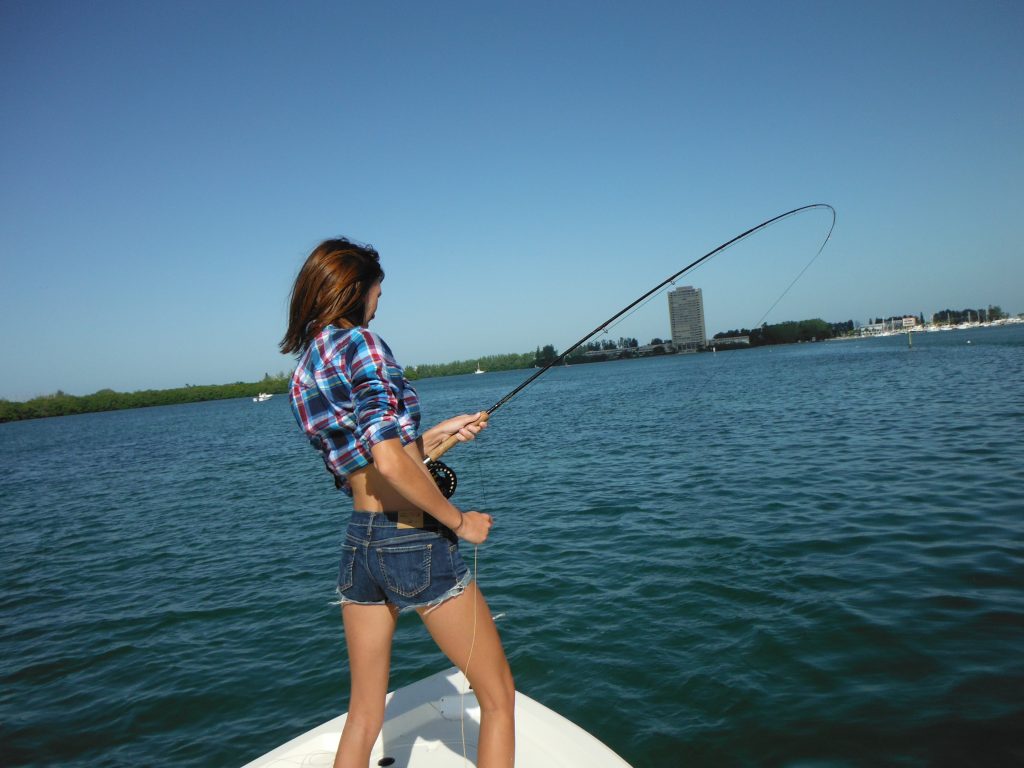 Along with trout, anglers will encounter other species as well. Spanish mackerel strike hard and put up a great battle, often making a long initial run. Bluefish pull very hard as well. Ladyfish usually leap high out of the water when hooked. Jacks and pompano put up a determined bulldog fight.
There are a lot of these deep grass flat areas to fish in Sarasota Bay. This is helpful as wind can be an issue in spring. There are times when seeking a lee shore is desired. I will sometimes anchor to stop the boat or slow the drift. Ideally, we fish a flat where the wind and tide are moving in the same direction.
Fly fishing the passes
There are times in the spring when fish, particularly ladyfish, will be thick in Big Sarasota Pass and New Pass. This is a good prospect as fish are concentrated in a relatively small area. The biggest challenge can be getting the fly down deep enough, especially in heavy current.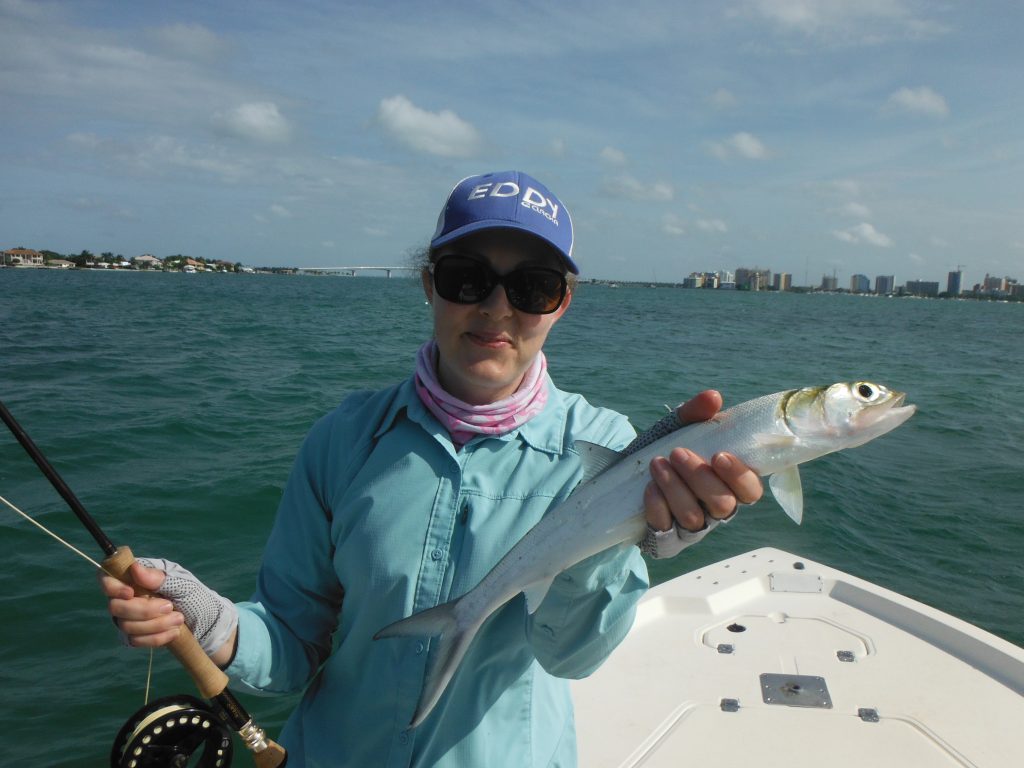 Fortunately, there are shallow bars in the passes as well. Game fish will corral bait fish up against these bars, often times being seen feeding on the surface. This is great sport as a take is virtually guaranteed! Spanish mackerel, bluefish, ladyfish, and jacks will all be caught this way.
Fly fishing the inshore Gulf of Mexico
I really love fly fishing the inshore Gulf of Mexico off of the Sarasota and Siesta Key beaches! When conditions are optimum, the fishing can be truly world class. East winds will have the water clear and flat. This will attract huge schools of bait fish of various sizes, from tiny glass minnows to hand sized sardines.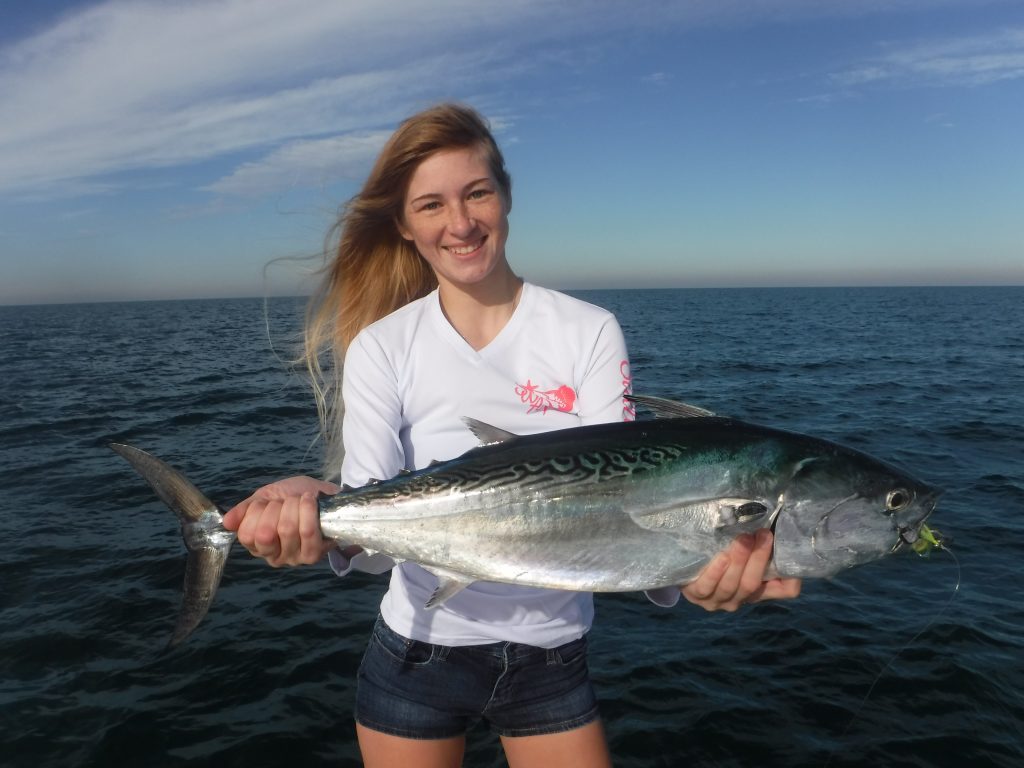 This abundant forage attracts the game fish. Spanish mackerel are the primary species and are at times found in large schools. False albacore, jack crevalle, ladyfish, bluefish, and even cobia are also found feeding on the bait.
For the most part, this is visual fly fishing, which is part of what makes it so exciting. When mackerel, jacks, bluefish, and ladyfish are feeding, just about any fly cast out into the action will draw a strike. White bait fish patterns are best. False albacore can be much more fussy and at times multiple fly changes will be needed.
Anglers coming to Florida often want the challenge of targeting snook and redfish on the flats and in the backwater areas. This is definitely an option for those anglers with good casting skills and experience. This is a "quality over quantity" situation. While the numbers may be low, this can produce a trophy snook or red.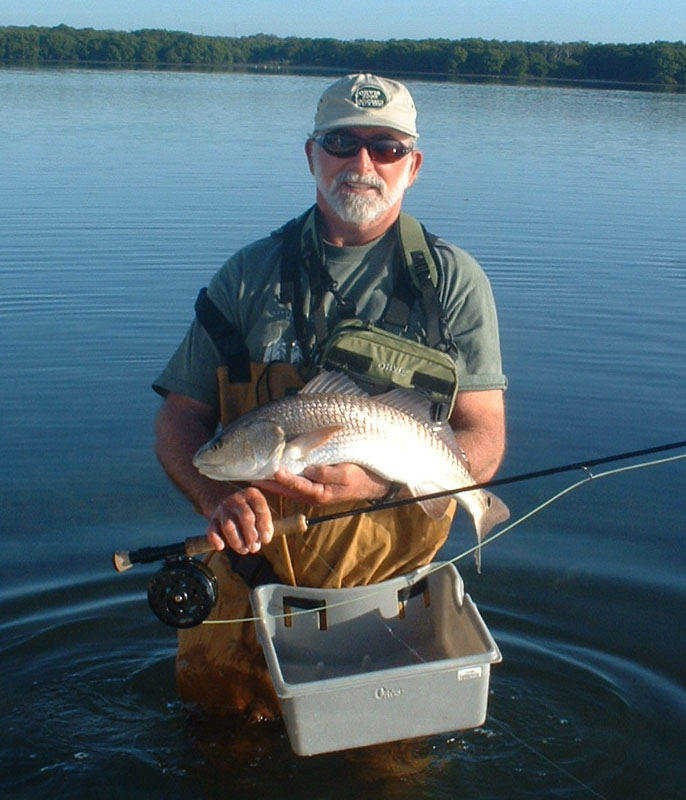 Snook are easier to catch on fly and redfish, in my opion. They are much like a saltwater version of largemouth bass. Snook are structure oriented and relate to docks, bridges, oyster bars, mangrove shorelines, sea walls, and really any structure. White is the top color. Often times, anglers will catch jack crevalle while persuing snook, a most welcome interruption!
Redfish are usually found in shallow water and are extremely spooky. Anglers need to be very quiet or better yet wade. Red and brown is a proven color combination. Redfish will be scattered out in spring, before they school up in summer.
Species caught by anglers fly fishing in Sarasota in the spring time
One of the aspects of fly fishing in spring in Sarasota is the variety. Just about every species that will take a fly can be caught this time of year. Most techniques can produce multiple species.
Snook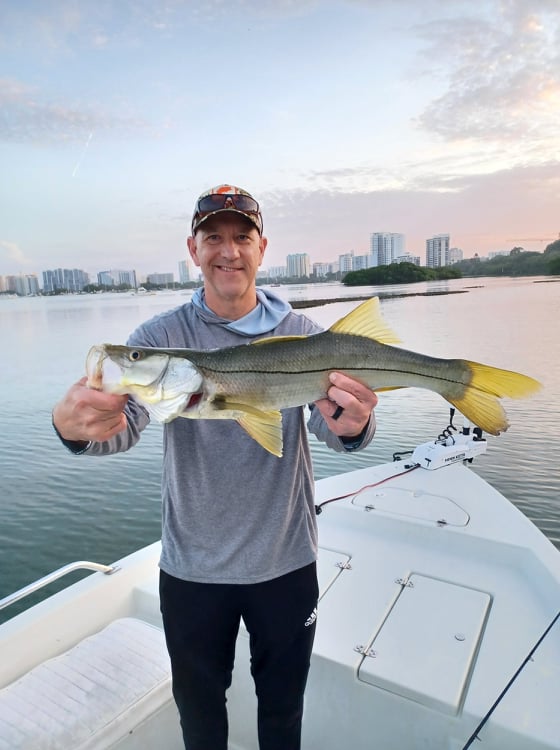 Snook are the premier inshore game fish in the southern half of Florida. They are available all year long. In spring, they migrate out of Sarasota creeks, rivers, and residential canals as the water warms up. The snook are scattered out, but fairly aggressive and in the mood to feed. A high, outgoing tide is best.
Redfish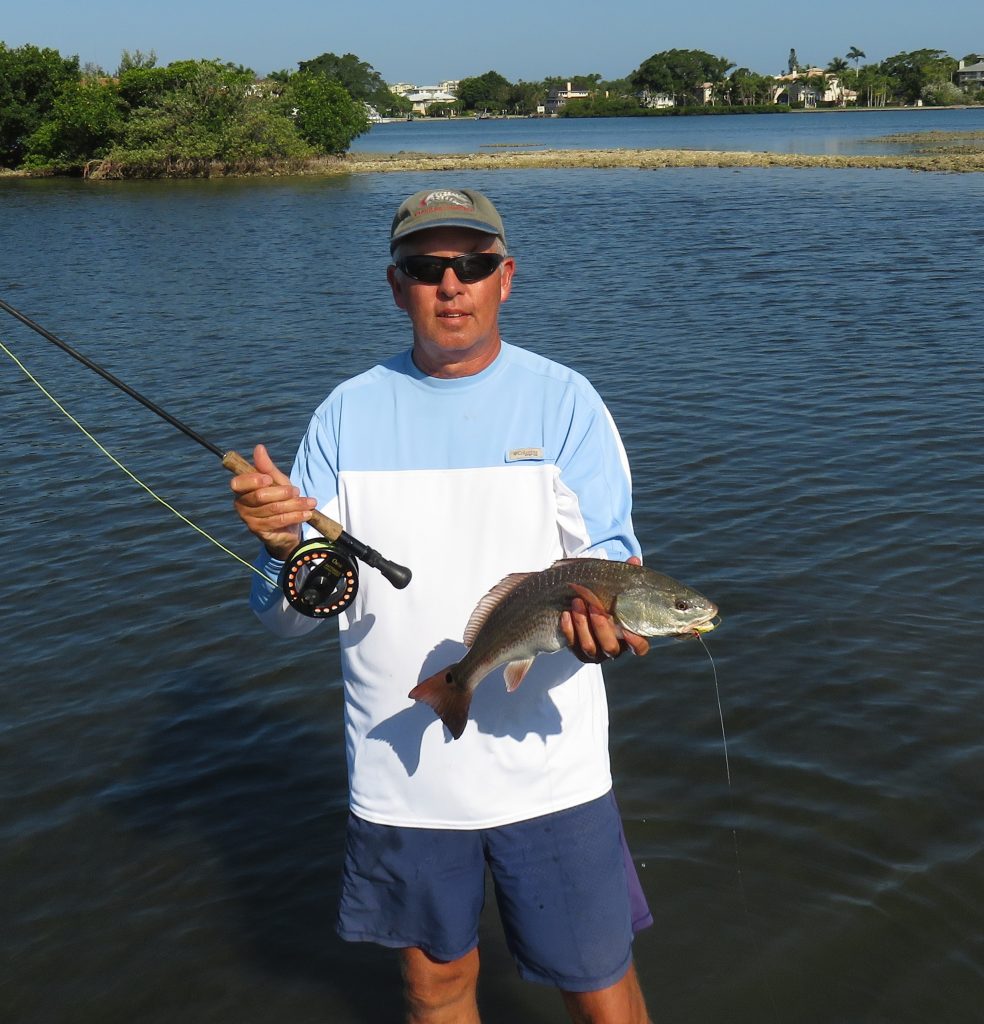 Many anglers want to catch a redfish on fly when visiting Sarasota. In all honesty, they are very difficult to catch in my area. Reds are usually found in very shallow water and are therefore quite easily spooked. They also get a lot of pressure. Working the oyster bars can produce them along with other species. Wading can be the best approach.
Speckled trout
My clients catch a lot of speckled trout wen fly fishing in Sarasota. Trout are available all year long and are usually fairly cooperative. Spring is definitely an excellent time to catch them as the water temperature is usually perfect and forage is available. Numbers of trout are caught in deep water while the larger trout are often found alone in shallow water.
Spanish mackerel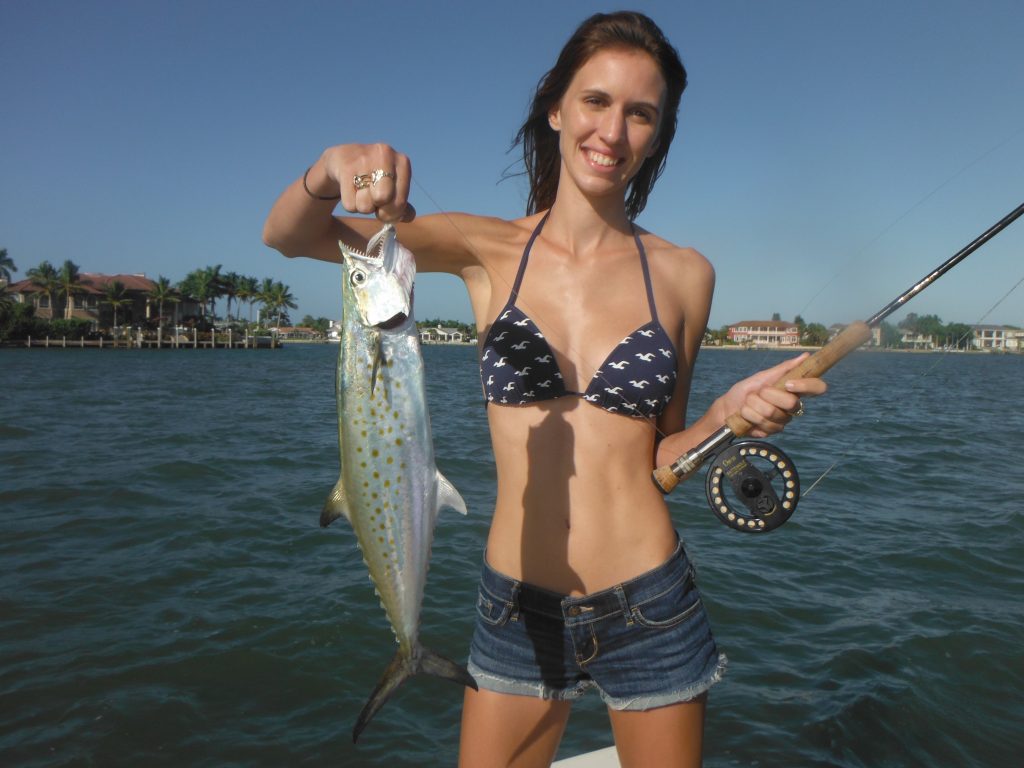 In my opinion, Spanish mackerel are an underrated and under appreciated saltwater game fish species. Spring and fall are the best times to catch them in Sarasota. Fly anglers can encounter mackerel on the deep flats, in the passes, and out on the beach. You really never know where they will show up, which is definitely part of the fun! Spanish like a very fast and aggressive retrieve and put up a terrific fight once hooked. Many are lost to their razor sharp teeth.
Jack crevalle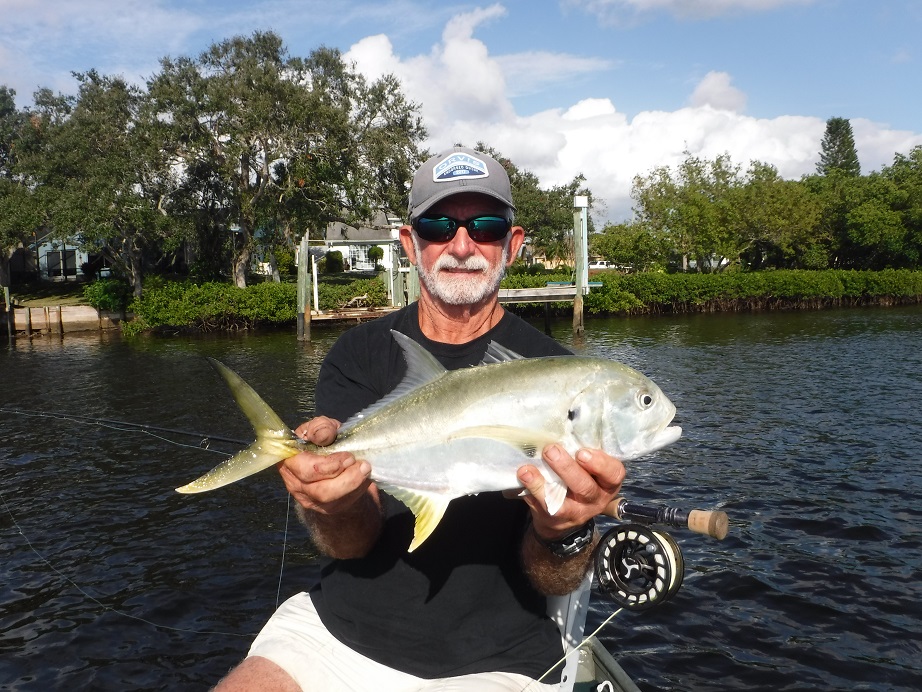 Jack crevalle are terrific game fish! They use their broad sides to pull very hard. Jacks usually school up in large numbers, which adds to their aggressiveness. They are often found feeding on the surface. In the spring, they are usually caught in the same areas as snook, cruising the backwater oyster bars and shorelines. Jacks love docks as well.
Pompano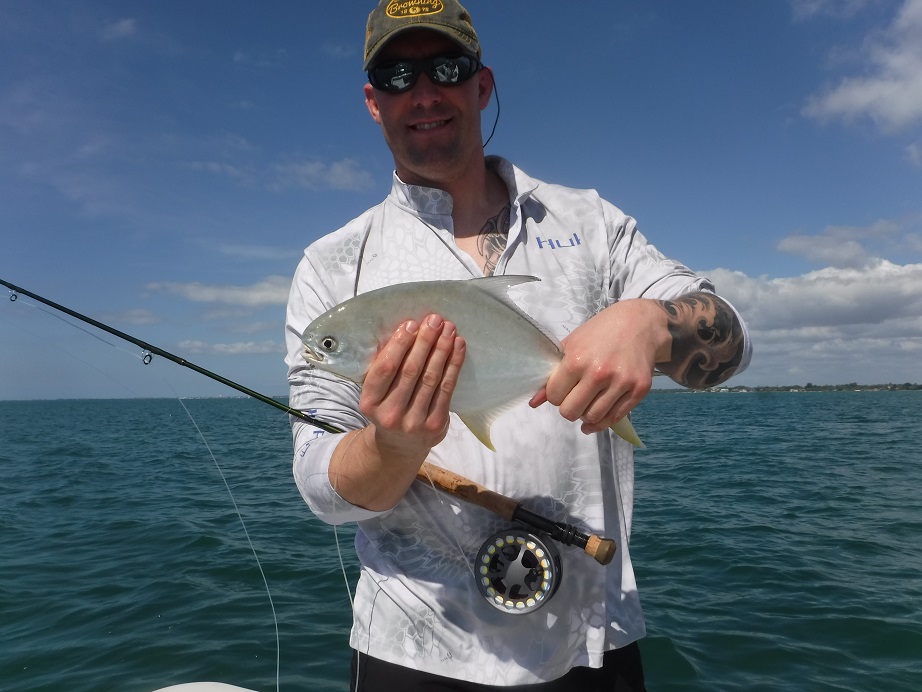 Pompano do not grow large, but put up a determined battle and are fantastic to eat. They are caught on the flats and in the passes. The primary challenge is getting the fly down where pompano feed. Small weighted flies in bright colors work best.
False albacore
There is no better game fish that anglers can catch when fly fishing in Sarasota in spring that false albacore. They are caught in the open waters of the Gulf of Mexico. False albacore can be fussy and difficult to fool. They are also fast and move around a lot. I bump up the tackle to a 9wt or 10wt for false albacore. They make a blistering run deep into the backing when hooked.
bluefish
Sarasota bluefish average a couple of pounds. They put up a great fight on the light tackle that I use on my Sarasota fly fishing charters. While I seldom target bluefish, they are welcome interlopers when casting for trout or other species. Most are caught on the deep grass flats.
ladyfish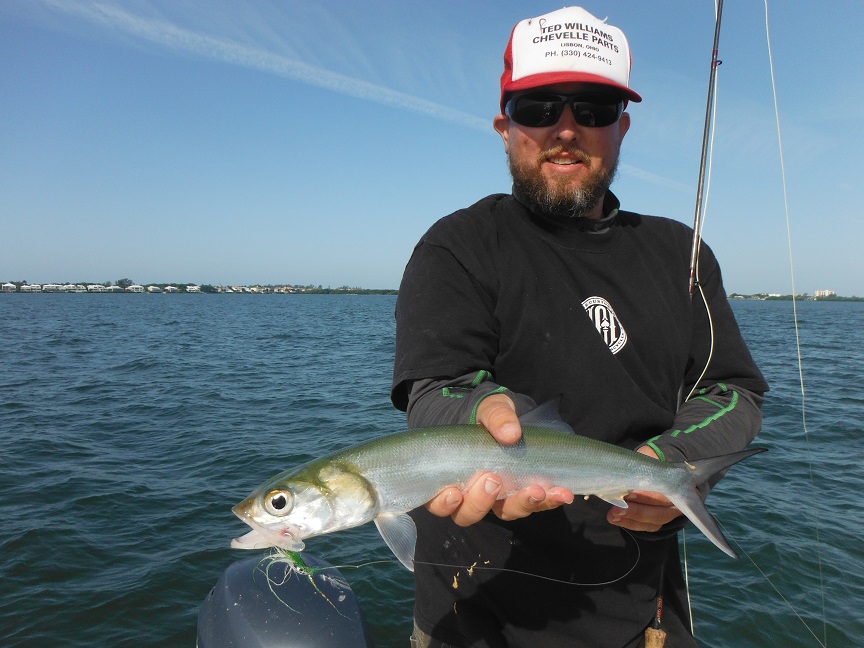 Some anglers disrespect ladyfish and call them trash fish, I am not one of those anglers! Ladyfish have saved the day for me and my anglers on many occasions. Ladyfish fight hard, leaping high up out of the water. They are caught year-round in just about all locations.
In conclusion, this article on fly fishing in Sarasota in spring will help anglers understand the options and opportunities that are available to them.