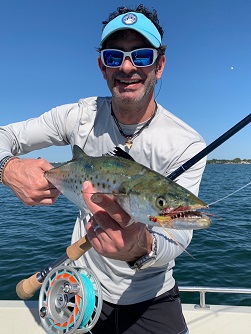 Fly fishing for Spanish mackerel – Tips from a Florida Guide!
This article will thoroughly cover fly fishing for Spanish mackerel. Spanish mackerel are a beautiful and hard-fighting game fish species. They are found throughout the world in temperate waters. In the United stated, Spanish mackerel are caught from Texas and all along the Gulf Coast and up the mid-Atlantic coast.
My name is Capt Jim Klopfer and I am a fly fishing guide in Sarasota, Florida. I fish for a variety of species throughout the season. However, Spanish mackerel are one of my favorite species to target. They hit a fly hard, are beautiful, make long, powerful runs, are are fine eating for anglers wanting to keep a fish or two.
Fly fishing for Spanish mackerel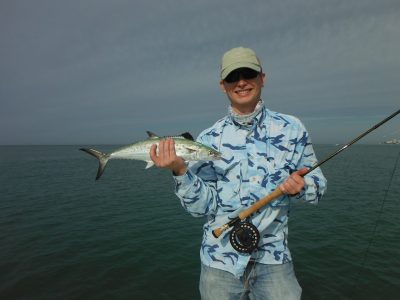 There are several reasons why I enjoy fly fishing for Spanish mackerel as much as I do. First off, often times the action is visual. Spanish mackerel will trap bait fish against the surface, feeding aggressively. This can be seen from a distance away on a calm day. Diving birds are a great indication that feeding game fish are in the vicinity. Just about any fly cast into the fish will draw a strike.
Very few game fish hit a fly as hard as a Spanish mackerel does; there is nothing subtle about the take! Add to that the fact that anglers are often stripping very fast and only adds to the ferocity of the strike. It is not uncommon to have the line yanked from the stripping hand.
Spanish mackerel fly fishing tackle
For most anglers fly fishing for Spanish mackerel, a 7wt outfit is perfect. In areas where the fish run particularly large or when false albacore are mixed in, anglers can bump up to an 8wt or 9wt outfit. A good reel with a smooth drag and plenty of backing is required.

I use Orvis tackle, though I am not affiliated with them, I just like the equipment. They offer less expensive choices as well as quality top of the line rods and reels. St Croix, TFO, and other manufacturers offer good tackle at a reasonable price.
I personally like an intermediate sink tip line. It is more versatile that a floating line, yet will still work well when fish are feeding on the surface. Floating lines are great when fish are on top as anglers can pick up the line easily. Many anglers simple keep two outfit rigged up, one with a floating line and another with the sink tip.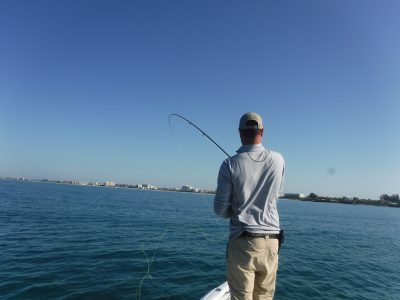 For the majority of my fly fishing, I use a very simple leader. It consists of 5′ of 50 lb butt section and then 4′ of 30 lb tippet. I mostly use weighted flies, so the leader turns over easily. Also, I seldom use wire, despite the shark teeth that Spanish mackerel possess. I accept the inevitable cut-offs as the cost of doing business. If the bite is really on, I will bump up the tippet to 50 lb or even add a short piece of tie-able wire.
Top Spanish mackerel flies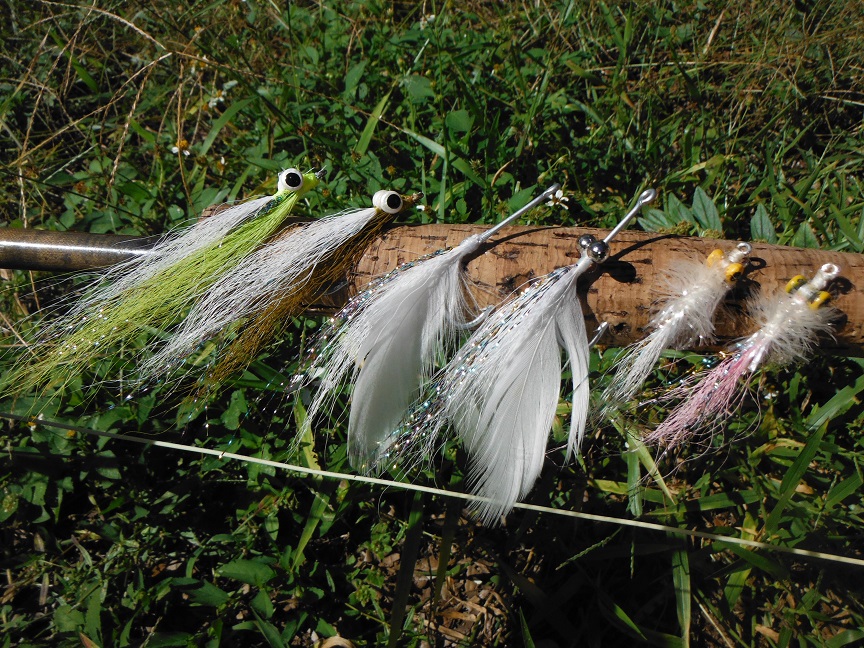 Fly selection is pretty simple when it comes to fly fishing for Spanish mackerel. Any bait fish pattern fly will fool them. White is a great all round choice, with natural colors also being productive. In most cases, actively feeding mackerel are not fussy. Top flies include Clouser Minnow, Lefty's Deceiver, and D.T. Special patterns. Poppers and surface flies produce, though I personally rarely use them. Again, there really is no limit to the choices.
Spanish mackerel are hard on flies! Anglers who tie their own quickly realize that there is no need to get fancy when fly fishing for Spanish mackerel. Some anglers find synthetic material to be more durable, but I still like to tie with buck tail. My personal favorite fly by far is a D.T. Special variation that a buddy showed me. It is tied on a long shank hook, which greatly reduces cut-offs.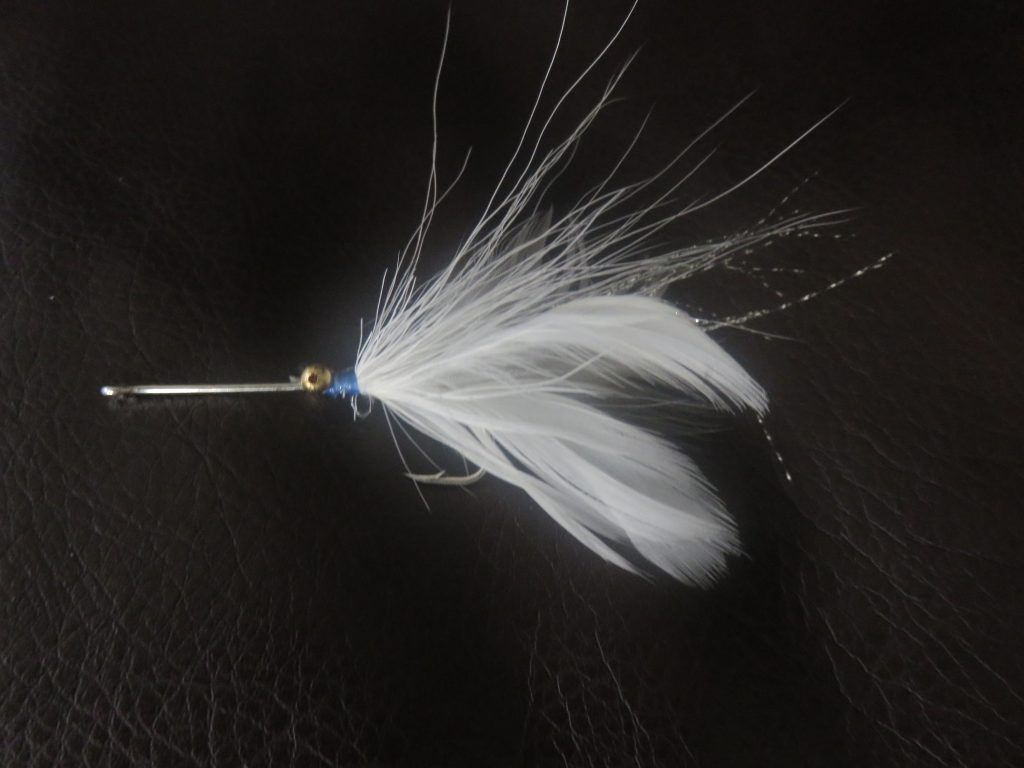 The fly is easy to tie. 2-3 white feathers are tied splayed at the rear. A little hair and flash are tied in on top at the rear. The fly can be fished like this or bead chain or dumbbell eyes can be added for a bit of weight. It is an economical fly that is easy to tie and is extremely effective on a variety of fish, particularly Spanish mackerel.
Spanish mackerel fly fishing techniques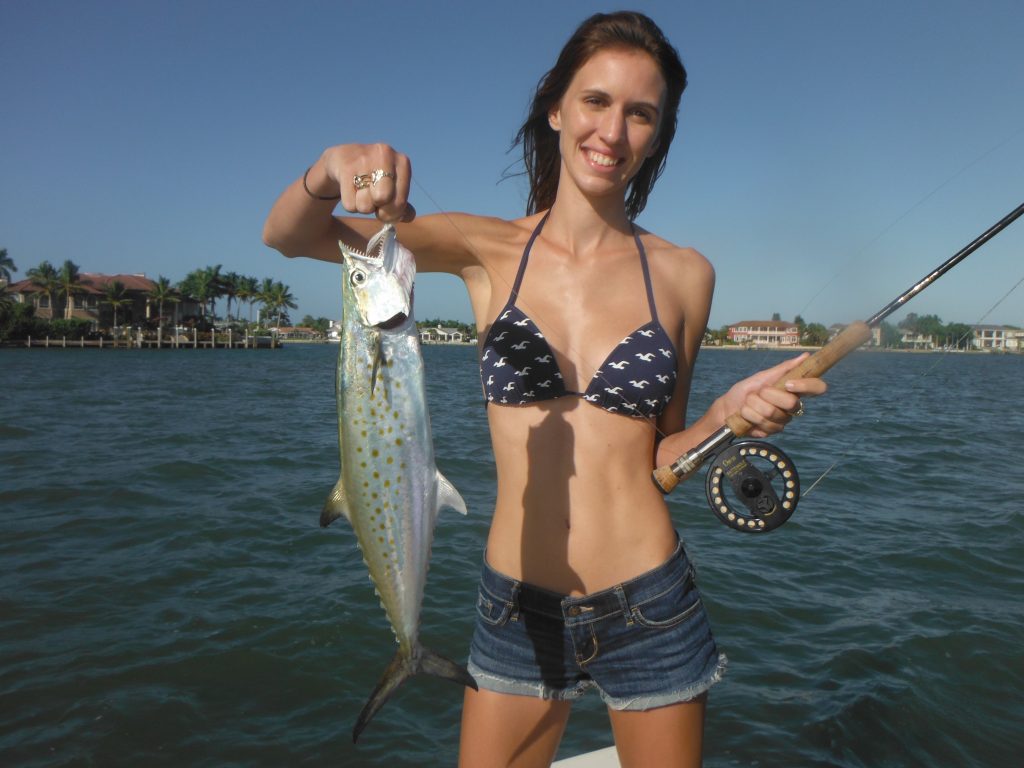 There are two basic techniques used when fly fishing for Spanish mackerel. These are casting to "breaking fish (those feeding on the surface) and blind casting in a likely spot. Both techniques are similar, but with enough differences to cover them separately.
I always use a strip set when saltwater fly fishing, and Spanish mackerel are no exception. When the fish takes, the rod tip is kept low and the angler sharply sets the hook by pulling the line with the stripping hand. The rod can then be smoothly raised and the fight ensues! This is much more effective that setting the hook with the rod tip, as is often done when freshwater fishing.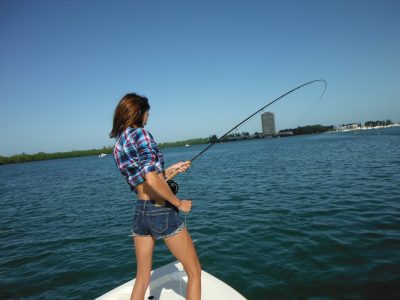 Once the fish is hooked, it will make a run. Smaller fish can be handled by stripping the line by hand. Larger mackerel will take up the slack in the fly line and can then be fought "on the reel". Keep those knuckles clear when it makes a run!
Spanish mackerel usually prefer a fast moving fly. Anglers sometimes resort to the two handed strip. This involves having the rod tucked under the arm and both hands are used to strip the fly as fast as humanly possible. Needless to say, the strikes are explosive!
Fly fishing for breaking Spanish mackerel
There is no greater fun when fly fishing that to cast to "breaking" fish. In this case I am covering Spanish mackerel, but the tip apply to striped bass, bluefish, jacks, ladyfish, false albacore and other species as well. The bite is virtually guaranteed in this situation! This occurs in the inshore Gulf of Mexico and Atlantic Ocean in the United States.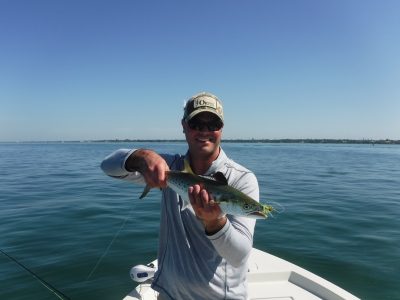 The prime consideration when casting to Spanish mackerel is boat position. Ideally, the boat is placed upwind of the fish with the breeze over the casting shoulder. The cast is made and the fly is stripped back in as fast as possible. At times, allowing the fly to sink a bit and using an erratic retrieve with pauses will be more effective.
Patience can be required with this type of fishing. One mistake I often see is anglers charging all over when fish pop up. A better approach is to take time to idle into position and wait for a good opportunity. One great thing about Spanish mackerel as opposed to other species (false albacore can drive me insane) is that once they come up, Spanish mackerel will often stay up for extended periods of time. When they go down, anglers can get bit by casting in the area they were last seen and allowing the fly to sink a bit.

Blind casting for Spanish mackerel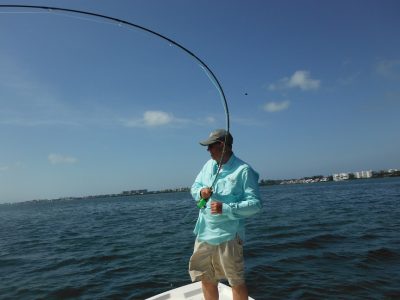 While Spanish mackerel are great fun when they are encountered feeding on the surface, my clients catch more fish by blind casting. This occurs on the deeper flats as well as in the passes and inlets. Anglers fishing from the shore and in the surf can score by blind casting as well.
This is where the intermediate sink tip line really makes a difference. A floating line, even when used with a weighted fly, will often not get down deep enough in the water column. The intermediate line will do so, that extra few feet of depth is very important.
I usually blind cast from a drifting boat. The boat is placed up-wind of the area that I want to fish. This is usually an area of submerged grass, but can be anyplace that I think fish will be present. Passes and inlets are good spots. Also, I may drift an area where I see birds, bait, or the occasional fish popping.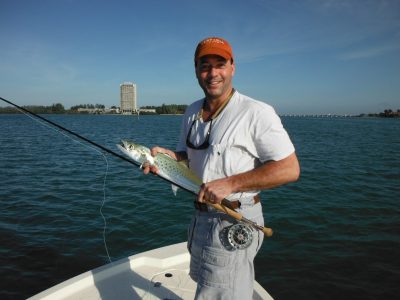 The fly is cast out, allowed to sink, then retrieved back in using fast, aggressive strips. The take will often occur during the pause, as the fly sits motionless, seemingly helpless. One great benefit of this technique is that a wide variety of species will be caught, depending on the location. Here in Sarasota where I fish, speckled trout, jacks, bluefish, pompano, ladyfish, and other species are commonly caught by blind casting.
Fly fishing for Spanish mackerel from shore
Anglers without a boat can certainly enjoy fly fishing for Spanish mackerel as well. The same basic techniques apply, the angler just has a bit less mobility. Breaking fish can be encountered from jetties, piers, and from the surf. Blind casting will produce in these areas as well.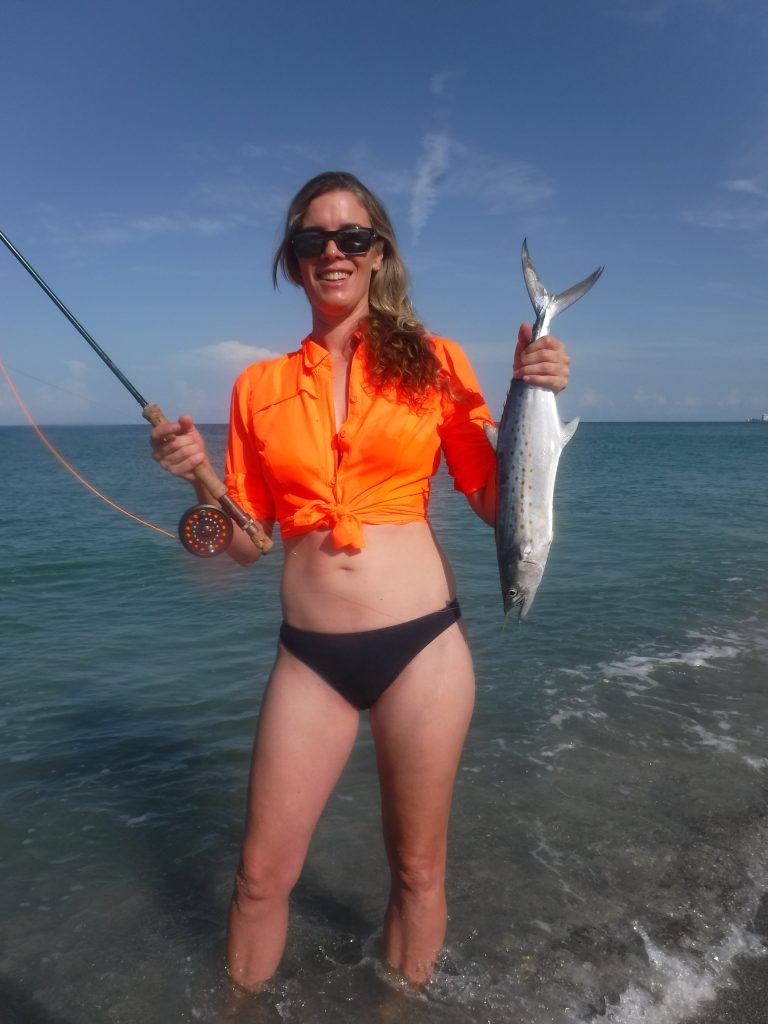 We are fortunate here on the Gulf Coast to have mild waves and fairly calm seas. This makes for excellent fly fishing opportunities in the surf. Spanish mackerel will be taken close to shore when the conditions are right. East winds will result in clear water and flat seas. Bait fish will move in, followed by the mackerel.
In conclusion, this article on fly fishing for Spanish mackerel will help anglers catch more of these underrated saltwater game fish!