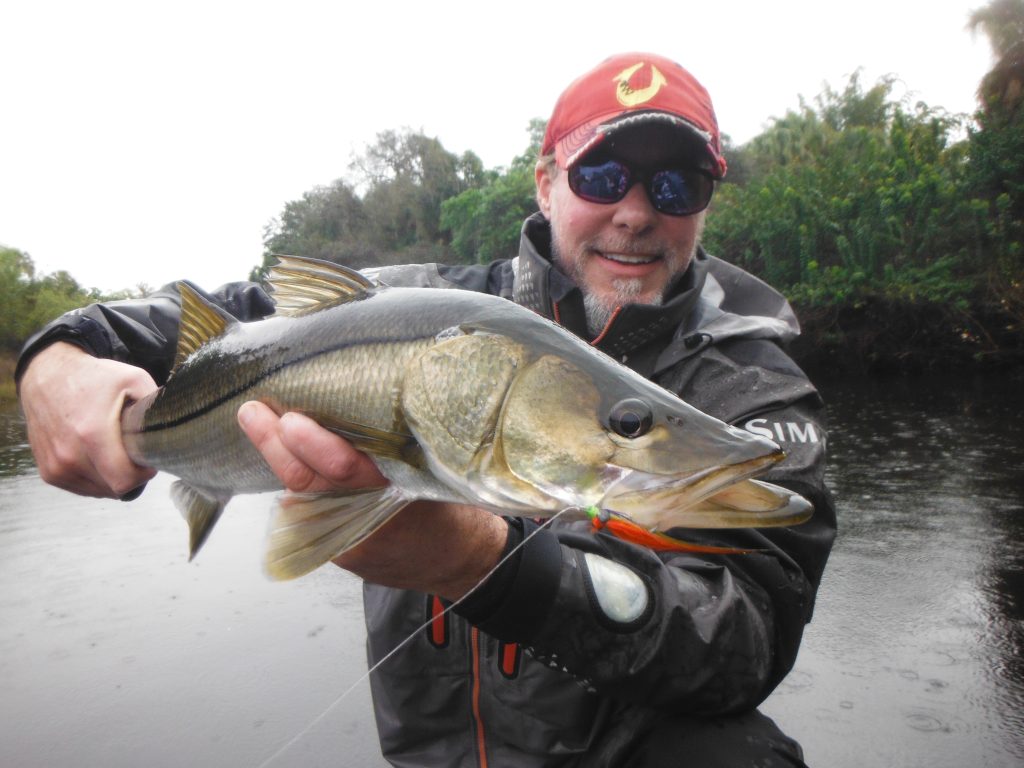 Fly Fishing for Snook in Sarasota – a Complete Guide!
This article will thoroughly cover fly fishing for snook in Sarasota. Snook are considered by many (along with tarpon) to be the premier inshore saltwater species. They grow large and fight hard. Snook are also a beautiful fish with a very pronounced lateral line. They are caught regularly by anglers fly fishing for them.
My name is Capt Jim Klopfer and I am a fly fishing guide in Sarasota. I earned my USCG license in 1991 and have been taking out clients since then. I will share my tips for fly fishing for snook in this article.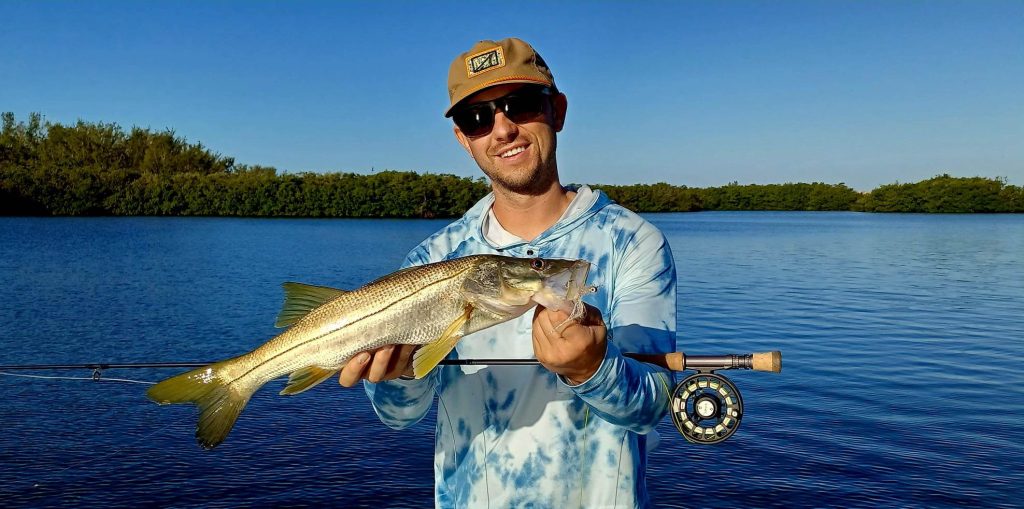 This article will thoroughly cover fly fishing for snook in Sarasota. Snook are considered by many (along with tarpon) to be the premier inshore saltwater species. They grow large and fight hard. Snook are also a beautiful fish with a very pronounced lateral line. They are caught regularly by anglers fly fishing for them.
Fly fishing for snook in Sarasota
In many ways, snook are really a saltwater version of the top freshwater game fish; the largemouth bass. Snook are ambush predators that are almost always found near structure. They have a large mouth and are suction feeders. Like bass, snook also have a broad, powerful tail. Finally, snook are opportunistic feeders and have a varied diet.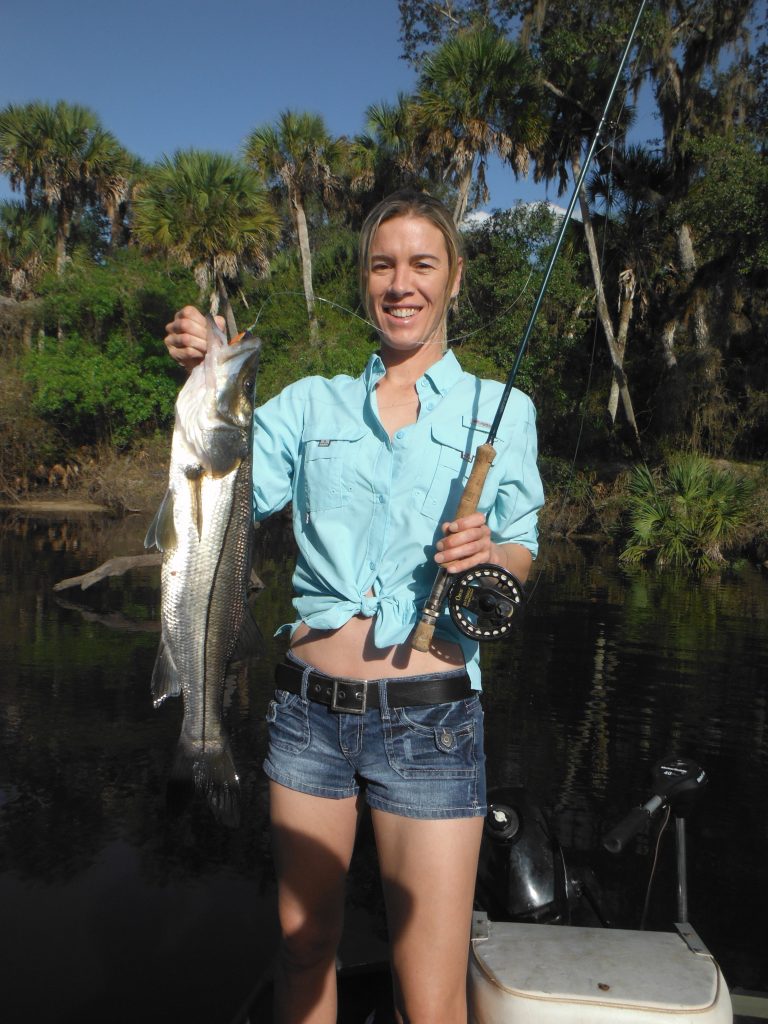 Best tackle for fly fishing for Sarasota snook
As with all fly fishing situations, anglers fly fishing for snook in Sarasota need the proper tackle and flies. For most situations, an 8wt is a good all round choice. Most of our fish are in the moderate size range, averaging 15"-24". An 8wt works great. Anglers targeting larger snook, especially in tight quarters, can bump it up to a 9wt.
I use an intermediate sink tip line almost exclusively. The only situation where I use a floating line is when chasing snook in very shallow water. An intermediate sink tip line with a clear sink tip works very well in all other applications. I keep my leaders simple, using 5′ of 50 lb butt section and 4′ of 30 lb flourocarbon leader line.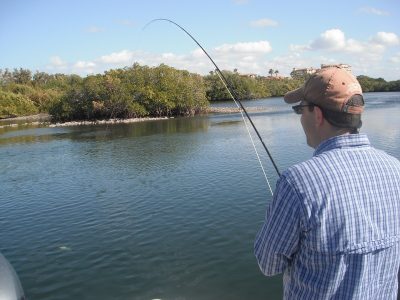 Fly selection is not complicated as well. I use a Clouser or Crystal Minnow pattern most of the time. These are versatile flies that are proven snook slayers. White is the traditional color, but I like chartreuse and olive mixed in as well. Deceivers and Puglisi fly patterns are also productive. Finally, D.T. Special flies work great on the beach.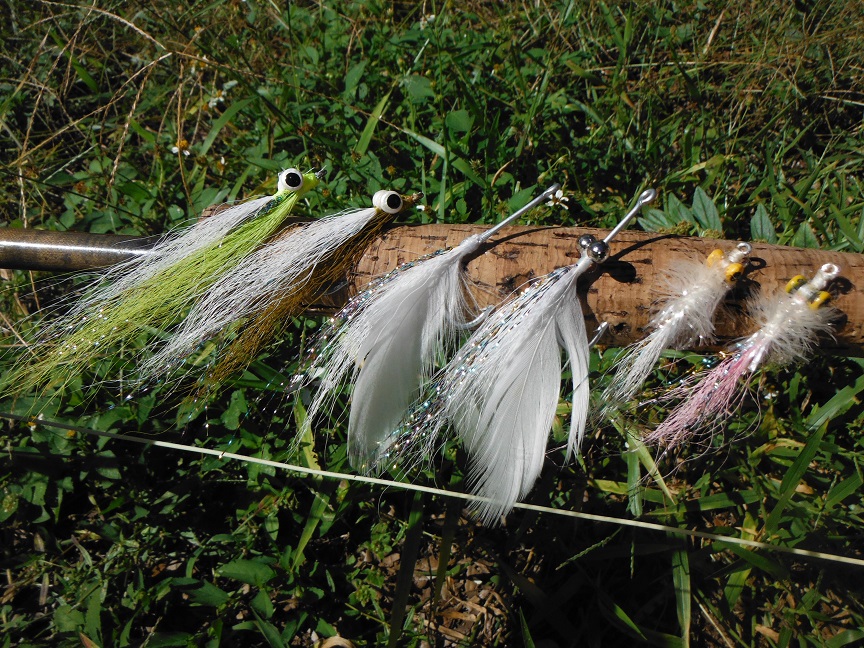 Top techniques for fly fishing for snook in Sarasota
Anglers fly fishing for snook in Sarasota use four basic techniques. These are inshore (backcountry) fishing, River and creek fishing, night fishing, and beach fishing. Each technique uses the same tackle and flies. However, there are some variations, therefore each will be covered separately.
It is important to understand the season snook migration patterns in order to be successful. Snook actually more around quite a bit throughout the year. In cold weather, snook will move into rivers, creeks, and residential canals. As it warms, they spread out in the back water areas. As summer approaches, snook move into passes and out on the beach. As fall approaches, the pattern reverses itself.
Back country snook fishing in Sarasota
Many snook are caught by anglers fishing the inshore, or back country, waters in Sarasota. These include mangrove shorelines, points, docks, oyster bars, grass flats with potholes, channels, and seawalls. Any structure that provides a bit of cover can hold snook. Spring and fall are the best times of year to catch snook on fly in these areas.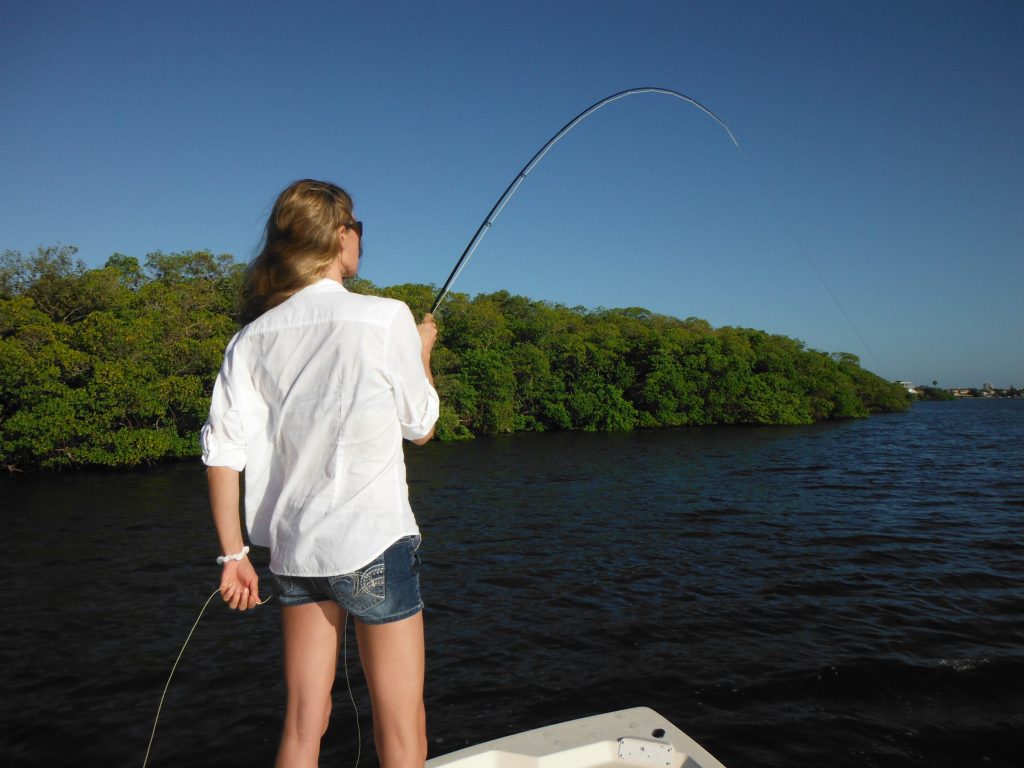 On my charters, most of my clients catch snook by blind casting. I use my trolling motor to ease the boat along a shoreline, oyster bar, line of docks, or other area. Weighted flies such as Clouser Minnow or Crystal Minnow patterns are used most often. The fly is cast out, allowed to sink a bit, then stripped back in using firm strips with a pause in between.
Current and tide are both extremely important when fly fishing for snook in Sarasota. Both are factors that will position fish. On low tides, snook will be forced to drop into holes and depressions. This can be a great time to search for them as they will be concentrated. Shallow draft boats are required and wading is a great way to sneak up on an unsuspecting snook.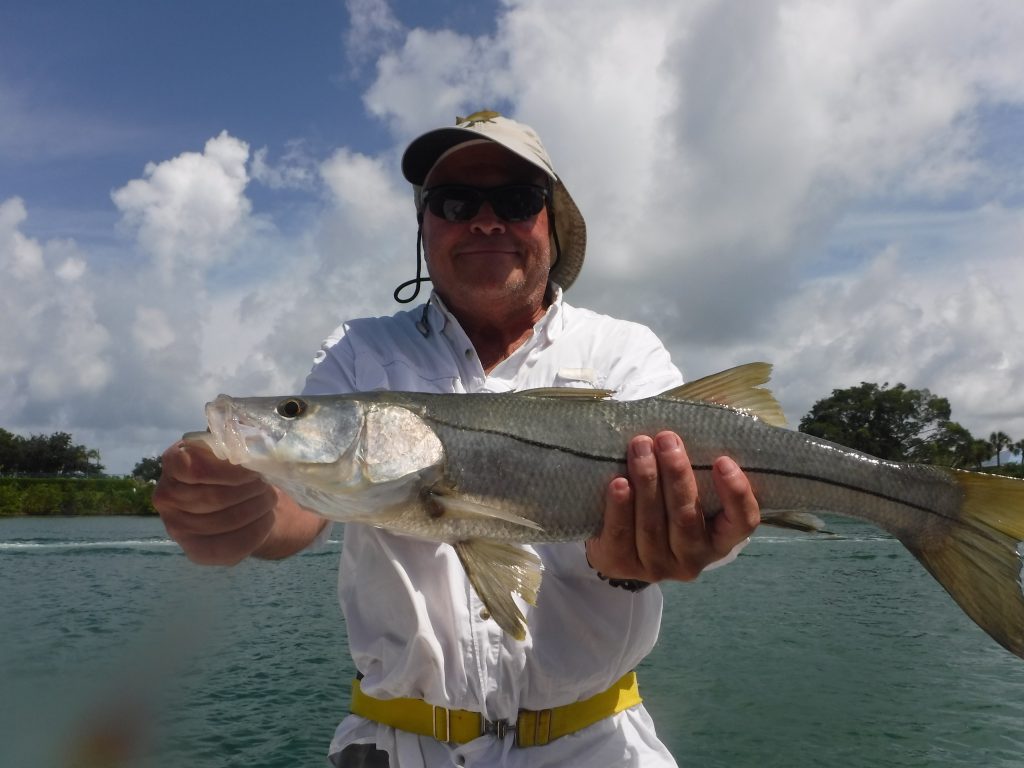 As the tide floods, snook will move up out of these deeper spots and cruise in search of food. They are often actively feeding, but they are also more dispersed. Moving and both sight casting and blind casting will produce fish. In most cases, snook prefer some type of depth change. A deeper depression along a mangrove shoreline for example will concentrate fish.

Current will also position snook. Snook, like most game fish, will face into the current, using set up behind some type of structure or cover. A point of land or oyster bar are prime examples. Snook will relate to docks and pilings in the same manner. The best presentation will have the fly moving back to the fish, with the current, or at a 45 degree angle to it.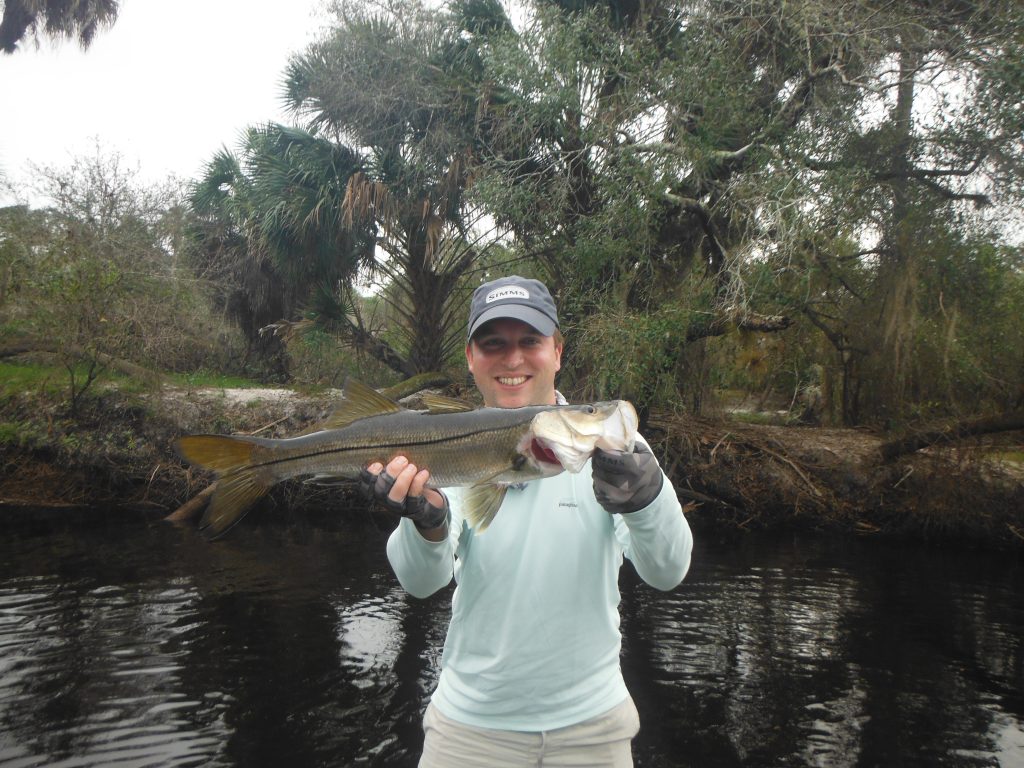 My clients catch a lot of their snook, and some of the larger fish, fly fishing in area creeks and rivers. Snook can not tolerate cold water. 55 degrees is about the cut off, prolonged exposure to water colder than that will kill fish. The water in rivers and creeks is often significantly warmer. There are also deeper holes where they can find refuge from the cold. Finally, forage is available as well.
Snook are also concentrated during this time of year, making it easier to locate them. Also, depending on the waters fished, snook will be concentrated even further in the deeper holes. The water is darker, stained with tannin. Bright flies work well, as does white.
The river snook fishing technique is pretty straightforward. The best approach is to drift with the current while casting to shoreline cover. It helps to go with the current and not against it. Going against the tide results in a quick "bow" in the fly line, making for a tough presentation. Ideally, wind and tide will move the boat in the same direction.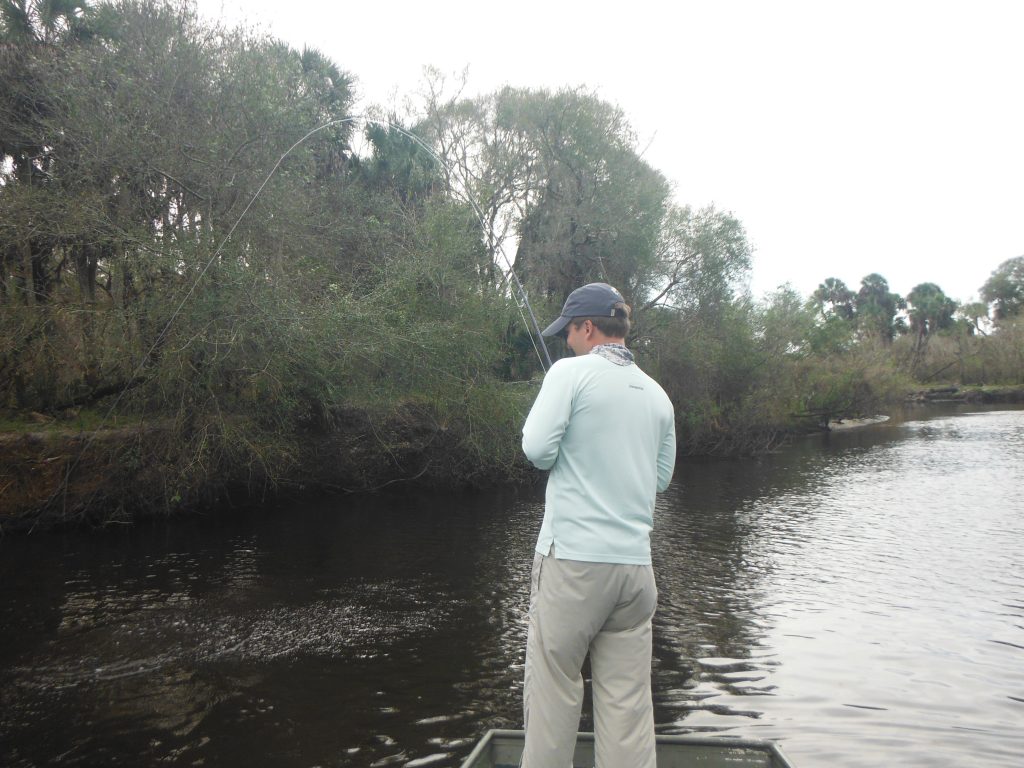 River snook fishing offers anglers a unique opportunity. As far as I know, I am the only guide that does this. The scenery is really cool and it is a quiet experience as the rivers are "No wake". Anglers see plenty of bird life and often alligators. The Myakka River and Manatee River both are pretty, though the Myakka is much less developed. Both are 45 minutes from Sarasota.
There are also several creeks that feed Sarasota bay. Phillippi Creek, Bowlees Creek, Hudson Bayou, and South Creek are just a few. These fish very much the same way and big jack crevalle are often mixed in with the snook and juvenile tarpon are a possibility. Most anglers do not mind the intrusion!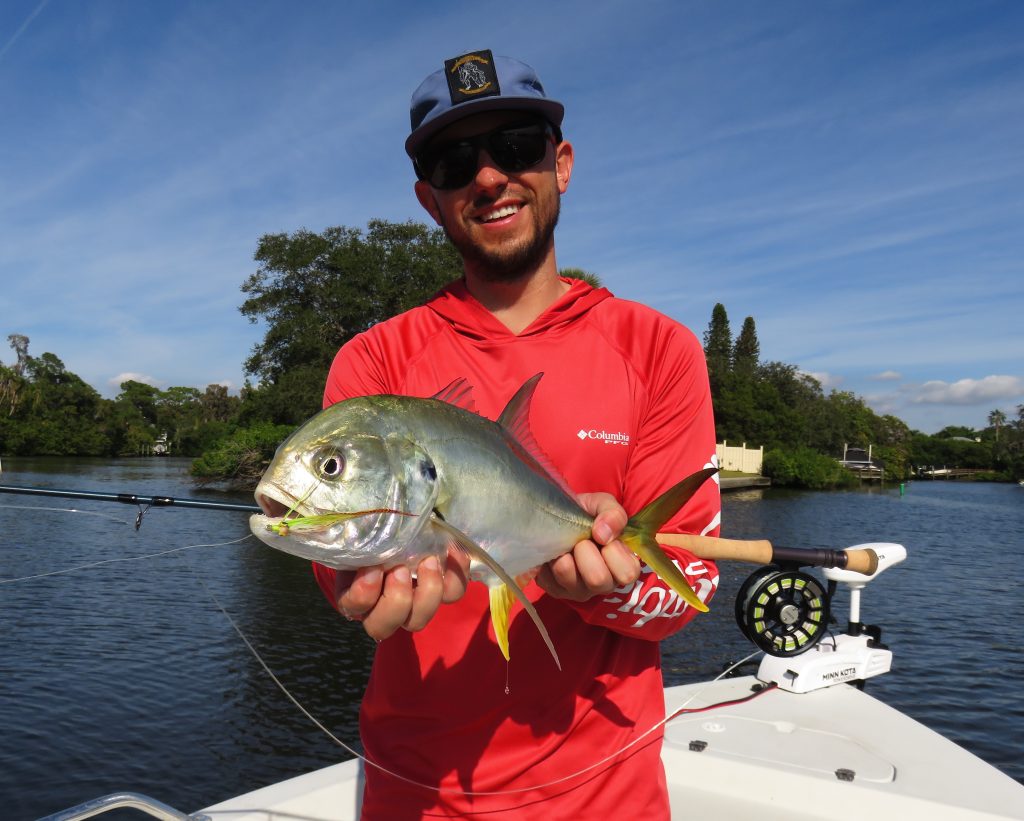 Snook fishing on the Sarasota beaches
Some of the best fly fishing for snook occurs on the Sarasota beaches. Snook move out to the beaches t Spawn and also feed. They can be seen cruising the surf line, usually quite close to shore. Anglers walk the beach and cast to fish that are spotted. Not only is a boat not required, is is actually a hindrance. Anglers walking have a better sun angle in the morning and it can be tough getting a boat close enough.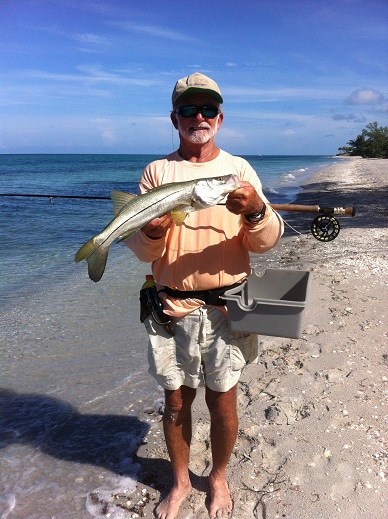 I like a white D.T. Special fly for beach snook fishing. However, all the traditional snook flies will produces. White is the most consistent color in the clear water. If snook are moving towards the angler, he or she stops and lets the snook approach. Snook that are swimming away can usually be overtaken. These fish will spook, so a delicate presentation helps. This is truly world class sight fishing, with no boat required!
Night snook fishing in Sarasota
Snook are nocturnal feeders. This is an excellent time for anglers to catch snook, often good numbers of them, on fly. Bait fish and shrimp are attracted to lighted docks and bridges. This in turn brings in the snook and other game fish species. Often times, the best spots are where the Intracoastal constricts, increasing current flow. There is an area in Venice, 30 minutes away, called "Snook Alley" for this reason.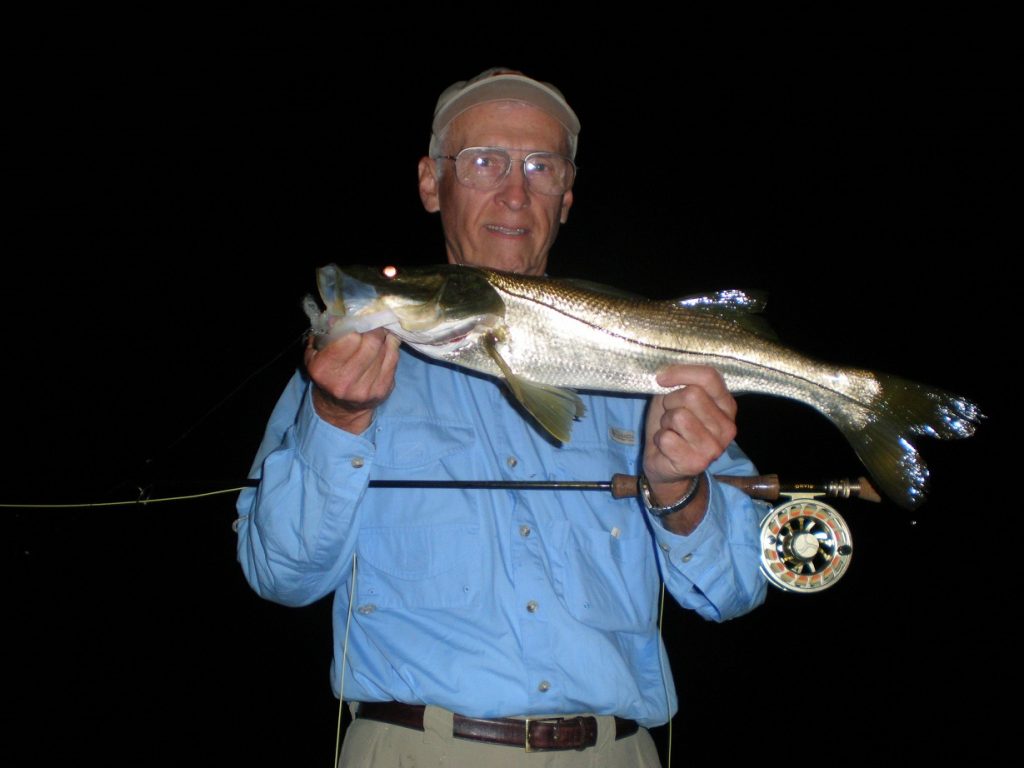 Boat positioning is very important when night snook fishing. The best approach is to be 30-40 feet off of the light, perpendicular or just a tad up-current. This allows anglers to cast across and work the fly as it drifts with the current. It also gives anglers a good angle at fighting the fish.
Small white flies are generally used when night fishing for snook. Glass minnows are usually the most plentiful bait fish. Small shrimp are present as well. A #4 while Crystal Minnow pattern is tough to beat. Anglers will catch jacks, trout, bluefish, and ladyfish (sometimes a lot of ladyfish) while employing this technique as well.
In conclusion, this article on fly fishing for snook in Sarasota will help anglers catch more of these incredible game fish on the long rod!