Siesta Key Fly Fishing Charters
Many visiting anglers decide to experience a Siesta Key fly fishing charter. Siesta Key is a small resort city just south of Sarasota. It is famous for it's world class beaches. However, it offers anglers some excellent fly fishing opportunities as well.
4 hour charter $450, 6 hour charter $600, 1-2 anglers
(941) 371-1390 captklopfer@comcast.net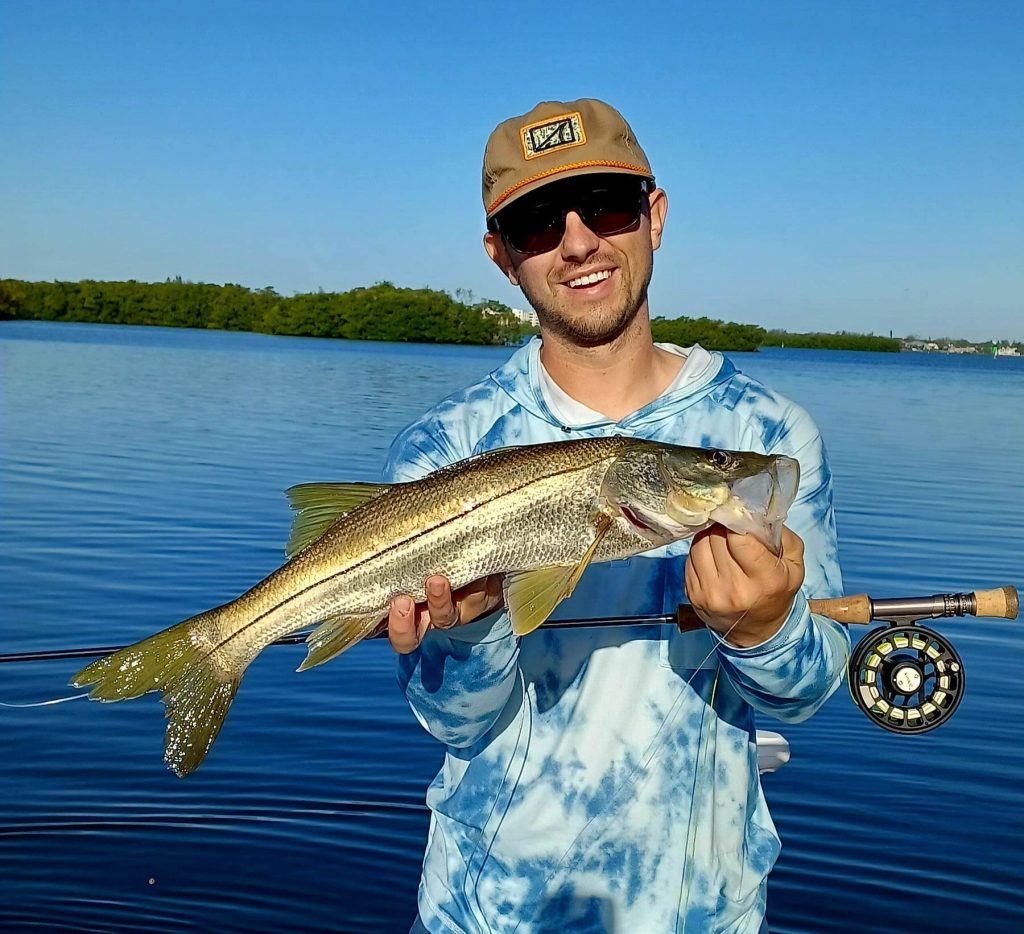 There are quite a few options when it comes to a Siesta Key fly fishing charter, depending on season and conditions. The deep grass flats provide action and variety. This is a great choice for less experienced anglers. Snook, redfish, and jacks are caught along the mangroves and up in the creeks and rivers. Spanish mackerel and false albacore can be found off the beaches in spring and fall.
Fly fishing the deep grass flats in Siesta Key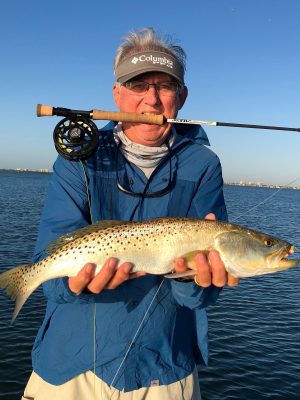 Anglers seeking action and variety will do well to drift the deep grass flats in the waters surrounding Siesta Key. Submerged vegetation in water between 4 feet to 10 feet deep holds bait fish such as pinfish and grunts. Shrimp, crabs and other crustaceans will hide there as well. This in turn attracts the predator fish.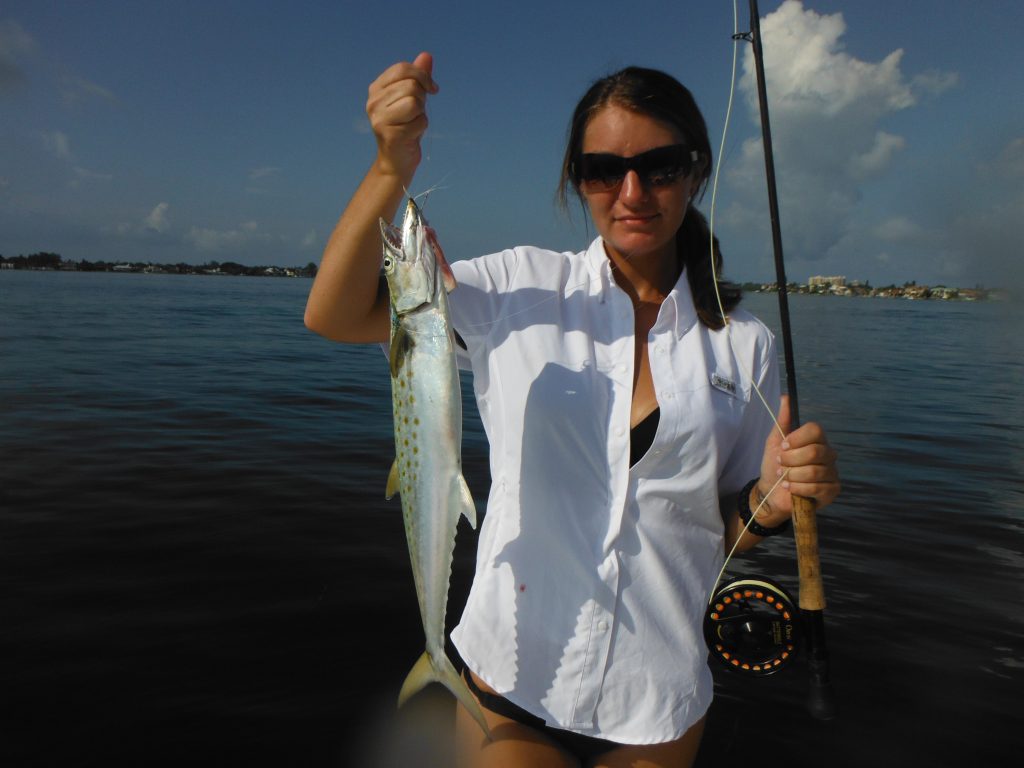 The species list that anglers employing this technique is fairly long. Speckled trout, Spanish mackerel, bluefish, ladyfish, jacks, pompano, grouper, snapper, flounder, sharks, and other species are commonly caught. The technique is to blind cast a Clouser or other weighted fly on an intermediate sink tip line in search of fish.
This is an excellent technique for anglers seeking action and variety. The fish usually are not huge, but they are cooperative. Long accurate casts are not required, making it a great option for less experienced anglers. This is a fun way to experience a Siesta Key fly fishing charter. I will fish the flats of Little Sarasota Bay in the winter.

Siesta Key fly fishing charter for snook, redfish, and jack crevalle.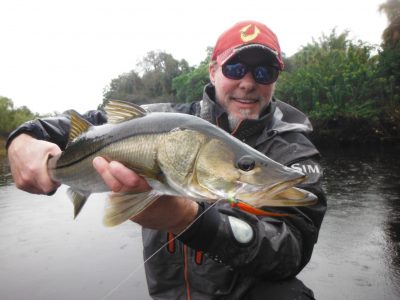 More experienced fly anglers may choose to target more glamorous game fish. These are primarily snook, redfish, and jack crevalle. Snook in particular are prized as they are only available in a very small portion on the United States. Both redfish and jacks put up a terrific fight on fly!
Snook are basically a saltwater version of largemouth bass. They are an ambush predator with a huge mouth and large tail. They are usually found near some type of structure including mangrove shorelines, docks, seawalls, oyster bars, bridges, and more. Clouser and Deceiver patterns on a sink tip line work well. This is mostly blind casting, but anglers can sight fish when conditions are optimum.
Redfish and jack crevalle will be found in similar locations, alongside snook. Jacks will also often be found feeding viciously on the surface. This is great fun as a bite is a virtual certainty! In the winter, all three species move up into area rivers and creeks, seeking warmer water. This concentrates them and provides an excellent opportunity to catch a nice fish using short casts in a protected area.
Fly fishing in the inshore Gulf of Mexico off of Siesta Key beaches
When conditions are right, fly fishing off of the Siesta Key beaches can be truly world-class! This occurs in the spring and again in the fall. The key to the action is the hordes of bait fish that migrate through. East winds will result in clear, calm water close to shore.
Much of the action is to be found on the surface, which just adds to the excitement! Anglers will cast to schools of "breaking fish" as they terrorize schools of helpless bait fish that are trapped against the surface. Diving birds are the first indication of feeding fish.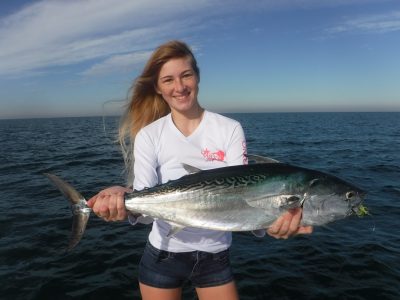 Anglers use floating or intermediate lines and minnow imitations. D.T. Specials, Clousers, and glass minnow patters are top producing flies. #2 to #1/0 are good all round sizes. Fish can be fussy when feeding on tiny bait, especially the false albacore. It can be important to "match the hatch" at times. This is less important with mackerel.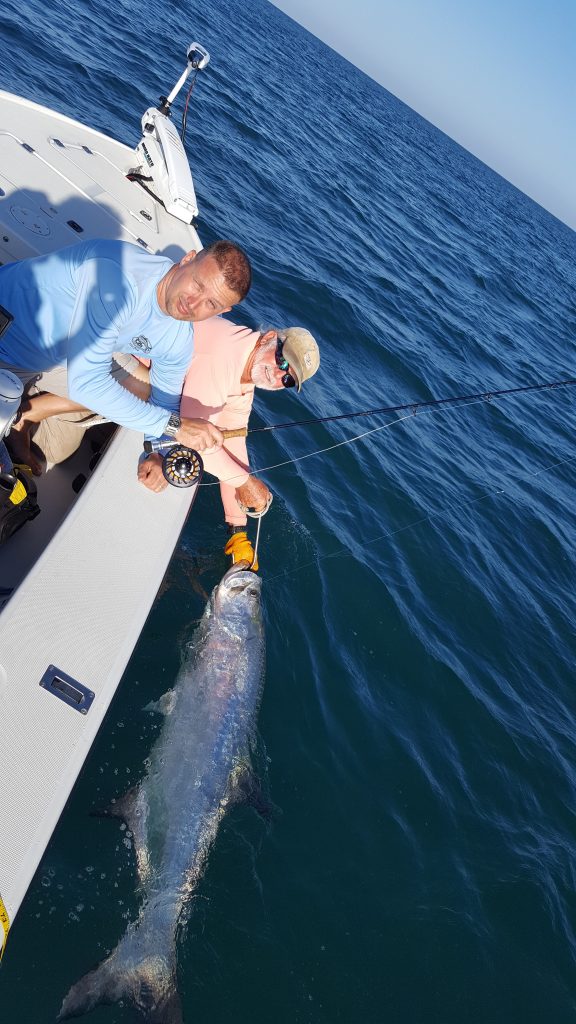 Anglers seeking the ultimate challenge can try their hand at tarpon fishing on fly. These fish show up in early May and stay around until August. This is very dependent on conditions and success is far from guaranteed. However, when it all comes together, there is nothing like it!