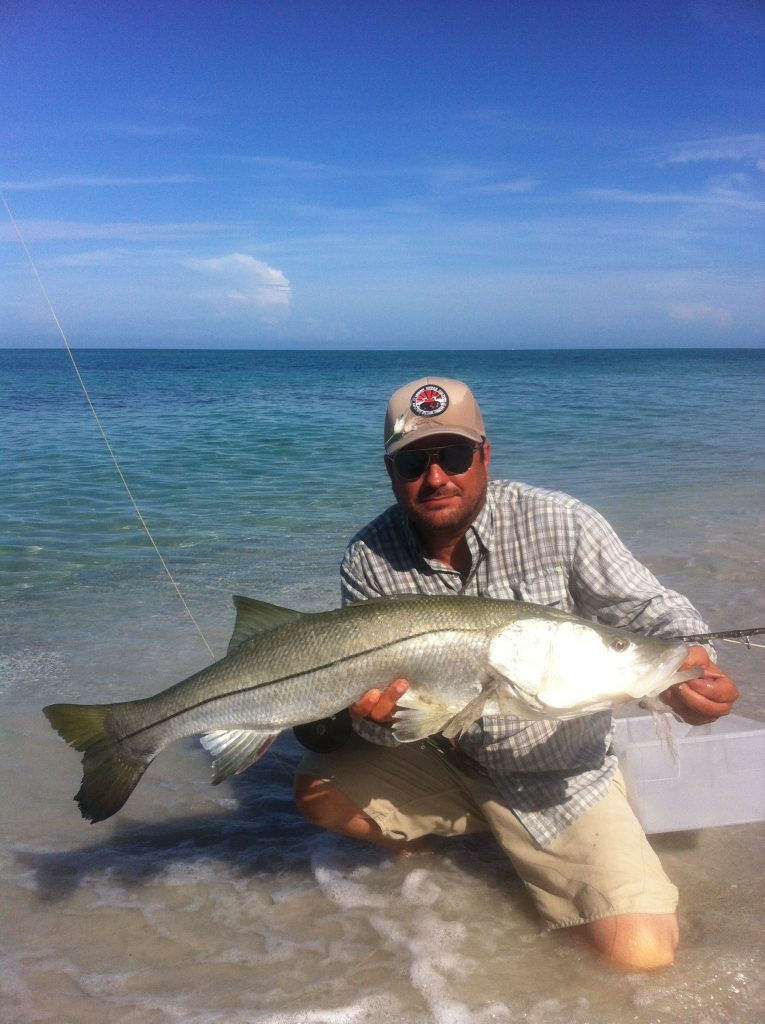 Sarasota Fly Fishing in Summer
In this article I will cover Sarasota fly fishing in summer. While it is very hot, there are a few patterns that are productive. A couple include world class opportunities to sight fish for large fish. For the most part, mornings are best, with night being an option as well.
There are a couple of fish migrations that anglers fly fishing in Sarasota need to be aware of. First off is giant tarpon which migrate up the coast on their annual spawning run. Also, snook move out of the back water areas and into the passes and out on the beaches.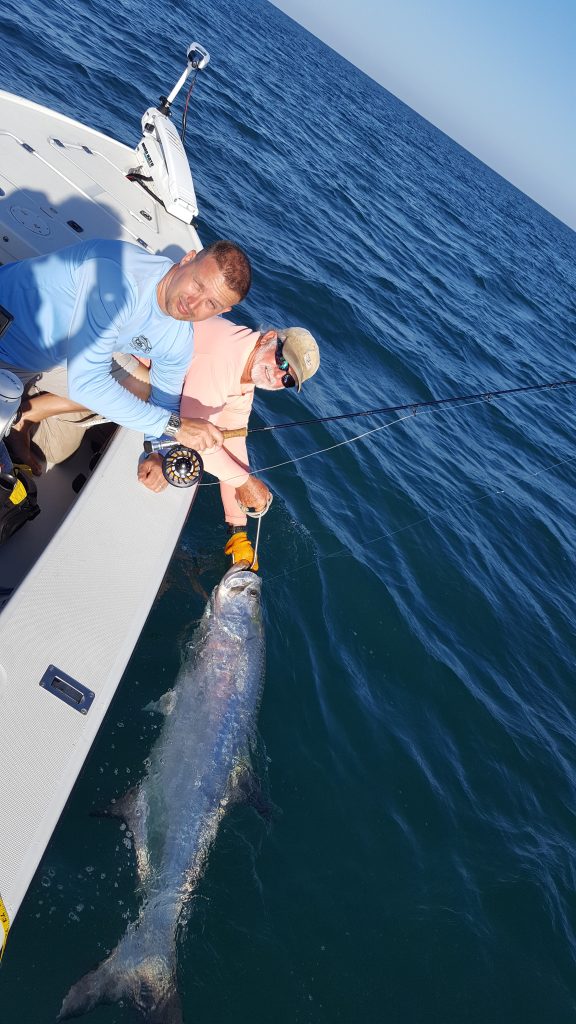 The deep grass flats can also be very productive. This is a great option for fly anglers seeking action as opposed to trying for something more challenging. It is the best trip for novice fly fishers. Speckled trout are plentiful with ladyfish, bluefish, Spanish mackerel, jacks, and other species mixed in.
Sarasota Fly Fishing in Summer – 3 main patterns!

I will cover the three primary fly fishing options for anglers visiting the Sarasota area. These are pretty much applicable to much of the Gulf Coast of Florida.
Fly fishing for tarpon in Sarasota
Tarpon are considered by many anglers to be the ultimate game fish, and for good reason. There are very few circumstances where anglers can cast a fly at fish well in excess of 100 pounds! Tarpon migrate through the area starting in late spring with June and July being the prime months.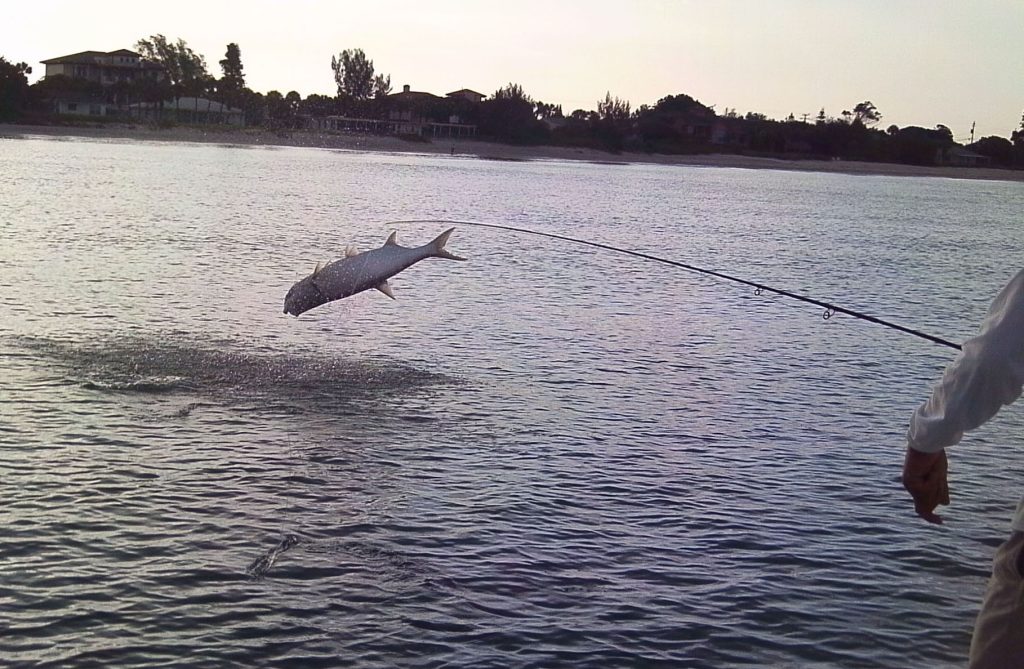 These are large fish, some pushing 200 pounds! Therefore, heavy tackle is required. I mostly use a 12 wt outfit with a sink tip line. Long leaders with a 60 lb bite tippet work well. Fly selection varies, but it really is more about presentation and finding the "right" fish than it is fly pattern.
We fly fish for tarpon in two different ways; out on the beaches and on the shallow bars near the passes. Fish out on the beach are found in schools swimming or milling several hundred yards off shore. The key is to find slow moving fish and get a fly in front of them. There can be very difficult to get to bite, but once it happens it is very exciting!
Anglers can also catch tarpon fly fishing in Sarasota in the summer on the bars. Both passes have extensive sand bars. Tarpon will swim over these bars. This occurs in water that is much more shallow than out on the beach. This makes it easier to get a fly in front of them, but they are also very spooky. Anchoring in a "lane" and waiting for a prime shot is the best bet.
Snook are definitely a good option for anglers Sarasota fly fishing in summer. Snook have a very distinct seasonal migration. In the winter, they move up into creeks, rivers and residential canals. In the summer, not school up in the passes and out on the area beaches, where they spawn. This provides a couple of unique fly fishing opportunities.
Structure in both Big Sarasota Pass and New Pass will hold good numbers of snook in the summer time. These structures include docks, bridges, rocks, seawalls, and ledges. Flats with grassy bottom will also hold fish as well. The best time to fish the passes for snook is early in the morning or at night. For the most part, these spots are quite deep and it can be difficult getting a fly down to them during the brighter parts of the day.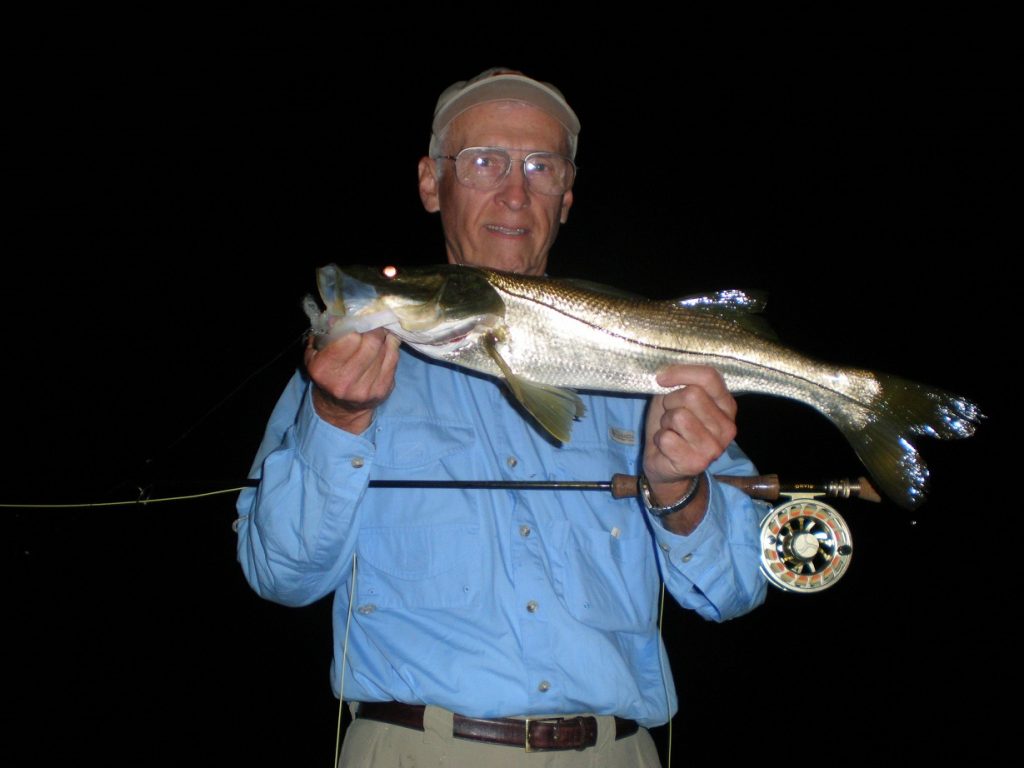 Night fishing around the lighted docks and bridges can be extremely productive. It also has the advantage of having anglers avoid the daytime heat and sun. Lights attract bait fish and shrimp which in turn attracts snook. Small a bait fish and shrimp patterns work very well. Several patterns have been invented just for this type of fishing. Clouser and Crystal minnow patterns work well.
Tides are very important for this type of fishing. The water needs to be moving in an outgoing tide is preferred. The general technique is to anchor the boat 40 feet or so off of the light along with being a bit up tide. The fly is cast out and allowed to drift through the light with the angler using short strips. This is the best option for anglers looking for numbers of snook on fly in the summer time.
Beach fishing for snook
There is a world-class sight fishing opportunity for fly anglers in Sarasota and all along the West Coast of Florida. This is to cast to snook as they cruise the beaches in the summer time. Many of these fish are small, in the 18 inch to 24 inch range. However, there are some trophy female fish mixed in as well.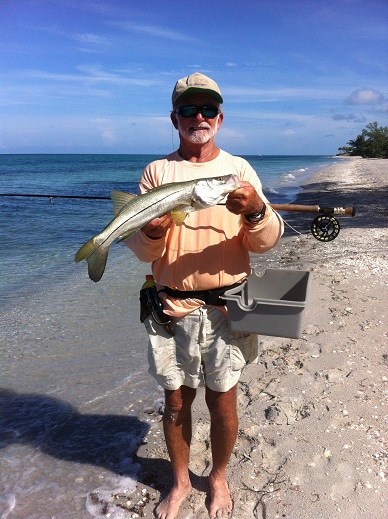 The technique is fairly simple and straightforward. Anglers simply walk along the beach 10 feet or so from shore where they are a bit above the water. Not only is a boat not needed, it can actually be a hindrance since it is difficult to get a boat close to shore with any kinds well and anglers are looking into the sun. As they walk along, they scan the water from the shoreline to about 10 feet out in search of fish. Once cited, the angler determines which way they are moving and then gets in front of them and cast the fly.
Due to the fact that these beach areas are open water, anglers can go lighter on the tackle. I like to use an 8 wt outfit with an intermediate sink tip line, though anglers can certainly get by with a floating line as well. Any small white bait fish pattern will work, including a Crystal minnow, Shminnow, Clouser, or D.T. Special.
Deep grass flats are productive in summer
Anglers seeking action and variety when Sarasota fly fishing in summer will do best to drift the deep grass flats, particularly in North Sarasota Bay from the middle grounds north. Large patches of submerged grass in water between 6 feet deep and 8 feet deep will hold a variety of forage such as bait fish and crustaceans. This in turn holds the game fish species.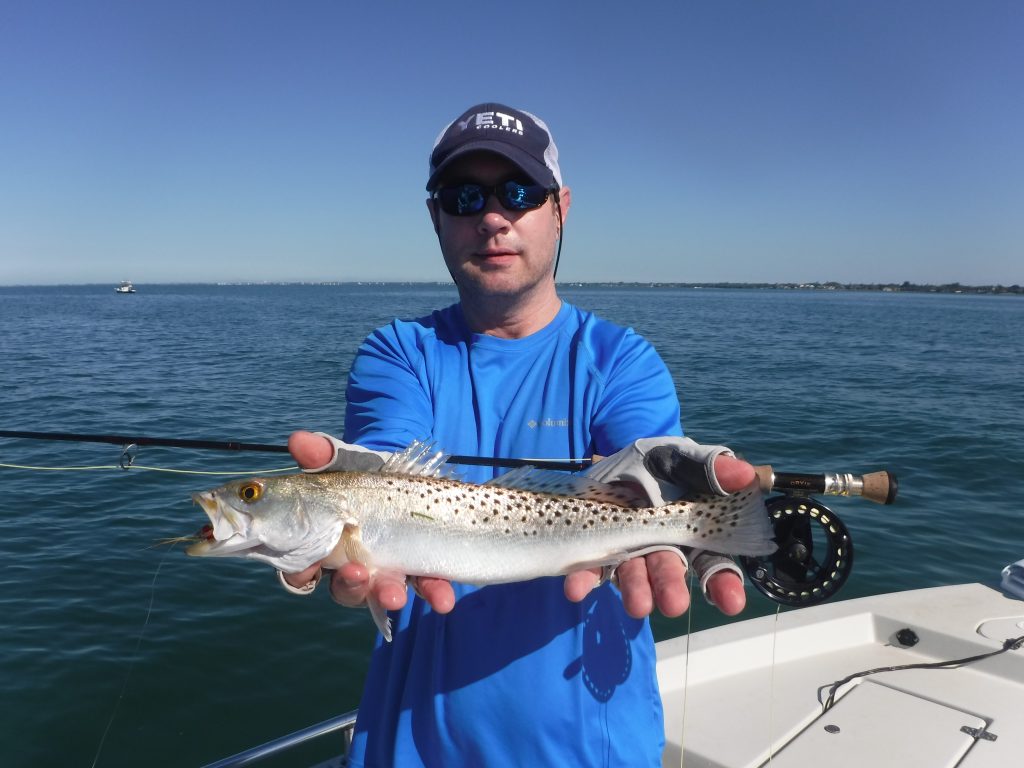 Speckled trout are virtually guaranteed for anglers casting a fly and drifting the deep grass flats for most of the year, in the warmer months are no exception. The water temperature is usually in the upper 80s and anglers need to get the fly down a bit in the water column. Therefore, I opt for an intermediate sink tip line and a weighted fly, with the Clouser Minnow being tough to beat. I like chartreuse over white or olive over white on a #1 hook.
The technique is not complicated. As the boat drifts along, anglers cast the fly out in front of the boat. The line in fly are allowed to sink for several seconds and then stripped back in using aggressive 18 inch strips with a pause in between. Quite often the take occurs on this pause. The angler uses the strip set to come tight and then slowly lifts the rod up.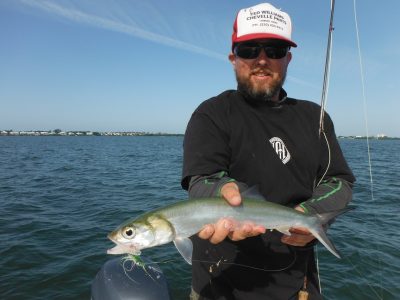 This technique is definitely the best choice for novice anglers and for those looking for action. Occasionally a large fish is hooked, but fish in the 1 to 3 pound range are the norm. Speckled trout are numerous with bluefish, Spanish mackerel, ladyfish, jacks, and pompano all being distinct possibilities.
Anglers without a boat can take advantage of this type of fishing as well. Most shallow grass flats drop off to deeper water at some point. A couple of spots that come to mind are south Lido Beach in the flats off of the Ringling mansion. Anglers can wait into the water until about waist deep and they cast the fly out into 6 foot to 8 foot of water and experience the same action.
In conclusion, this article on Sarasota fly fishing in summer will help anglers understand the options available to them during this very hot but productive time of year!