Top 11 Species caught Fly Fishing in Sarasota!
In this post I will list the top 11 species caught fly fishing in Sarasota. Sarasota offers fly anglers quite a variety when it comes to both species caught and techniques used. Fly fishing the beaches produces mackerel, false albacore, tarpon, and more. Drifting the deep grass flats usually results in the most action on trout, ladyfish, mackerel, bluefish, and more. Fly fishing the creeks and back country areas can result in a nice snook, redfish, or jack crevalle.
My name is Capt Jim Klopfer and I am a fly fishing guide in Sarasota. Rather than focusing on one particular species or technique, I prefer to use various tactics, depending on the current conditions. Also, I offer anglers a unique Sarasota fly fishing charter; river fishing for snook, jacks, bass, and other species.
Top 11 species caught fly fishing in Sarasota
Anglers can catch quite a few different species when fly fishing in Sarasota. The list is fairly long. However, I have narrowed it down to the top 11 species caught fly fishing in Sarasota. Some are caught by purposely targeting them, others are caught just fly fishing for whatever will take the fly. Both approaches are fun, it really just depends on the goals of the client.
Snook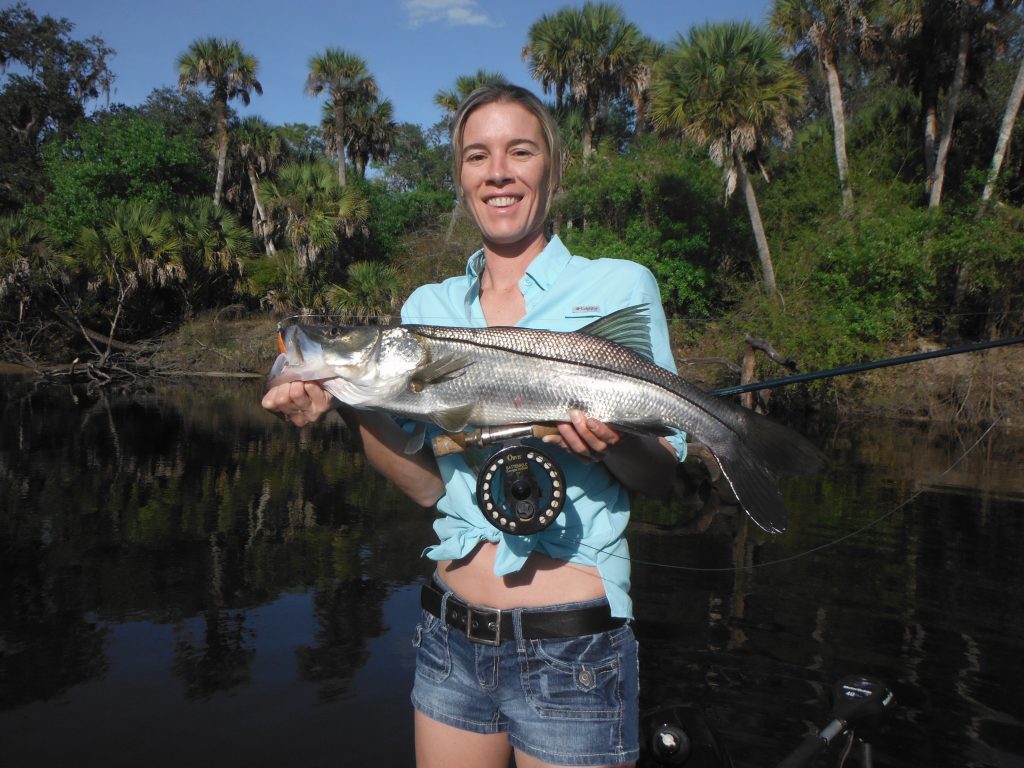 Snook are considered by many anglers to be the premier inshore species caught by anglers fly fishing for in Sarasota. They are available all year long and have a distinct seasonal migration. Snook move up into area  rivers, creeks, and residential canals in the winter. They do this seeking warm water and also forage. As mentioned above, I am the only guides in Sarasota that offers trips to nearby rivers. These trips offer anglers the chance to catch a big snook on fly along with some awesome scenery.
As it warms up, fish move out of the backcountry areas and out onto the flats. By summer, most snook will be found in the passes and out on the beaches. At times, parking the boat and getting out and walking the beach is the best opportunity to catch a snook with a fly rod. As fall approaches, the pattern reverses itself and fish move back into the bays, working their way to the creeks again in winter. Fishing lighted docs and bridges will produce snook all year long, though it is something I don't do very often.
Spotted sea trout
Spotted sea trout, also known as speckled trout, are a very popular inshore saltwater species in Sarasota. Their main attributes are availability and cooperativeness. Spotted sea trout are a beautiful fish that strikes hard, but doesn't put up the strongest of battles. However, they make up for it in numbers and action. Spotted sea trout are also excellent eating for anglers who want to keep a fish or two for dinner.
Most spotted sea trout are caught by anglers casting a Clouser Minnow while drifting the deep grass flats in 4 feet to 8 feet of water. These are "Schoolie" trout for the most part, though anglers will encounter a large one as well. However, anglers looking to target larger trout on fly will do so by fishing the shallow oyster bars and potholes. It sounds counterintuitive, but the larger fish are actually found in water that is more shallow. Spotted sea trout are available all year, with late spring and summer being the best time of year.
Redfish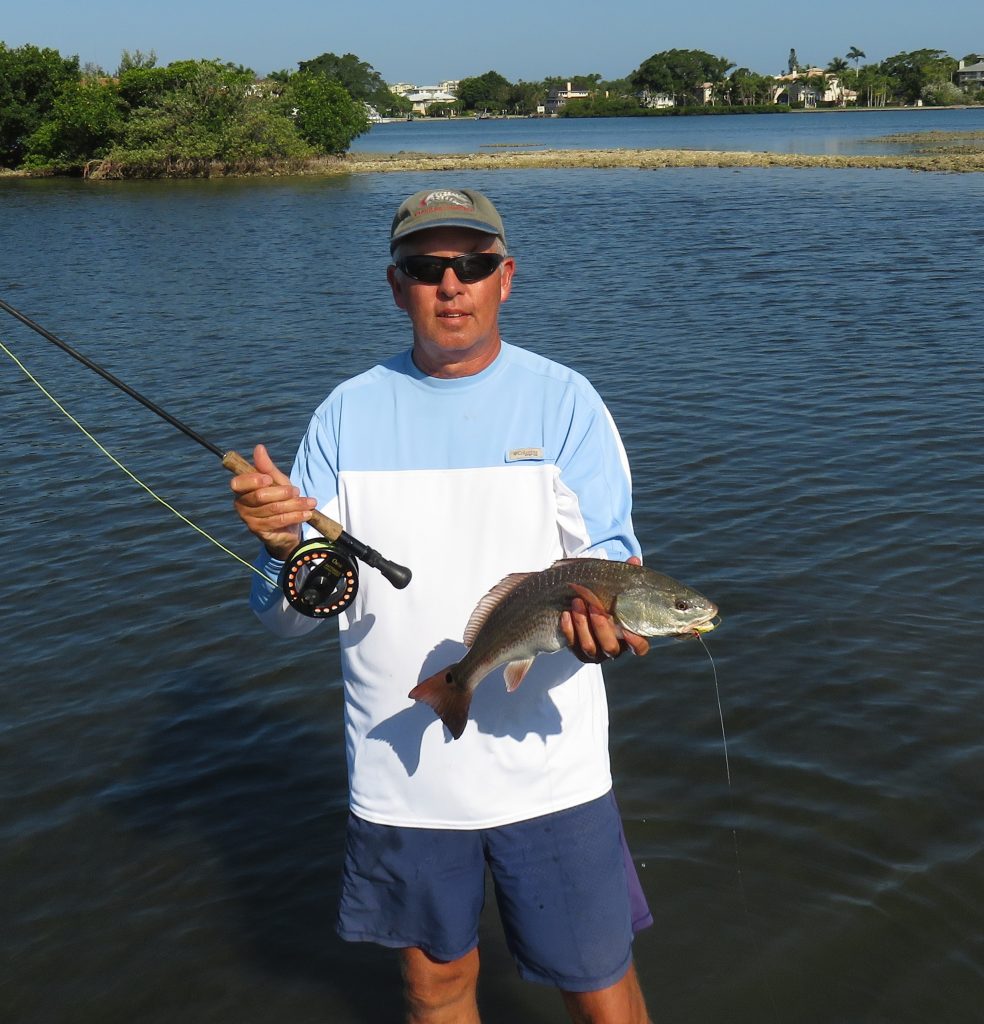 Redfish are another very popular inshore saltwater species. They are found in Sarasota, though not in as large a number as a are in other parts of Florida and along the Gulf Coast. I consider redfish to be the most challenging fish that anglers can cast a fly at in shallow water. These fish get a fair amount of pressure and are quite spooky. Often times, the best approach is to find some fish than get out of the boat and wade.
The best time of year to target redfish for anglers fly fishing in Sarasota is a late summer and fall. This is the time of year that they school up in large numbers and begin their migration out into the Gulf of Mexico. These large schools are easy to see on calm late summer and fall days. However, that does not mean that they are easy to get to bite. Sarasota redfish get a lot of pressure from both spin and fly anglers and are certainly quite challenging.
Tarpon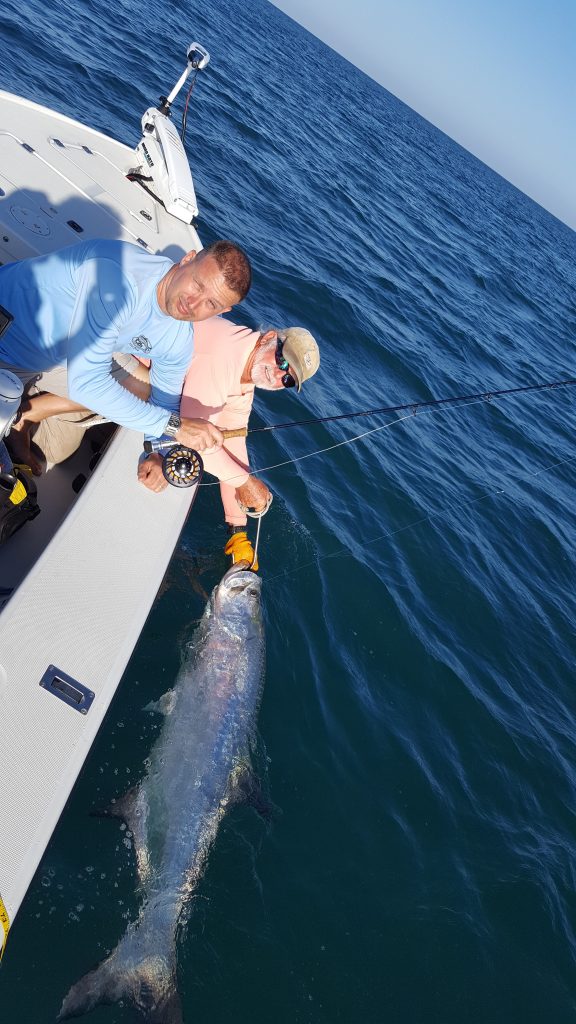 Tarpon are considered by many anglers, both fly fishing and spin fishing, to be the ultimate saltwater game fish species. There certainly is good reason for this! Tarpon are caught by anglers up to 200 pounds in the Sarasota area. In spring, usually early May, migrating tarpon start to show up, moving north into the area from the Florida Keys. These tarpon are generally found in large schools at this time. As the season wanes, by July and into August, these larger schools will have broken up and fish will be found in pairs and singles. For anglers casting a fly, this is actually a better opportunity than when they are schooled up in large numbers.
This is certainly not a game for a novice angler fly fishing. Heavy rods are used and skill is required to properly present a fly. Also, landing a 100+ pound fish on a fly rod takes skill along with a little bit of luck. However, when it all comes together it is the thrill of a lifetime! We also catch smaller, juvenile tarpon in the fall in Sarasota Bay as well as in the rivers in the cooler months.
Jack crevalle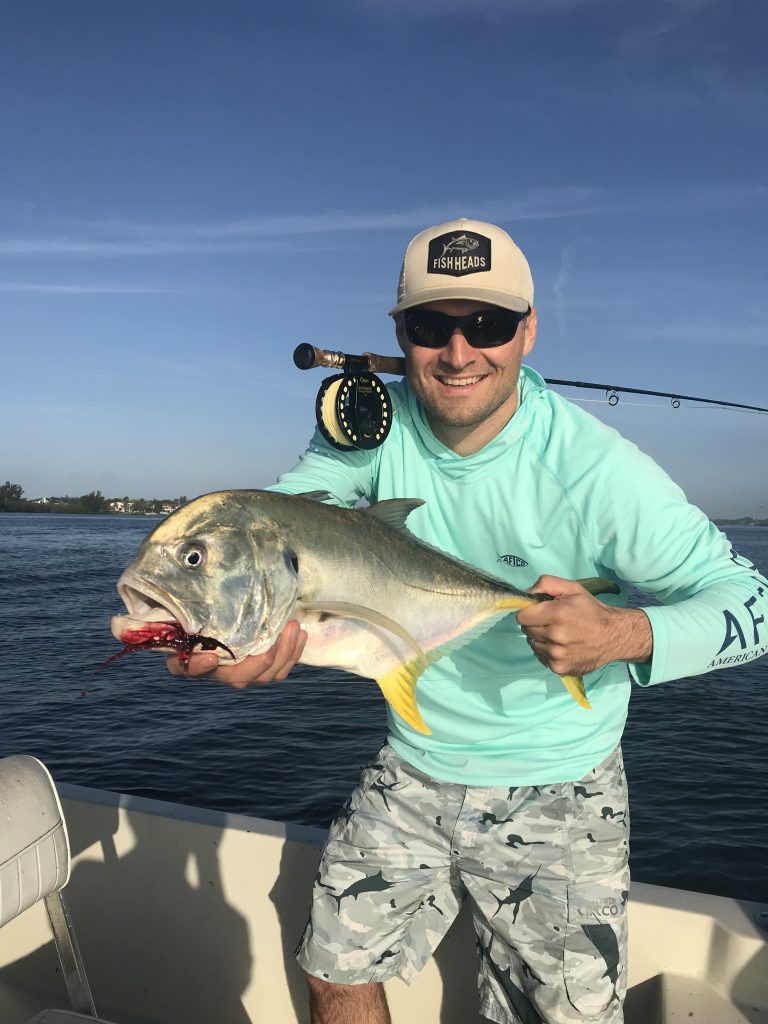 Jack crevalle are one of my favorite fish species to target on fly. There are several reasons for this. Jacks grow fairly large, commonly exceeding 10 pounds in the Sarasota area. This makes them great fun on fairly light tackle. They are often encountered in large schools. This results in jacks being very aggressive and their competitive nature takes over. The result is a very aggressive fish that generally speaking once found is fairly easy to get to take a fly. As with all fishing, any time you can add a visual component such as fish feeding on the surface, it only makes it that much more fun.
I catch a lot of my jack crevalle in the cooler months. At this time of year, jacks will push up into area creeks, residential canals and rivers. This tends to condense the fish in a smaller area, making them much easier to locate. As an added benefit to clients fly fishing in Sarasota, these creeks and rivers almost always offer protection from the wind, which can certainly be an issue in Florida in the winter time.
Spanish mackerel
Spanish mackerel are one of the most underrated game fish species, in my opinion. They are a beautiful fish that is fast and powerful and will readily take a fly. They are found in large schools right off of the area beaches in the spring and again in the fall. These schools are very easy to locate as fish are seen feeding on the surface. Birds are generally a good indication that Spanish mackerel are in the vicinity. These fish average a couple pounds but it is not at all uncommon to encounter fish pushing 5 pounds, which are great fun on a 7wt fly fishing outfit.
Spanish mackerel are also found in Sarasota Bay in decent numbers anytime the water temperature is between 65 and 78°. This is especially true if bait fish are present in the area. Most Spanish mackerel caught by anglers fly fishing in Sarasota are done so on the deep flats and are often caught when fishing for spotted sea trout. Plenty of Spanish mackerel are also landed by anglers fishing both passes.
False albacore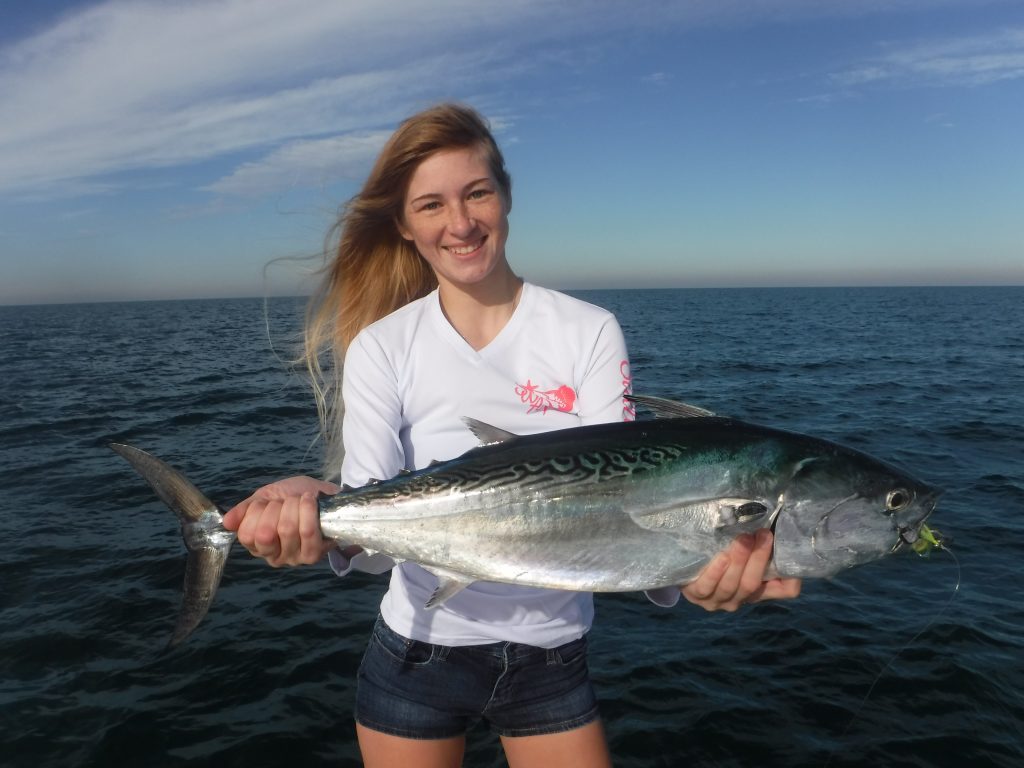 False albacore are the hardest fighting fish that anglers fly fishing in Sarasota can catch, short of giant tarpon. The average 6 to 8 pounds but can be caught pushing 15 pounds. They do not come into Sarasota Bay, but are caught in the inshore waters of the Gulf of Mexico a mile or two off of the area beaches. Like Spanish mackerel, false albacore are cast to when seen feeding on the surface. Occasionally there will be a situation where anglers can blind cast to them, though this is unusual. They are caught in the spring and again in the fall.
False albacore are members of the tuna family and put up a tremendous fight. For the most part, I use a 9wt outfit for them to try to land the fish in a reasonable amount of time. False albacore can also be incredibly frustrating. There are days when they pop up for second and are then gone in an instant. Other days they show well on the surface but will not eat. They can be notoriously fussy, especially when feeding on tiny bait such as glass minnows. However, persistent anglers will usually get a decent amount opportunities and hook some fish if they stick with it.
Bluefish
Anglers who enjoy fly fishing in the northeast part of the country are certainly well acquainted with bluefish. These pugnacious and hard fighting fish are seldom targeted, but instead are encountered when drifting the deep grass flats as well as the passes. Occasionally, they will be seen feeding off of the beaches as well. Bluefish in Sarasota do not grow as large as those up north, averaging 2 pounds and was 5 pounds being a very good fish. However, when landed on 7wt and 8wt outfits, they are great fun. What our bluefish lack in size they make up for in aggressiveness and tenacity
Pompano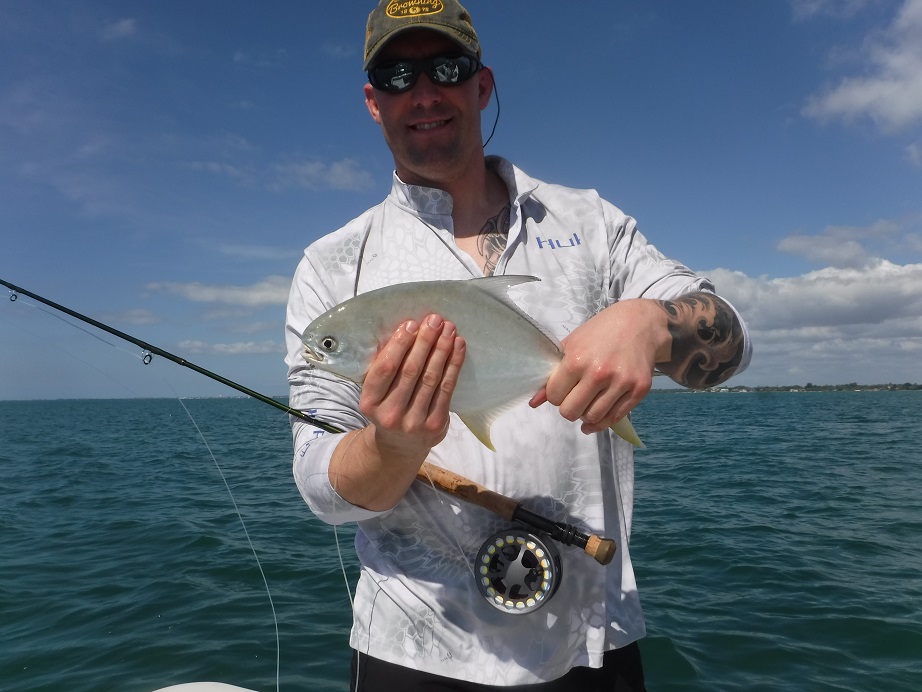 Pompano are another species that are generally not specifically targeted by anglers fly fishing in Sarasota. Instead, they are an incidental, but most welcome catch. The thing that makes catching pompano on fly difficult is the fact that they feed right on the bottom, often times in fairly deep water. This makes it difficult to get the fly down deep enough, especially with an intermediate sink tip line which is what I normally use. This is especially true in the passes where they are often found. However, like several other species on this list of top 11 species caught fly fishing in Sarasota, they are incidental by catches when drifting the grass flats and passes.
Ladyfish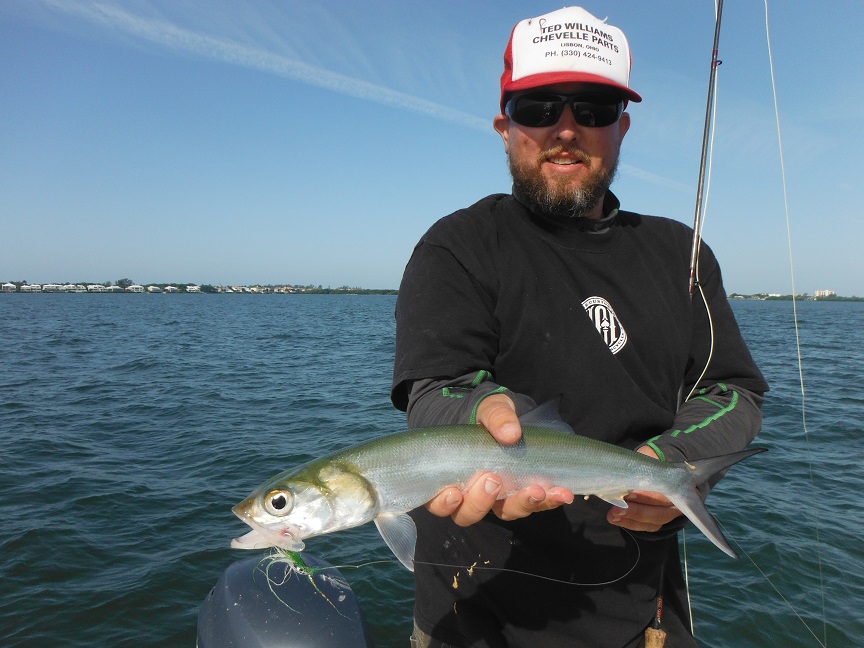 Ladyfish do not get respect and some fishing circles, that is definitely not the case on my boat! Ladyfish are a terrific species, especially for anglers just starting out casting a fly. Certain times of year, especially in the cooler months, ladyfish can be encountered in huge schools in the action can be nonstop. They strike hard and almost always jump high out of the water. They are a beautiful silvery fish that is great sport, even though they are not good to eat. Ladyfish can be encountered in a variety of locations, mostly the passes and deep grass flats. Perhaps the biggest issue encountered when fly fishing for ladyfish is the fact that they like the fly moving very fast. Anglers often have trouble stripping the fly quickly enough to excite the ladyfish into taking.
Largemouth bass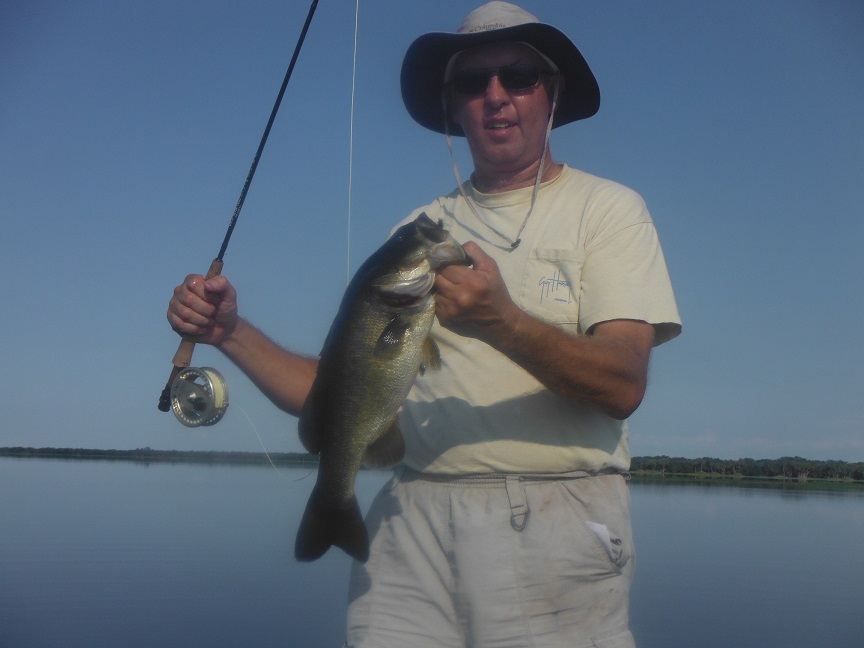 I'm sure there are many anglers surprised to see largemouth bass on the list of top 11 species caught fly fishing in Sarasota. However, as I have mentioned several times in this article, I run fly fishing charters and area rivers including the Manatee River, Braden River, and Myakka River. These are unique trips with also scenery and the chance to catch a trophy snook. Depending on rainfall amounts, these rivers are normally brackish to some degree. This results in freshwater fish also being caught on these trips. Largemouth bass had the list, with gar and even catfish being caught occasionally.
In conclusion, this article on the top 11 species caught fly fishing in Sarasota will help anglers understand the options available to them when visiting our area, whether fishing on their own or with a guide.