Shallow Water Fly Fishing Charters in Sarasota!
The topic of this post will be shallow water fly fishing charters in Sarasota. Sarasota is a beach resort city on the West Coast of Florida an hour or so south of Tampa. Many visitors come to Sarasota to enjoy the world famous beaches. However, there are also opportunities for anglers to do some shallow water fly fishing as well.
4 hour fly fishing charter in Sarasota – $450
6 hour fly fishing charter – $650
8 hour fly fishing charter – $850
Sarasota is blessed to be able to provide anglers with several excellent fly fishing experiences. Those who prefer the challenge of shallow water fishing can certainly pursue that in Sarasota and the surrounding waters. There is an abundance of shallow flats, oyster bars, and mangrove shorelines that hold a variety of Florida game fish species.
Shallow water fly fishing charters in Sarasota
Capt. Tom Reutter runs our shallow water fly fishing charters in Sarasota. He does so out of a 15 foot custom Backcountry skiff. This boat is well-suited to allow anglers to stalk wily game fish and enjoy some sight fishing opportunities. Generally speaking, this is a two-man operation, with Capt. Tom on the stern polling and the angler on the front casting.

The primary species that anglers can expect to catch on a shallow water fly fishing charter in Sarasota our snook, redfish, spotted sea trout, and jack crevalle. Tarpon are also a possibility in the warmer months. Anglers can catch all of the species both blind casting and site casting.
There are quite a few options for shallow water fly fishing right in the heart of Sarasota. The section of Sarasota Bay north of the downtown area opens up a bit and has many miles of mangrove shorelines along with oyster bars and acres of pristine grass flats. This area provides good action all year long, though fly fishing can be difficult here if it is windy.
At the southern end of our area the bay gets quite narrower. For the most part, we fish from Blackburn point bridge up to Stickney point bridge. The expansive grass flats are replaced by numerous oyster bars. Mangrove shorelines are plentiful as well. This area is most productive in the cooler months when fish migrate to escape the harsh conditions on the open flats.
Waters fished on Sarasota shallow water fly fishing charters
Anglers who are interested in a four hour shallow water fly fishing charter will do fine staying local and fishing these waters. However, more adventurous anglers seeking a bit more solitude as well as more fly fishing opportunities can experience some great action if they are willing to drive an hour or so. Charlotte Harbor to the south and Tampa Bay to the north are larger areas that experience less development and boat traffic.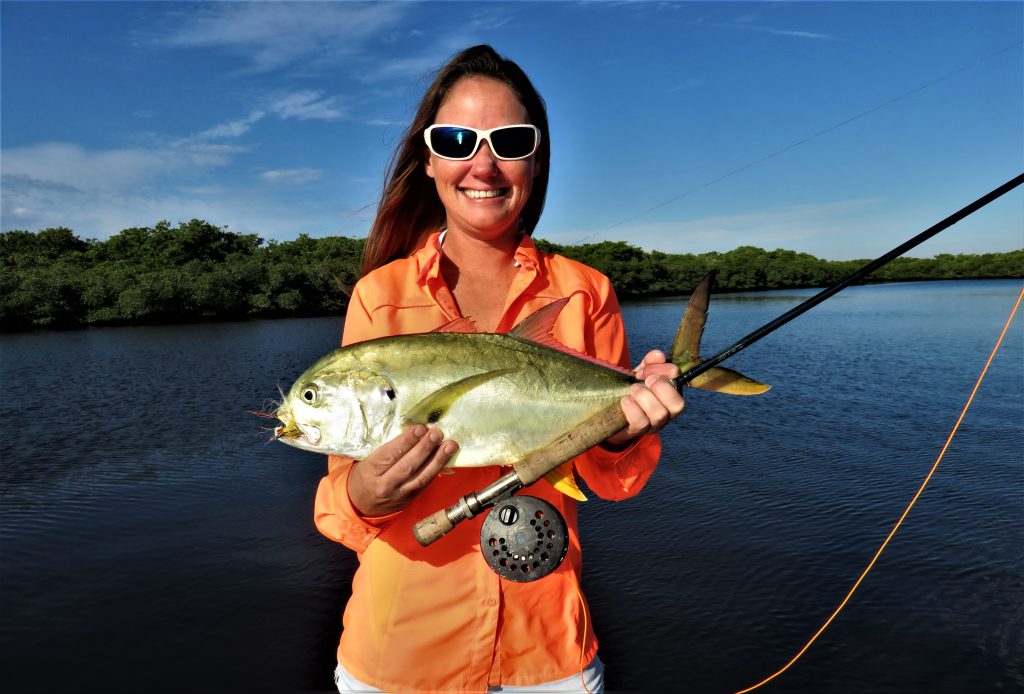 There are quite a few factors that come into play when deciding on the best place to fish. First and foremost are the goals of the angler, whether it be a certain species, technique, numbers of fish, or quality fish. Capt. Tom will take into account several factors. These include tides, wind, time of year, water clarity, and recent fishing action. He will then give his recommendation to the client based on the current conditions in the goal of the charter.
Shallow water fly fishing techniques
There are two basic techniques that anglers will use on a shallow water fly fishing charter in Sarasota. These are blind casting and sight casting. Many anglers consider casting a fly to a fish that he or she can see and then enticing it into taking the fly to be the ultimate challenge! They understand that they are forgoing numbers of fish in the hopes of catching a quality fish and seeing it all happen.
Several factors come into play when sight casting to fish in shallow water. Tides are obviously very important. Generally speaking, a low incoming tide is preferred as fish will stage in deeper water before moving up onto a flat, bar, or shoreline. On very low tides, which often occur in the winter, fish will stack up in small indentations called "potholes". This literally can be fish in a barrel, though they can be easily spooked as well.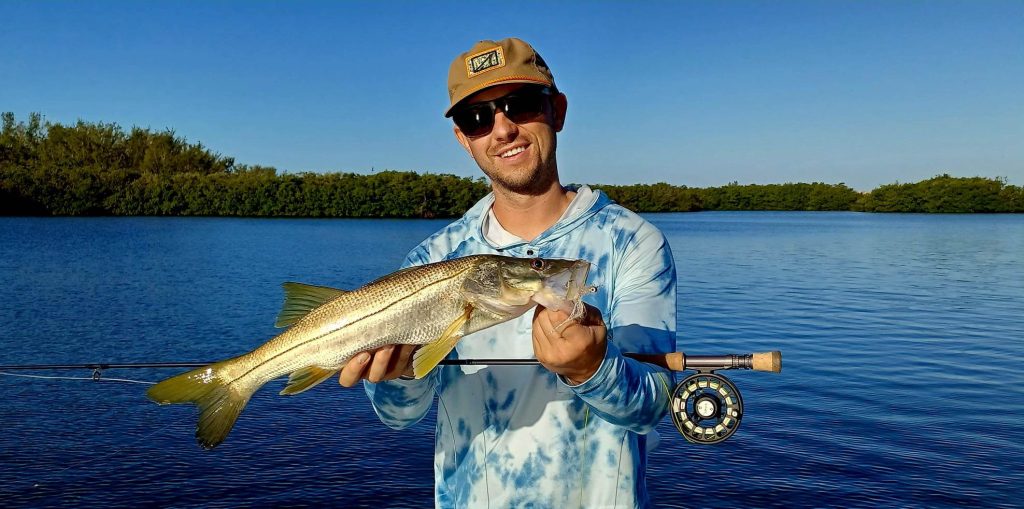 Water clarity is certainly another factor when it comes to shallow water site fishing. If the water is not clear, neither Capt. Tom or the client will be able to see redfish, snook, or trout sitting on a bar or lying in a hole. Wind direction is another component that must be factored in as well as time of day and son angle.
While sight casting is both rewarding and challenging, anglers will catch more fish when blind casting in most situations. This involves working a likely fish holding area such as a mangrove shoreline or oyster bar and casting the fly out and retrieving it back in. Anglers may not see the fish at first, but there is usually a tell-tale flash when it takes the fly. Spotted sea trout in particular blend in so well on a grassy bottom that they are difficult to sight cast effectively.
At times, anglers will see surface action as a school of ravenous game fish has herded helpless bait fish up against the surface. This commonly occurs when encountering large schools of jack crevalle. This is great sport as jacks put up a terrific fight and will take just about any fly cast into the melee.
Best tackle and flies
The tackle used on shallow water fly fishing charters in Sarasota is pretty straightforward. An 8wt outfit is an excellent all round choice for most of bay species. Anglers can certainly go up or down in size as needed depending on the size of the fish being pursued as well as the conditions. A floating fly line is used and a 9 foot tapered leader with a bite tippet of around 25 pound test completes the rig.
Fly selection is pretty basic as well. Anglers will use both weighted and unweighted fly patterns. Top producers include Clouser Minnows, Lefty's Decievers, Crystal Minnows, and gurglers. Most of these are tied with the hook riding up, reducing hangups in the grass. White is a very good all-around color. Redfish often respond to brown and red.
Species caught on Sarasota shallow water fly fishing charters
Anglers casting a fly in shallow water are liable to hook a variety of species. However, there are several species that are most often encountered in this situation. These are snook, redfish, spotted sea trout, and jack crevalle. Tarpon of all sizes from juveniles that weigh a few pounds to giants weighing over 150 pounds can be encountered at any time.
Snook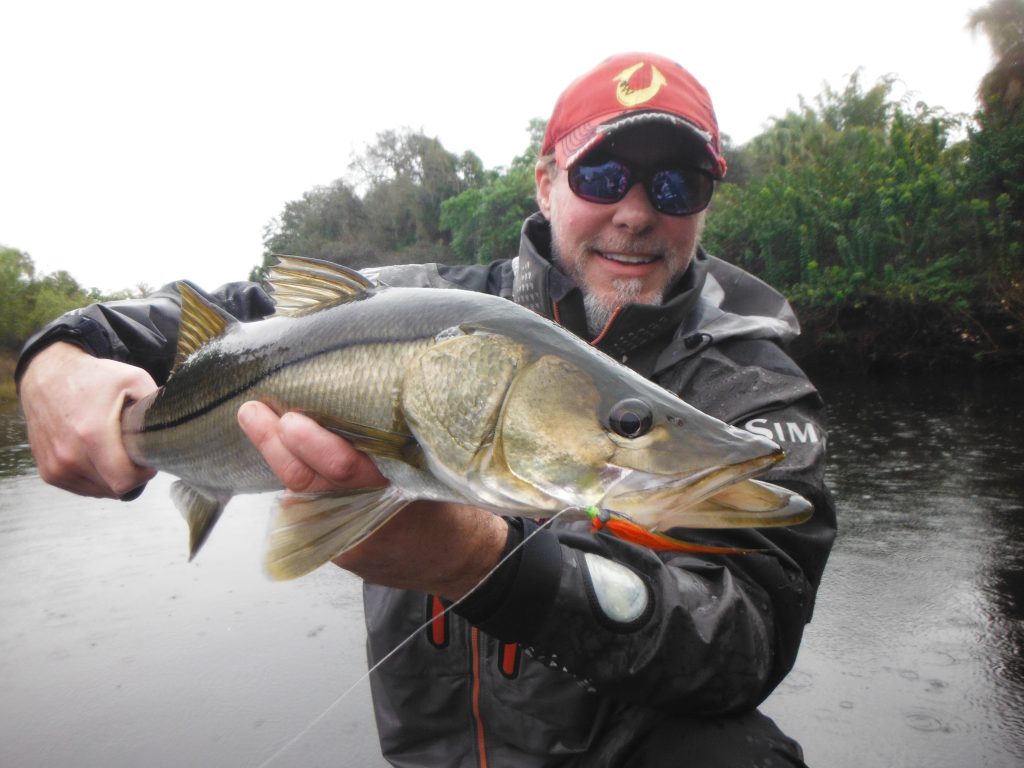 Snook are the premier inshore saltwater game fish species in Florida. They are similar in habits to largemouth bass, having a large mouth and a broad tail. Snook are ambush predators and are often found around some type of structure such as and oyster bar or mangrove shoreline Man made structure, especially docks, will hold plenty of snook.
Redfish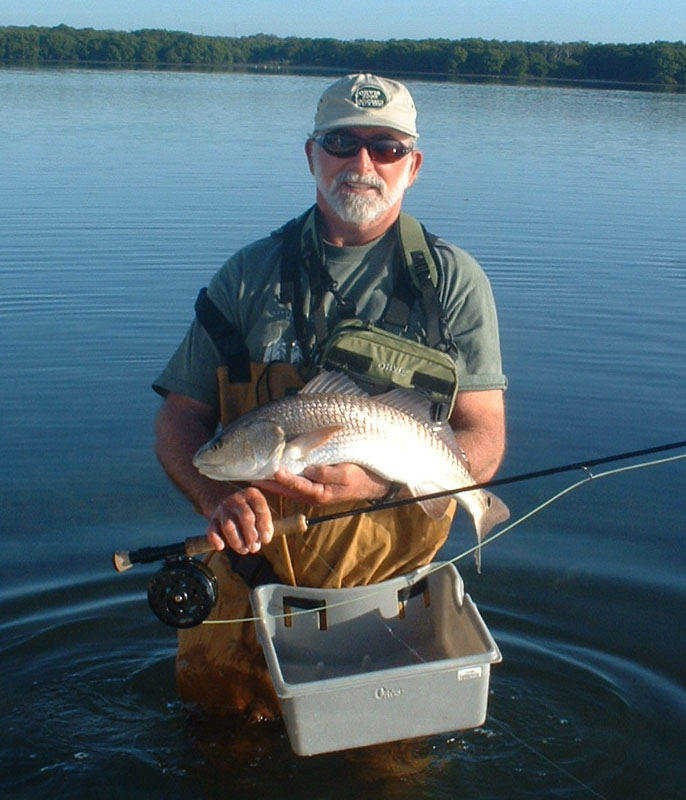 Redfish are a very popular inshore saltwater species. They lend themselves well to sight fishing as they are often found feeding in very shallow water. Redfish also tend to school up, making them easier to find. Anglers will often encounter telling redfish, which happens when the redfish puts his nose down into the bottom to feed and the tail protrudes through the surface.
While redfish are plentiful in this area at times, they can be incredibly difficult to catch as well. Our redfish tend to be a bit more educated than in some other parts of the country. Long accurate casts are often required. One productive technique is to park the boat and get out and wade. This allows anglers to approach much closer to the redfish as well as being very stealthy and quiet.
Spotted sea trout
Spotted sea trout are plentiful all along the west coast of Florida. It may sound counterintuitive, but the larger spotted sea trout are found in shallow water while the larger numbers of size trout hold over the deeper grass flats. Trout are well camouflaged and can be incredibly difficult to spot in the water, especially over a grassy bottom. Most fish are caught by anglers blind casting.
In the winter, especially on the low negative tides, spotted sea trout will drop down into potholes. As mentioned above, these are depressions in a shallow flat. They can be a small is a couple feet across or as large as 100 feet across. It is amazing how many trout can be pulled out of one hole when conditions are right.
Jack crevalle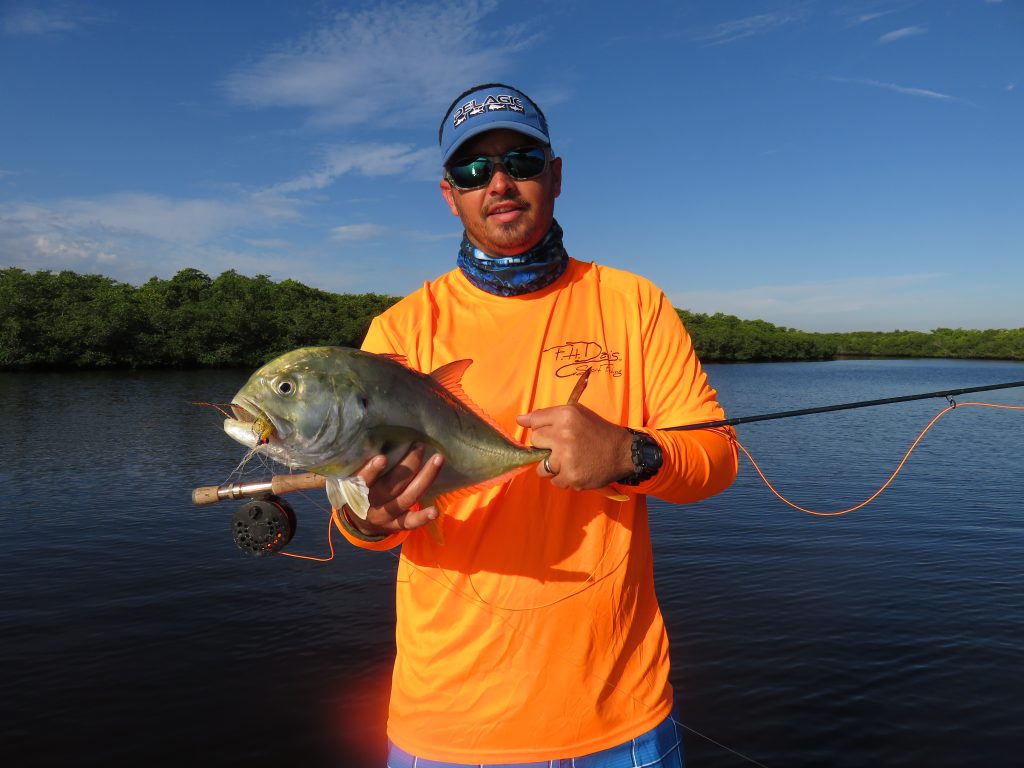 Jack crevalle are the bruisers of the flats. They grow quite large, pushing 15 pounds in the Sarasota area. It is very easy to spot a school of jacks cruising along in 2 feet of water. The good news is that they are generally very aggressive and rarely turn down a well presented fly. Once hooked, the fight is on!
Tarpon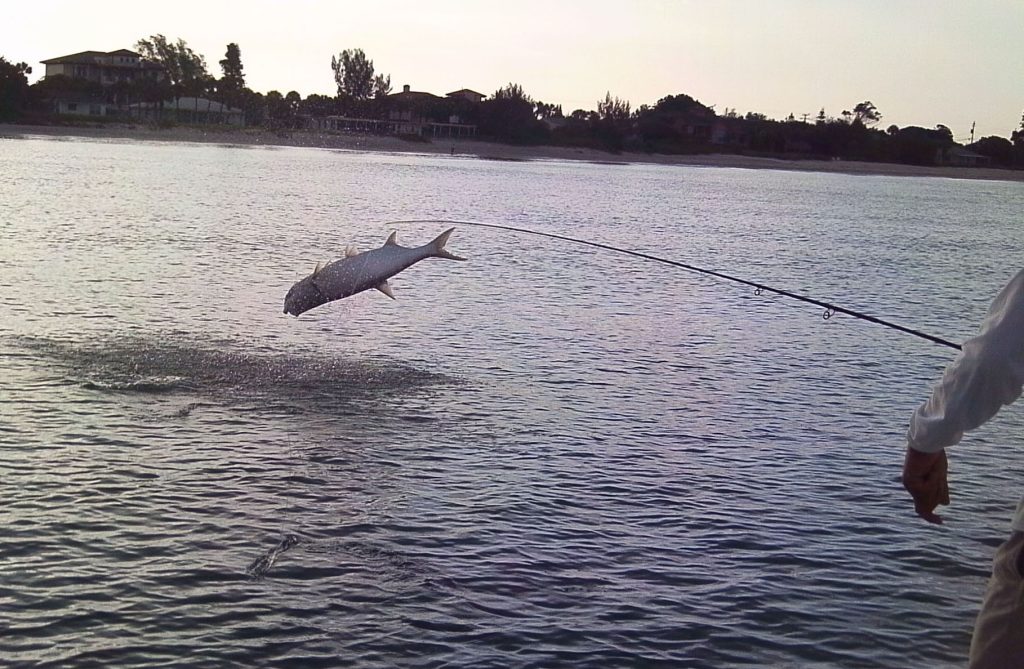 Tarpon are arguably the most glamorous inshore saltwater species. They did not earn their nickname the Silver King for nothing! Depending on the time of year, anglers have the chance to catch juvenile tarpon in the 10 pound range as well as mature spawning tarpon that go well over 100 pounds. Juvenile tarpon are often caught in the backcountry when pursuing other species.
Anglers targeting giant tarpon will use a different set of tackle and techniques. Heavy fly rods in the 12wt range are used to subdue fish of this size. Also, it is really not done in shallow water but instead and flats between 4 feet deep and 10 feet deep. Anglers will cast to fish that are rolling on the surface as well as those that can be seen cruising throughout the water column. This is truly big-game fishing and can be challenging, but the reward is the fish of a lifetime!
In conclusion, this article on shallow water fly fishing charters in Sarasota will give visiting anglers all of the information they need to decide if this is an experience they would like to enjoy!