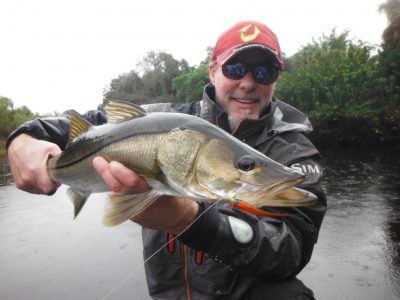 Sarasota river fly fishing charters
Capt Jim offers fly anglers a unique experience; a Sarasota river fishing charter! This is a trip that is best for more experienced fly fishers. This is more about quality than numbers. The scenery alone is worth the trip, however large snook are the main attraction. Snook move up into river and creeks to escape the open waters, which will cool off quickly after a front. Capt Jim is the only guide in the Sarasota area that offers these trips.

Snook are not the only species that will take a well-presented fly in Sarasota rivers and creeks. Jack crevalle are aggressive when schooled up and are fantastic sport on fly! Juvenile tarpon, redfish, and other saltwater species will seek refuge in the warmth of river. An added bonus, depending on the location and salinity levels, is freshwater species. Largemouth bass can tolerate fairly brackish water and are present in many rivers and are taken regularly on fly. Gar, sunshine bass, channel catfish are bream may also be landed on occasion.
Contact Capt Jim at (941) 371-1390 captklopfer@comcast.net
There are several advantages that fishing Sarasota rivers affords fly anglers. Many of these waters are either "No Wake" or "Slow Speed" zones, resulting in a quiet, serene environment, which along with the natural beauty adds to the experience. Small boats are perfect vessels to ply smaller creeks and rivers where access is often times limited. For this reason I use a 15′ Siesta Skiff on my river fishing charters. Another advantage is that fish are concentrated in these confined areas, making them much easier to locate and catch. Lastly, they are great places to fish on days when wind might be an issue on larger, more open bodies of water.
Not all Sarasota rivers fish or "feel" the same. Long, winding rivers often offer the best scenery and a mix of fresh and salt species. Shorter rivers that are closer to the larger saltwater bodies of water usually provide more variety from saltwater species while usually being more developed, having docks and seawalls. There are the rivers that generally provide the best action on jack crevelle. Quite a few rivers have dams which create freshwater lakes and halt the tidal influence.
The technique used when fishing Sarasota rivers is really very simple and basic. Cast the fly towards likely looking fish-holding structure, let it sink a bit, then retrieve it back in. Keep the rod tip low and when a fish takes the fly, use the "strip set" method to come tight and set the hook. As with all fishing, vary the fly and stripping technique until a productive pattern emerges. While any piece of cover may hold fish, the outside bends with cover will be the most consistent producing areas to concentrate on.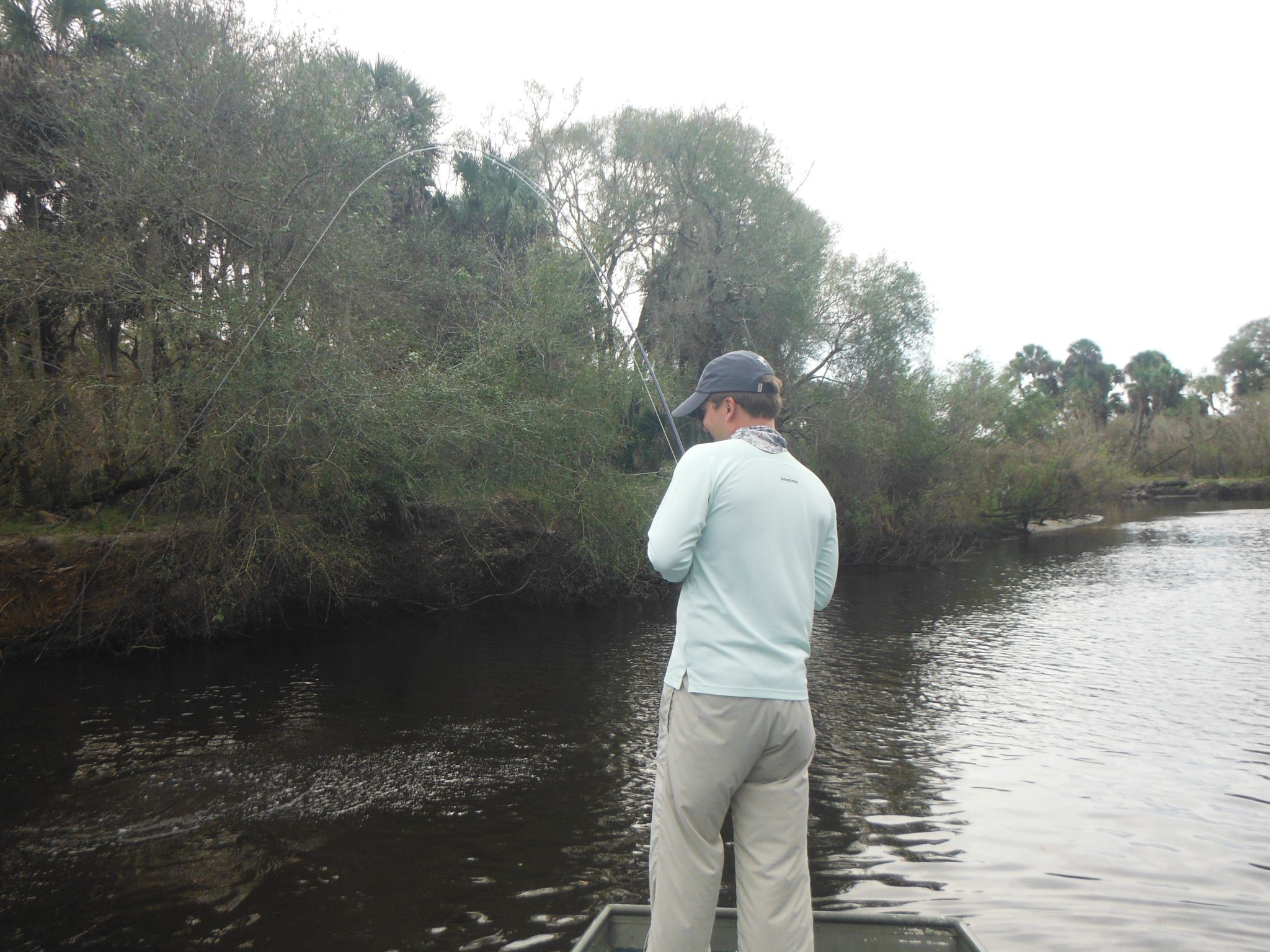 Water movement and direction play an important part in presentation, whether it is tidal or current flow. It is very important to drift in the direction that the water is moving. Going against the current results in an immediate curve in the fly line that is in the water, dragging the fly unnaturally. This is not dissimilar to the "mending" that is required in freshwater streams. The goal is for the fly to sink naturally and only move when the angler strips it.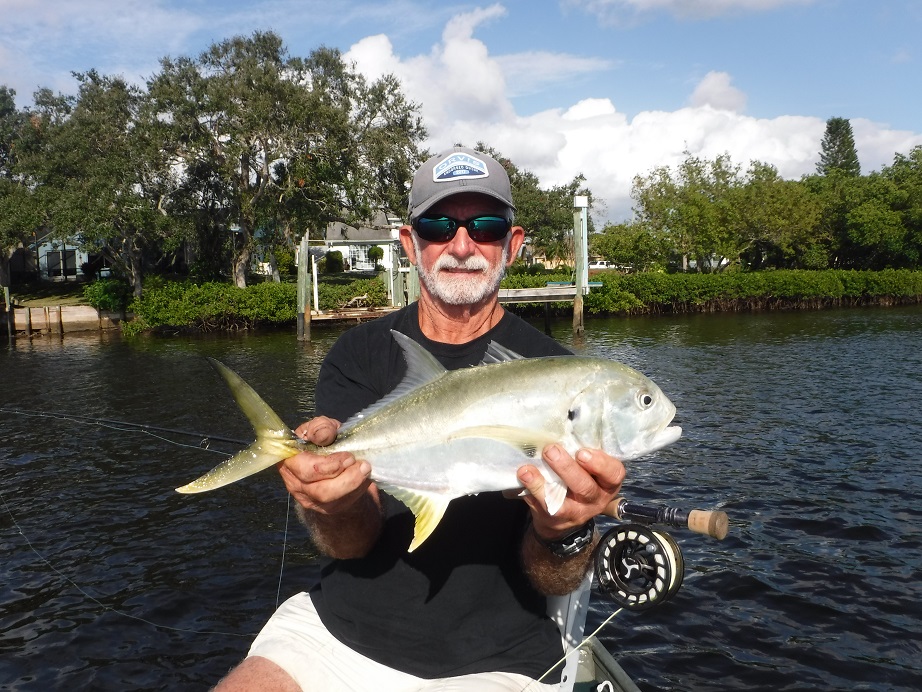 The area is blessed with many tidal Sarasota rivers and creeks just a short drive away that offer fly anglers the unique opportunity to target large snook on fly in an attractive environment. These waters range from very remote-feeling with fantastic natural scenery to quite developed, but all can offer very good fly fishing when conditions are favorable. For the most part, this means the cooler months from October through April when water temperatures in the larger bays drop down into the low 60's and upper 50's. Winter will drive snook and other game fish into these deeper, protected areas where the water is usually significantly warmer. There will always be resident fish that remain all year long.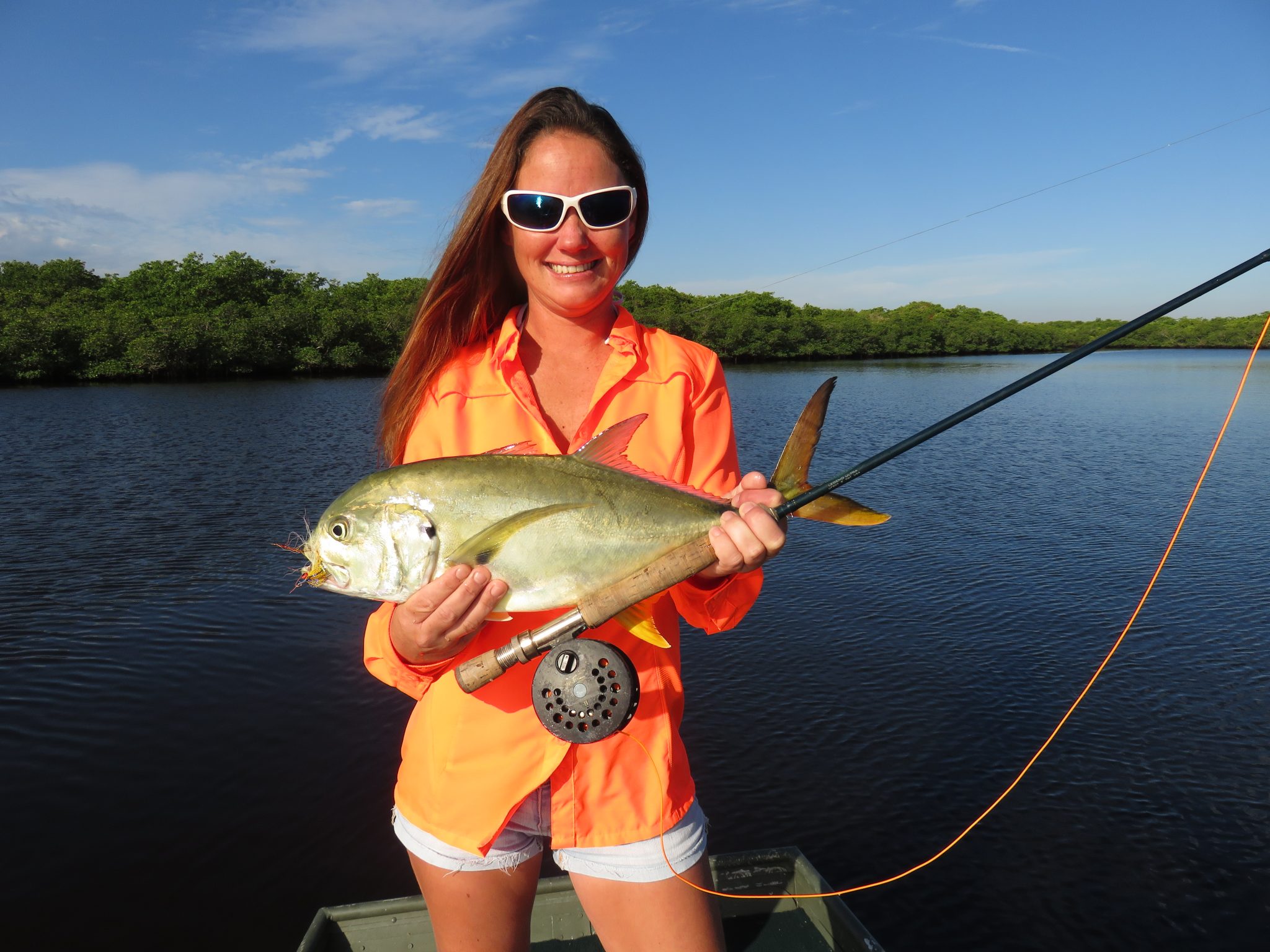 Man-made residential canals often fish in a similar fashion. The best all-round outfit for fly fishing in Sarasota rivers is a 9wt with and intermediate sink-tip line and a 6 foot piece of 30 lb. to 40 lb. flourocarbon leader. Long, tapered leaders are not required in the dark, tannin-stained water that flows through most brackish rivers. Fly selection is fairly simple; Clouser and patterns that are slightly weighted with the hook riding up work well. Bright, multiple colored flies that imitate bream and tilapia have been proven to be productive, as are gold/black and all white. Deceiver and Puglisi patterns are also effective and should have a monofilament weed guard to reduce snagging on the abundant structure.
Best Sarasota river fishing spots
Floating lines and surface flies and poppers can also be used, especially at the beginning and end of the seasonal migration when the water is a bit warmer. This is also a good strategy on waters with a good bass population as they often become active in the cooler months. Color is not as important with surface flies; white works well and is easy to see in the darker water. Drop-offs will also hold fish and will not be seen on the surface. Florida rivers tend to undulate with the water depth constantly changing.
Very shallow areas will rarely be as productive as deeper spots. Snook and other game fish will use steep ledges to rest and ambush unsuspecting prey. Generally, they will hold on the down-tide deeper drop-offs, staying out of the current while being in prime ambush position. Another sign that there might be underwater ledges is the existence of limestone. Keep a sharp eye out for limestone on a steep bank; do not ignore these spots!
Fly anglers will occasionally encounter schools of game fish foraging on the surface. There is nothing more exciting than casting a fly into the fracas! Jack crevelle are the species most often seen behaving in this fashion, but other species including ladyfish and even snook and bass will do so as well. Jacks are great fun on fly and just about any fly that resembles the bait that they are feeding on will be instantly devoured.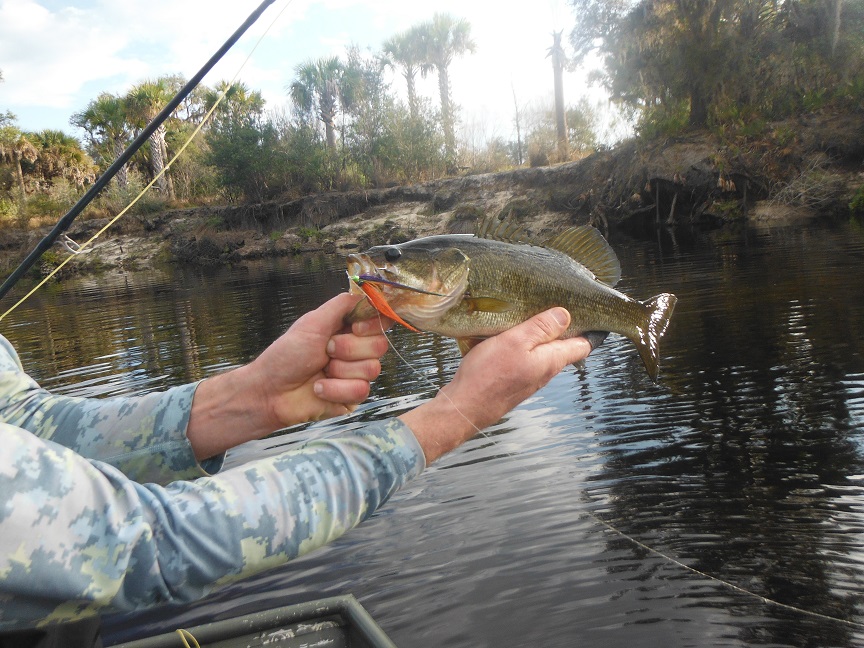 Fly anglers that enjoy solitude and fantastic natural beauty should give this style of fishing a chance. Florida rivers and creeks offer both novice and experienced fly anglers a great change of pace in a relaxed and attractive environment, along with the opportunity to land the snook of a lifetime! The combination of exotic scenery, peaceful fishing, the variety of species that are available along with the opportunity to land a trophy snook on fly make this a unique experience.
Contact Capt Jim – 941-371-1390 captklopfer@comcast.net