Fly fishing for river snook!
The topic of this article is fly fishing for river snook. Snook are arguably the number one inshore saltwater game fish species in Florida and parts of the Caribbean. They are very similar inhabits to largemouth bass. Snook are ambush predators with a large mouth and a big broad powerful tail.
While the majority of snook caught my anglers fly fishing is done so on the inshore saltwater flats and out on the beaches, they can be landed in river environments as well. In the cooler months, snook migrate from the open saltwater flats into these tributary creeks, rivers, and even residential canals.
Many game fish species migrate saltwater to fresh. However, snook are one of the few species that do so for reasons other than spawning. These fantastic game fish can't tolerate high levels of salinity as well is absolute freshwater. The reason they migrate up into these rivers in the winter is to escape the harsh conditions on the open flats.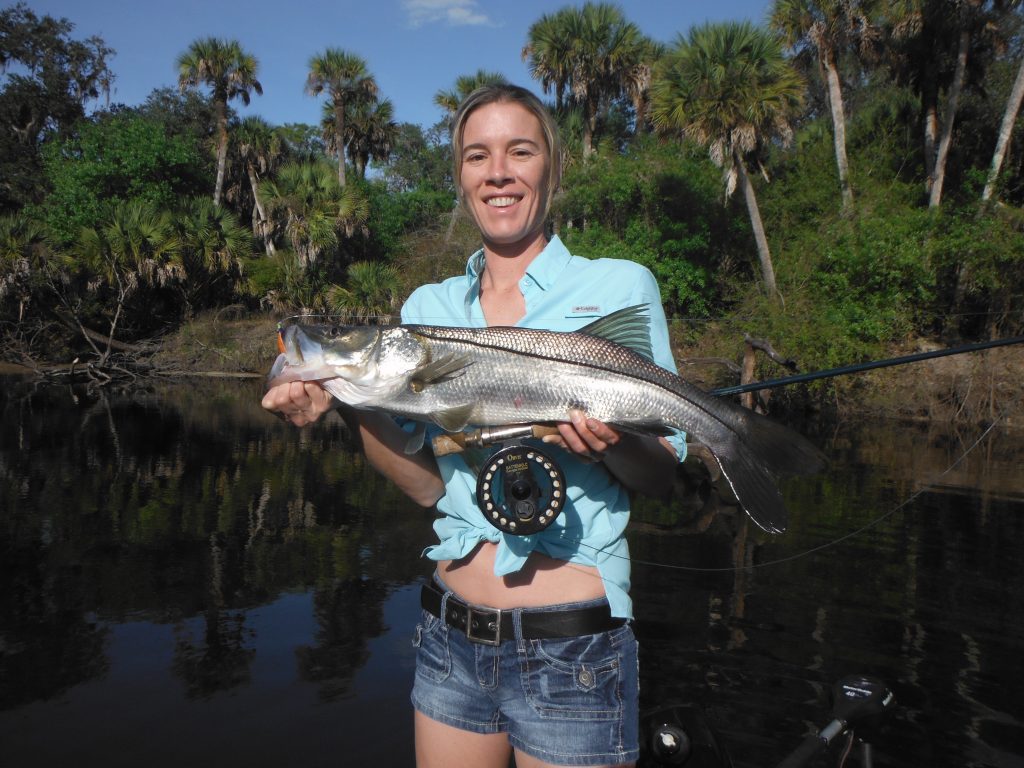 Snook can actually start to die if exposed to water temperatures below 55° for any length of time. Water temperatures can drop drastically, 10 to 15° in just a few days on the open flats. River waters are dark and warmer and have deep holes. All of this offer sanctuary to snook in the wintertime.
Fly fishing for river snook
My name is Capt. Jim Klopfer and I am a fly fishing guide in Sarasota, Florida. We are blessed with several rivers which offer anglers excellent opportunities to land a snook on fly. As far as I know, I am the only one offering these types of charters. I really enjoy them is not only do anglers have the chance to catch a trophy, the scenery is awesome and for the most part it is fairly easy fishing, long casts and precise presentations are not required.
There are several aspects of river snook fishing that are advantageous to fly anglers. Rivers tend to concentrate fish as they migrate up the river. There is much less water in a river system than there is in a large open estuary. Within the rivers themselves, certain spots such as deep holes on outside bends further make locating fish easier.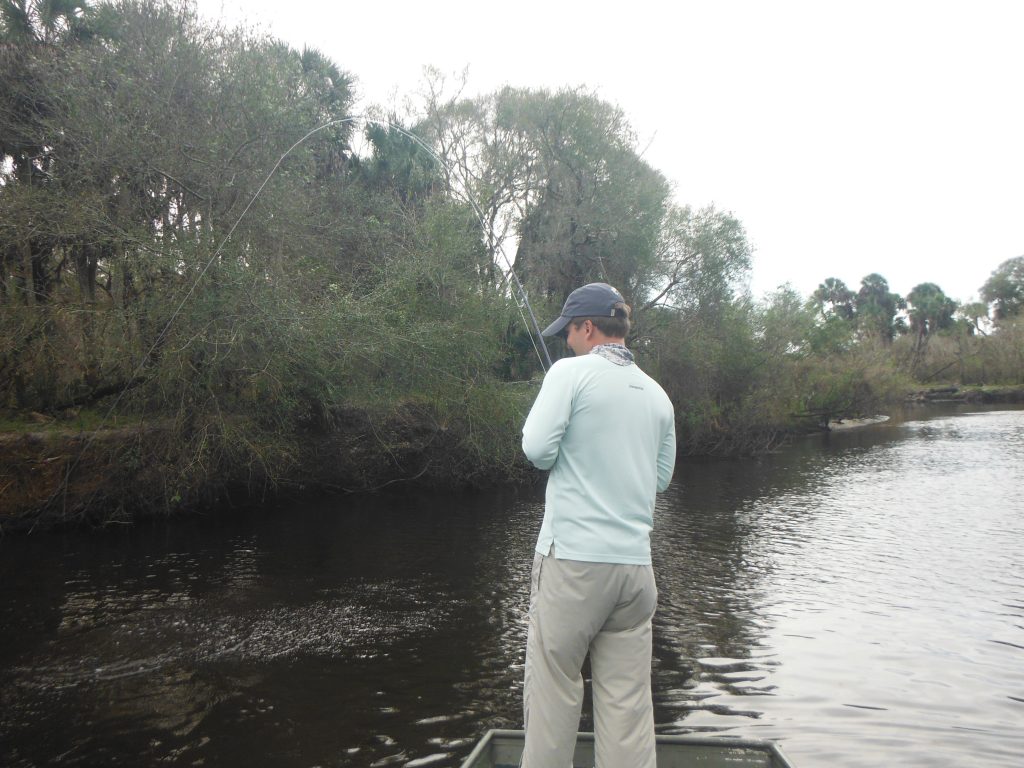 Another benefit of fly fishing for snook and rivers is that there is almost always some type of protection. Some of the rivers open up a little bit, but in many situations a lease shoreline can be found to make fly casting relatively easy, even on breezy day. Finally, River trips offer a solitude that is not found on the open waters.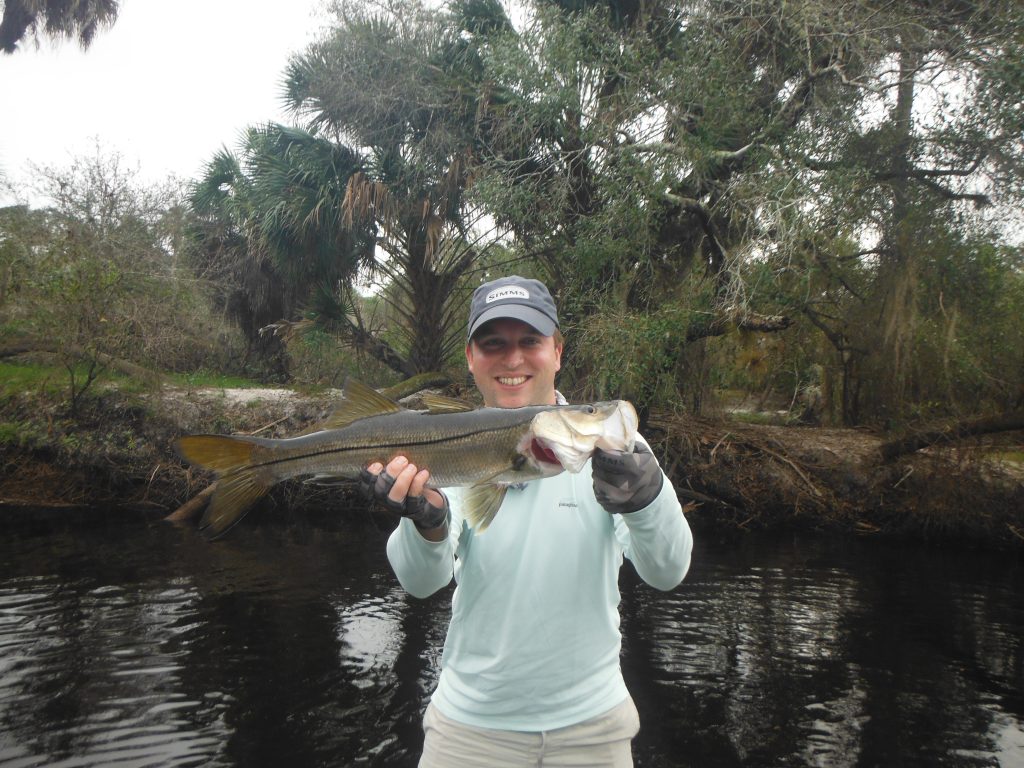 Best river snook tackle and flies
A 9wt outfit with an intermediate sink tip line is perfect for this type of fishing. Anglers can drop down to an 8wt and get by with that fine. However, the larger outfit will come in handy on a windy day as well as when hooking a large snook or even a jack crevalle. Since the water is tannin stained and dark, a short leader of 6 foot or so is fine. I like to use 3 1/2 feet of 50 pound leader followed by 2 1/2 feet of 30 pound tippet.
Snook flies are fairly basic, I use a Crystal minnow most of the time. Clouser Minnow patterns also work well. Weighted flies, whatever choice, work best fly fishing for river snook as it is usually current present. Unweighted flies generally will not sink down in the water column far enough. White would be my top color, followed by gold, copper, black, and fire tiger. Generally speaking, location and presentation are more important than the fly pattern itself.
As mentioned above, this is fairly easy fly fishing for the most part, the rivers that I fish are wide enough that there are generally few back casting issues. 40 to 50 foot casts are all that are required. Anglers do not need a ton of great skill to catch snook on fly and rivers, however they do need patients as this is more of a quality game as opposed to big numbers of fish.
River snook fishing techniques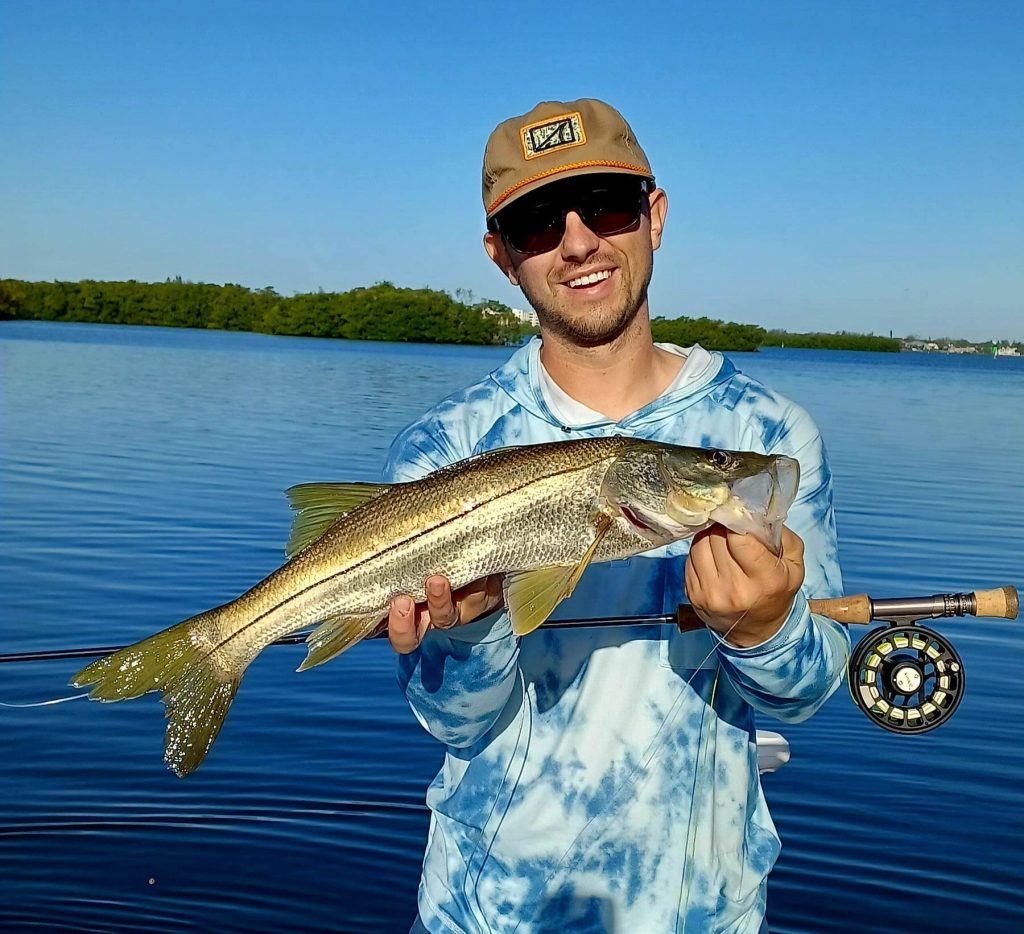 The technique that I use when fly fishing for river snook is fairly simple. However, like all fishing techniques, there are nuances that apply. Tides are a factor in all types of saltwater fishing, and river snook fishing is no exception. It is always best when fly fishing to drift with the current. Otherwise, as soon as the cast is made the current will put a bell in the line. This not only affects the presentation but also affects the hook set as well.
The prevailing technique is to simply drift with the current while casting the fly to likely fish holding spots. Fallen trees are top spots as summer floods will erode the bank and cause these trees to fall into the water. Limestone ledges are also excellent spots where snook will lie in ambush. Outside bends in the river channel are top spots as there will be deeper water present and generally debris and other types of cover will be deposited there.
The fly is cast out and allowed to sink several seconds. With the rod tip held low near the surface of the water, the fly is stripped back in. In most cases, a fairly aggressive 18 inch strip followed by a pause of a second or two works best. However, as in all fishing, it is best to vary the retrieve until a productive pattern emerges. When the fish takes, the angler pulls hard with the stripping hand to get the point of the hook started in the fishes mouth, then the rod tip is raised. This is called a strip set and is the best way to fish a streamer fly and saltwater.
Other game fish caught river fly fishing
An added benefit to fly fishing rivers in the winter time is that other species will be encountered as well. Most anglers do not mind and interloper interrupting the snook fishing.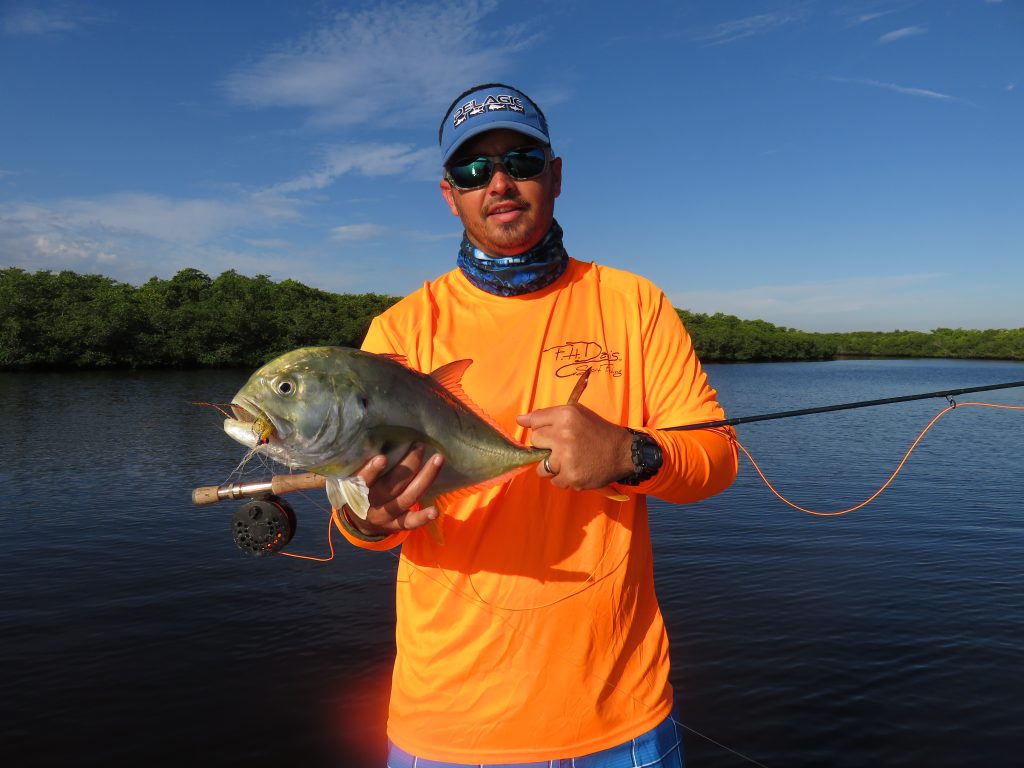 Jack crevalle are often caught on my river fishing charters by anglers targeting snook. Fish to 15 pounds are caught on a regular basis. Jacks have large broadsides and put up a terrific battle on a fly rod. They are often encountered feeding aggressively on the surface, this only adds to the fun and excitement.
Depending on the river that we choose to fish, largemouth bass are also a possibility. While most fish average around 2 pounds, they are chunky and healthy and give a good account of themselves on a fly rod. Bass will most often hit very close to the bank as opposed to other species which will chase the fly in. Occasionally, a fish to 5 pounds is caught.
Juvenile tarpon will be found in these inshore rivers as well. These fish average 15 to 40 pounds and are fantastic sport! Anglers will catch them blind casting but often times it will be seen rolling right out in the middle where a quick accurate casts may result in a take. Tarpon tend to prefer the deeper holes.
Gar do not make the list of top game fish for many anglers. However, they will readily take a fly and often times put up a very spirited battle, frequently jumping several times out of the water. Add to the fact that they are large, some are pushing 6 feet long, and most anglers don't mind being interrupted with one while casting for snook.
Best rivers in Sarasota for fly fishing
There are three rivers that I fish here in the Sarasota area. These are the Myakka River, Manatee River, and Braden River. Each has its own personality and advantages and disadvantages.
The Myakka is the prettiest of the three. It has been designated a wild and scenic river which means limited access and development. This is truly old Florida and has a very unique feel to it. On many trips, anglers will not see anyone else fishing and maybe just a few kayakers. The Myakka River is the best choice for anglers seeking a trophy snook in a unique environment. However, it gives up less in terms of numbers and action; there will be days when no fish are hooked.
The Braden River is the closest in terms of driving time to Sarasota. It is a tributary of the Manatee River. It has a fair mix of both developed areas and those where no human activity is seen. The Braden River is an excellent choice for anglers seeking large jacks as they move in from Tampa Bay. Plenty of nice snook are caught as well. Anglers may also encounter juvenile tarpon, snapper, ladyfish, and redfish. This is true saltwater and no freshwater species exist.
The Manatee River is a bit of a combination of the two. It offers the best chance for variety as anglers can catch all of the freshwater and saltwater species here. It is a pretty River, but there is a fair amount of human activity and the locals tend to run through the no wake zones, even though it is illegal. It is also a bit fickle at times.
In conclusion, this article on fly fishing for river snook will give anglers some great tips and techniques when fishing these serene and overlooked waters!