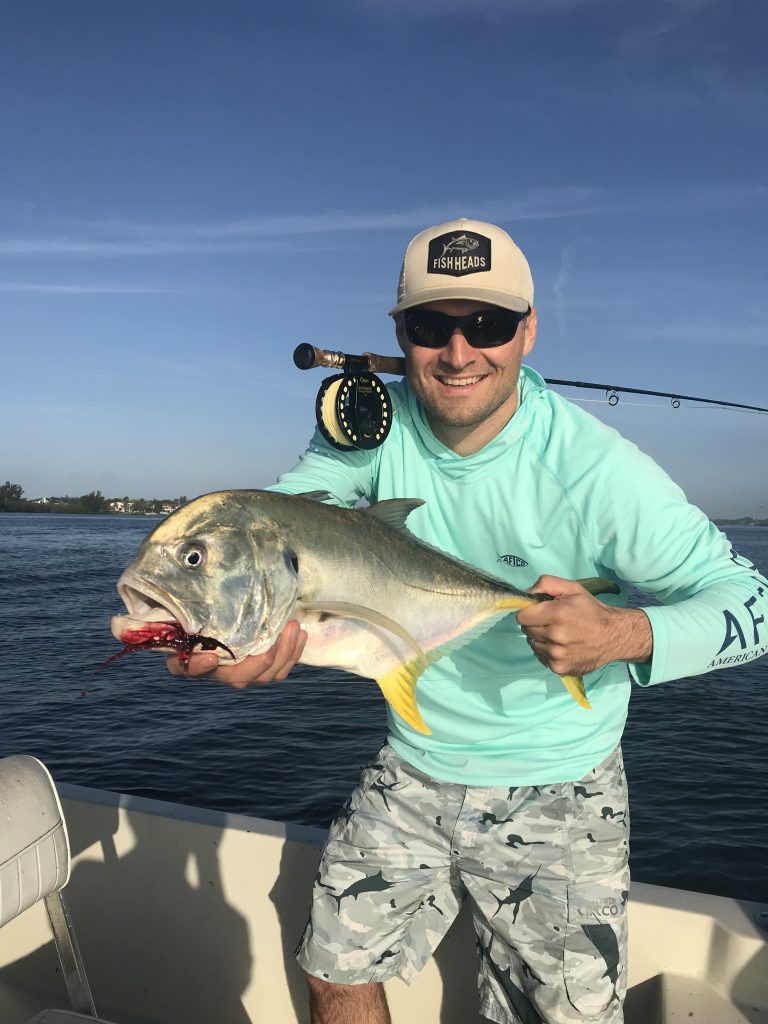 Sarasota fly fishing charters
Sarasota fly fishing charters is a site for anglers looking to fly fish in this area. Sarasota is a great little resort city on the west coast of Florida. Sarasota Bay is sandwiched between the larger Tampa Bay to the north and Charlotte Harbor to the south.  It offers visiting fly anglers several fly fishing opportunities that target a variety of species. Speckled trout, mackerel, bluefish, ladyfish and more are available on the deep grass flats.
Contact Capt Jim at (941) 371-1390 captklopfer@comcast.net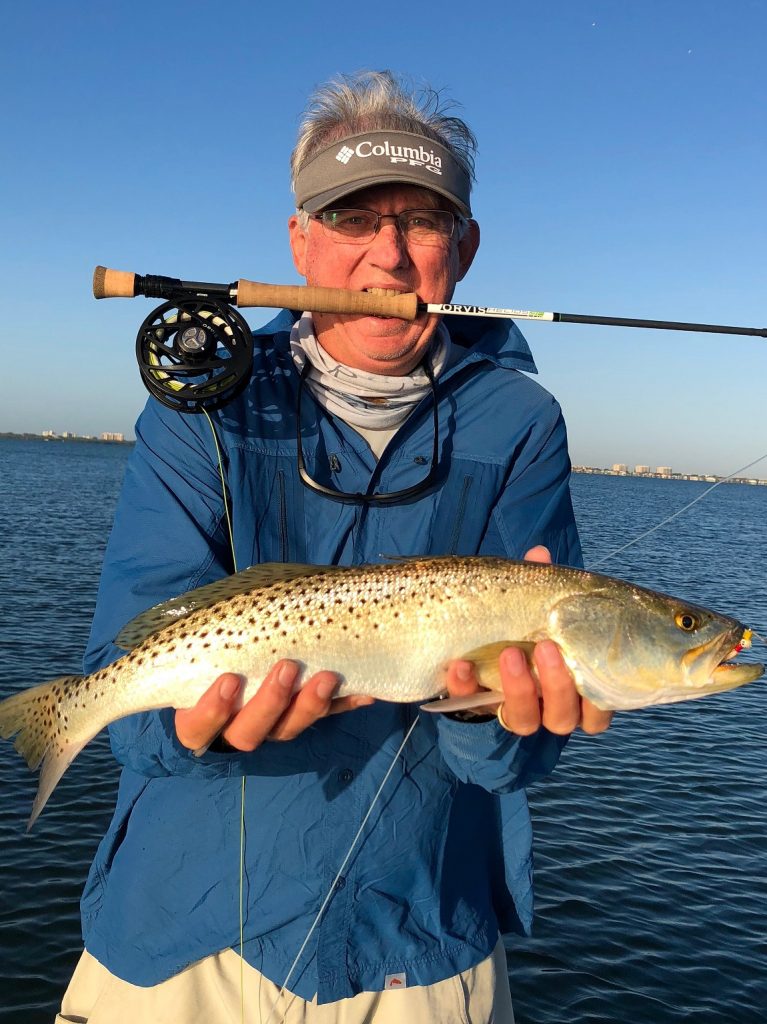 Snook, redfish, and jack crevalle will be found around oyster bars and mangrove shorelines. Snook and largemouth bass will be found in rivers in the cooler months. Capt Jim Klopfer focuses on three Sarasota fly fishing charter packages for anglers visiting Sarasota; the flats on Sarasota Bay, the inshore Gulf of Mexico, and river snook fishing.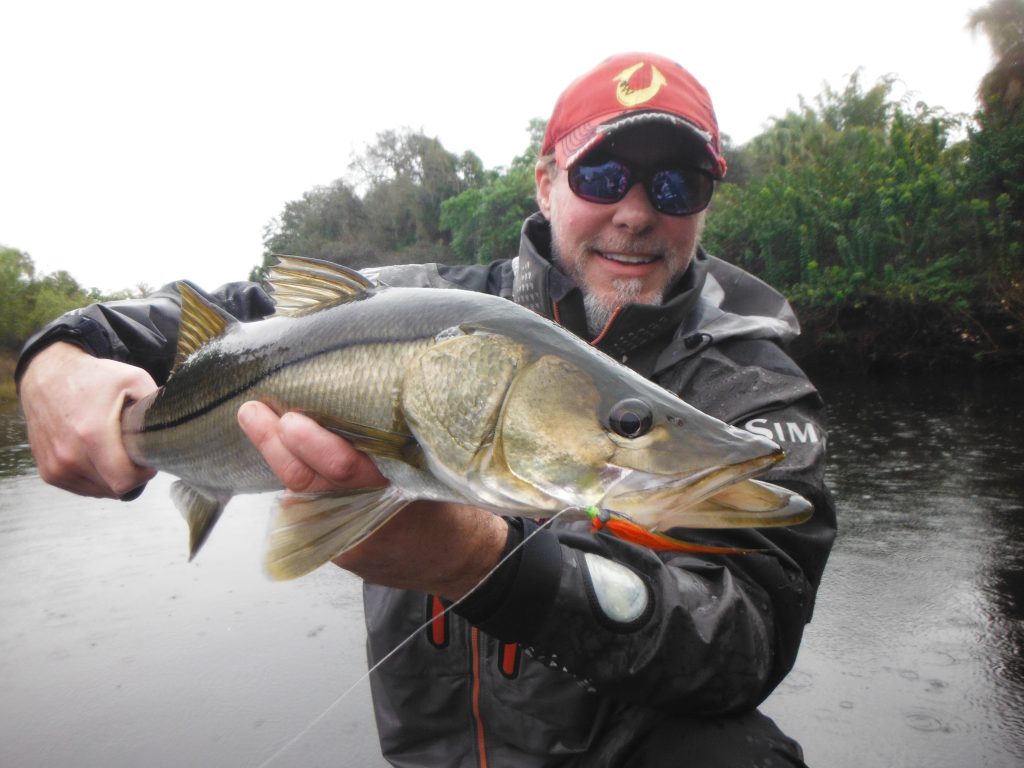 Sarasota fly fishing charter options
Casting a fly while drifting the submerged grass beds in 5′ to 10′ of water is the most productive technique for anglers seeking action and variety for anglers Sarasota fly fishing.  A Clouser pattern on an intermediate sink tip line will produce speckled trout, Spanish mackerel, bluefish, jacks, pompano, ladyfish, and more. This is relatively easy fishing that does not require great casting accuracy, it is the most common trip. Also, two anglers can fish at the same time.
4 hour Sarasota fly fishing charter is $450, 6 hours is $600, 1-2 anglers
More experienced fly anglers may choose to target snook, reds, and jacks. This is much more challenging and will produce fewer fish, though the reward might be a trophy snook. Often times, several different types of fly fishing can be done on one trip; hit the snook early then move to the deep grass for action. It all depends on conditions and the goals of the angler.

Sarasota fly fishing charters in the inshore Gulf of Mexico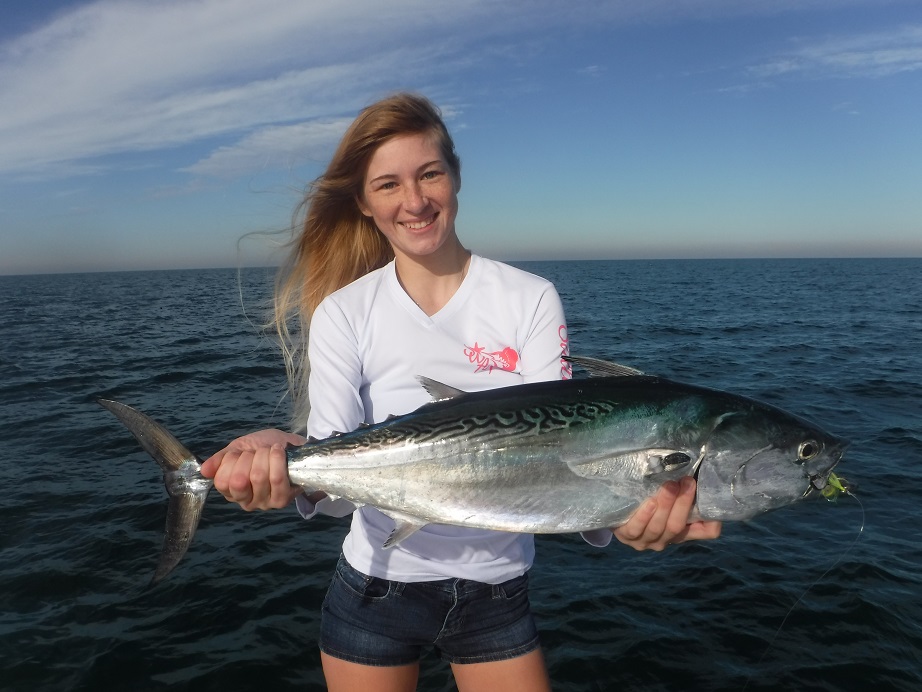 When conditions are right the inshore Gulf of Mexico offers truly world-class fly fishing. Schools of Spanish mackerel will feed aggressively on the surface as they trap the helpless forage. False albacore grow to 12 pounds and when the "bonita" are working there is nothing more exciting that hooking one of these little tuna fish on fly! Tripletail, cobia, sharks, and other species will also be encountered at times.
River fly fishing charters in Sarasota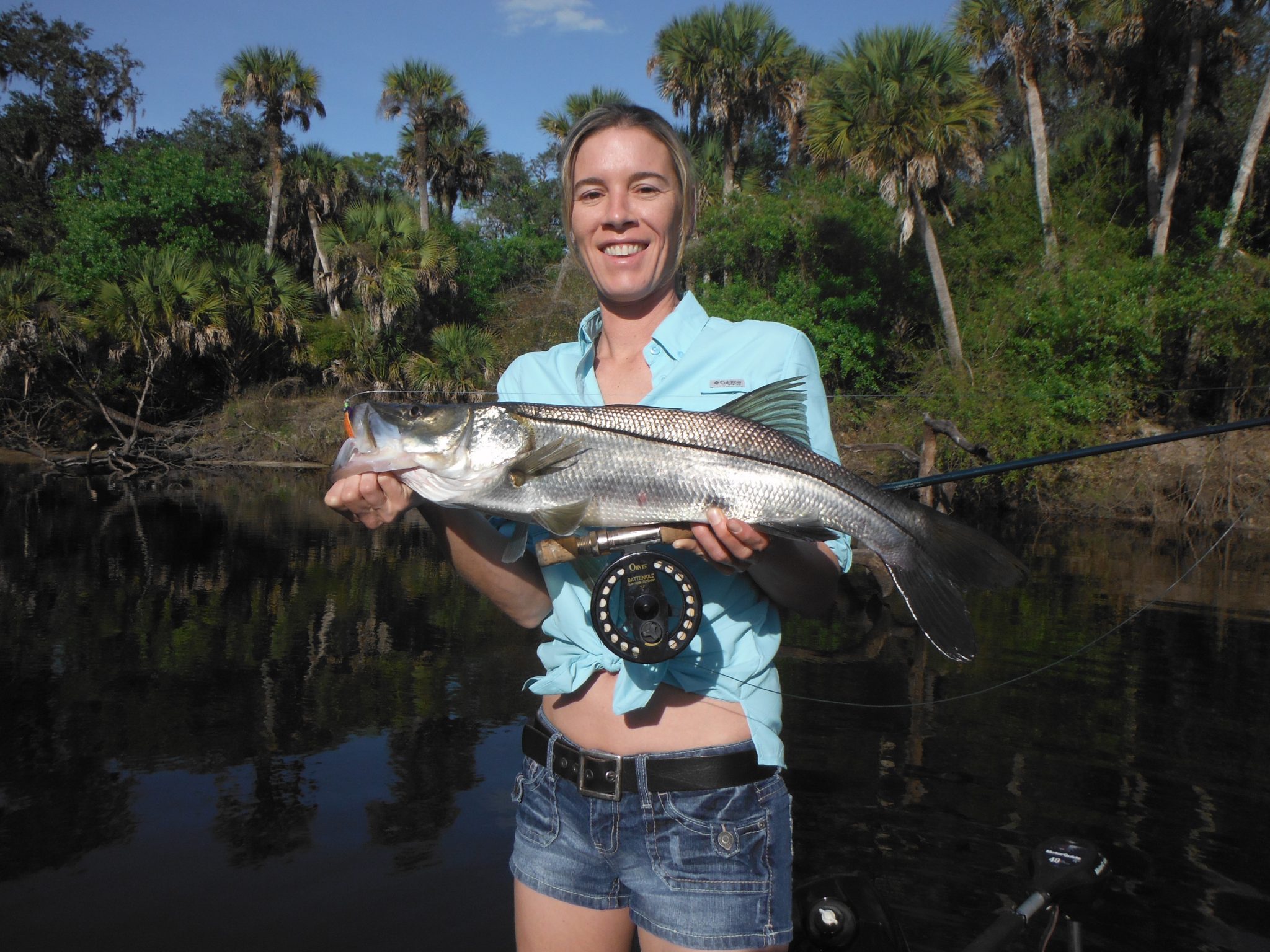 Capt Jim provides fly anglers a very unique charter option that no other guide offers; fly fishing for large snook in area rivers. In the winter, snook migrate up the Manatee River, Braden River, and Myakka River seeking warmer water and forage. This concentrates them and makes them much easier to locate. Along with snook, largemouth bass, jack crevelle, and juvenile tarpon will take a fly meant for a snook. The scenery and environment are part of the attraction of a river fishing charter.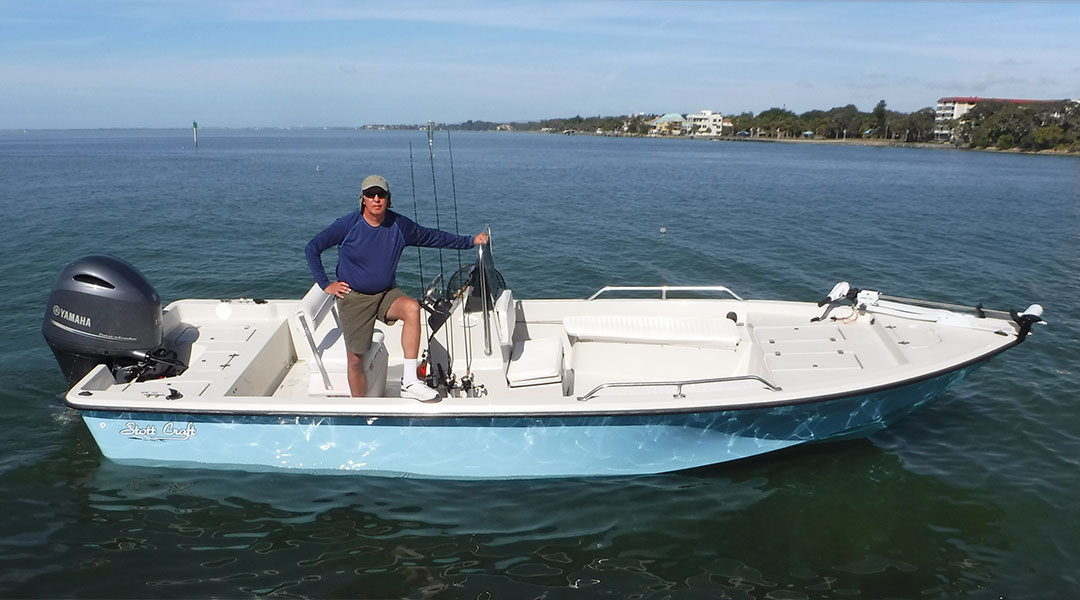 Capt Jim uses two different boats on his Sarasota fly fishing charters. For the saltwater trips in Sarasota Bay and the Gulf of Mexico his platform is a 22" Stott Craft bay boat. It is very stable with casting decks fore and aft, making it possible for two anglers to fish at the same time. There is plenty of storage and provides a safe, dry ride.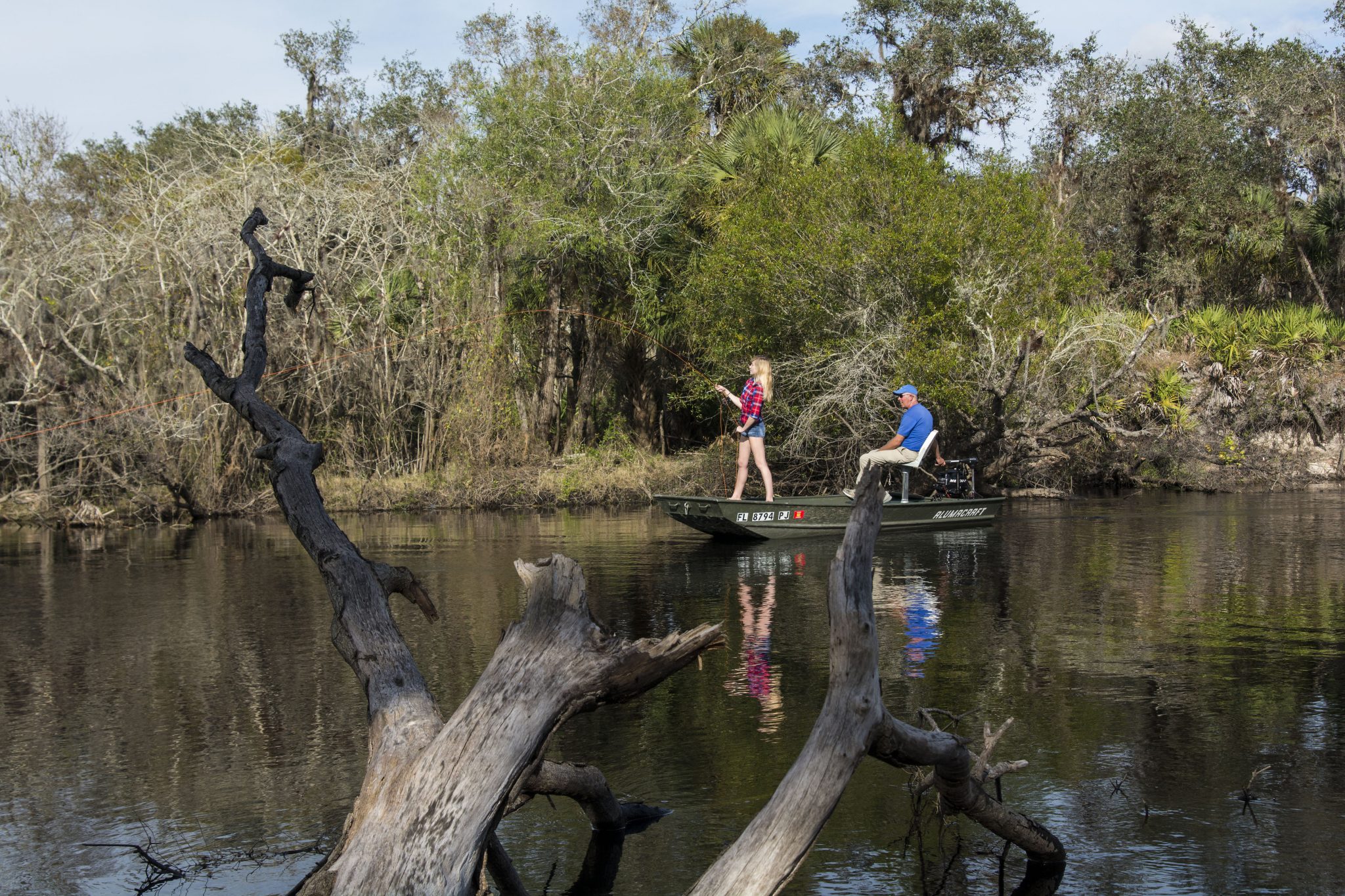 For his river trips Capt Jim uses a 14′ Alumacraft jon boat. Access limitations and very shallow bars dictate the use of a light, shallow draft boat that is still stable and the venerable jon boat meets those requirements beautifully. Anglers can check the FWC website for all Florida fishing regulations.

Contact Capt Jim;
(941) 371-1390
captklopfer@comcast.net